Win Your Instagram: 15 Great Asheville Photo Spots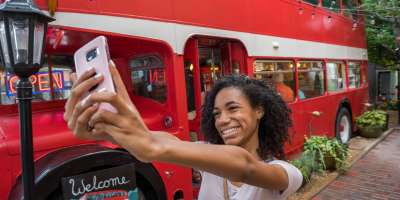 Your camera, our picks
Light up your Instagram with our recommended Asheville vacation photo shots of sunsets, street art, stunning mountain vistas and only-in-Asheville memories. 
Click, post, and share a little piece of this mountain paradise on your Instagram, Facebook, and Twitter. Go ahead, get out your selfie stick. (We won't judge.)
1. On America's favorite scenic drive
The Blue Ridge Parkway provides 469 miles of inspiring views of the oldest mountains in North America, possibly on the whole planet. If you have to pull over and selfie yourself in front of such moving, ancient beauty...we understand.
 

2. At Max Patch
Home of the 360-degree mountain views. There are many hiking destinations in the area, but this one is king. At this Appalachian Trail spot, take only selfies, leave only footprints, and commune with mountain beauty.
 
3. On the French Broad River
The Appalachians might be the oldest mountains on earth, and the river that flows through them competes with only a few others in the world for the title of world's oldest river. With opportunities for rafting, tubing, fishing, and boating, this ancient American waterway beckons. 
 

4. By the Big Iron
Just like NYC, Asheville has a Flatiron Building. Positioned across from our Flatiron Building is this quirky landmark, one with a Monopoly (get it?) on musical busker action. Check it out on Wall Street downtown.
 

5. On the purple LaZoom bus 
Asheville's silliest attraction also shares a little city history: independently owned and operated, this comedy tour tells the story of an Asheville that was--and lets you selfie away aboard a big purple bus with a cast of crazy characters. Beware the nun.
 

6. On the red double-decker bus 
Double D's downtown is a real double-decker bus, repurposed to serve coffee and muffins rather than a London commute. Inside and out, selfie opportunities abound.
 
7. At a funky retail spot
Downtown is full of retail therapy opportunities: for clothes, accessories, housewares, art, books, and of course rubber pug dog masks. Thanks to @lexi_rae_sunshine for helping keep Asheville weird. 
 

8. With some local art
You probably don't have as much personality as this little ballerina, but the statues in front of Harrah's Cherokee Center - Asheville and just down the street in front of Malaprop's, our award-winning indie bookstore/cafe, are fun selfie spots. Asheville is covered in street art and graffiti, like the trompe-l'oeuil mural below on Walnut Street. Stroll downtown (especially Chicken Alley) and/or West Asheville for strong, vibrant work from Asheville street artists.
 
9. With some art you just made
There are plenty of hands-on ways to express your creativity (and score a Facebook #artbrag) in Asheville. Lexington Glass Works and Asheville Glass both offer hand- on demos. The whole family might love clay painting at Fired Up downtown, and the artist in you will enjoy all-levels classes in wax arts, watercolor, bookbinding and even painting with beer, all at 310 Art Gallery in Riverview Station in the River Arts District.
 


10. With a street performer
Buskers are an Asheville staple, many of whom play on the streets for money full-time. We've also got hoopers, jugglers, living statues (drop a dollar in the pot and see what happens), and a host of talented street performers. And dogs.
 
On the streets of Ashvegas. With a mime. And a #selfiestick. #asheville

11. At the Moog Factory
Dr. Robert Moog (1934-2005), inventor of the first expressively playable and affordable synthesizer, is called the father of electronic music. Here in Asheville we called him Bob, as he was a longtime resident and early adopter of Asheville's beauty and inspiration. His local legacies include the Moogseum and Moog Music, both located downtown.
 
About to check out the Moog factory! #moog #asheville #nc #supportlocalbusiness

12. With your new tattoo or your barbecue. 
(This is a pretty good place for either one.)
 

13. (With the kids) at Splashville
If you're visiting us in summer, there's more than just rivers for cooling down. Splashville in Pack Square Park lets you cool off a short walk from the heart of downtown.
 

14. With your cold glass of craft beer
From sprawling breweries (Sierra Nevada, Oskar Blues, New Belgium) to intimate craft brewers (Burial Beer, One World) to everything in between, Asheville is tops for beer lovers. And if beer's not your thing, no problem. We also have craft whiskey (Troy & Sons), craft cider from Urban Orchard and even gluten-free beers at select restaurants (like Posana, which offers a completely gluten-free menu). Enjoy.
 
Asheville's most recognizable tourist attraction is also one of its grandest. Plan to spend a whole day to take in the sprawling 135,280-sf house (not a typo--this is the largest private home in the country), and the sweeping 11-square-mile estate. The majestic front lawn is perfect for a selfie with this American contemporary of PBS's Downton Abbey.
 
If I don't post something about the Biltmore estate just assume I didn't come home
Waterproof camera? Check! Charger packed? Check! Explore our Asheville selfie picks yourself, and share yours with the hashtag #VisitAsheville!
Updated April 11, 2023