Craven Gap Trail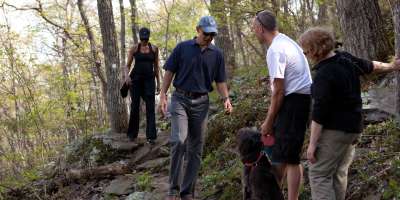 A perfect point of departure from the Parkway
With thousands of acres of wilderness close to Asheville, where do you start to explore? For an introduction to the splendor of mountain scenery, try Craven Gap off the Blue Ridge Parkway, just 15 minutes from downtown. It's an easy enough hike for kids, but it's also the only place a president has set foot on the Parkway: President and Mrs. Obama hiked here in 2010.
What To Expect
This trail is park of the Mountains to Sea Trail, which runs across the state of North Carolina. It's mostly flat as it leads up from the parking area through hardwood forest (with a few creek crossings) to the Tanbark Ridge Overlook off the Parkway (there's a small spur trail to the overlook). In the spring, this is an easy wildflower hike and in the fall, it's popular with leaf peepers.
From the Tanbark Ridge Overlook, you get your first extensive mountain views with a vista over the Great Balsams. When you reach the 2-mile point of the trail, you'll be at Ox Creek Road/Bull Gap. From here you can turn around and go back, or add on the hike from Bull Gap to Rattlesnake Lodge. This loop adds about 1.2 miles to the trail, but includes the ruins of an old family lodge.
An alternative from Craven Gap is to hike south toward the Folk Art Center. This is a 10.8-mile round-trip hike, but is not strenuous. The scenery along this stretch overlooks
Haw Creek Valley, a residential section of Asheville. There is an overlook at Lunch Rocks, which is, as the name implies, a good place for a picnic.
The section of the Blue Ridge Parkway close to Craven Gap may be closed due to weather in the winter. The trail can still be accessed, however, by driving to the end of Webb Cove Road off of Beaverdam Road in North Asheville or by Ox Creek Road in Weaverville if this road is accessible.
Hike Details
Difficulty: Easy to Moderate

Distance from Asheville: About 7 miles, 15 minutes

Length: 4.8 miles round trip

Region: Blue Ridge Parkway

Duration of Hike: 2 hours

Elevation Gain: 250 feet

Pet-Friendly? Yes

Multiple Use? No

Blazes? White

Facilities & Parking: Parking lot off Blue Ridge Parkway; additional pull-off parking; no facilities

Natural Features: Hardwood forest, views, natural cactus, caves, creek crossings
Directions
From downtown Asheville, take College Street east to Town Mountain Road. Turn left onto Town Mountain Road before College Street enters the tunnel. Take Town Mountain Road to its intersection with the Blue Ridge Parkway. Turn left onto the parkway. The parking lot is just ahead at Milepost 377.4.
GPS Coordinates
N35.6479, W82.4910
Updated February 18, 2019