Best Gardens to Visit in Asheville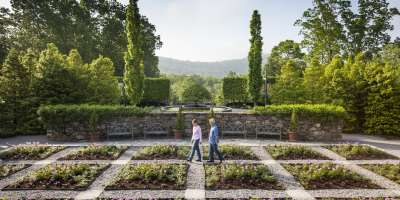 Asheville is a Garden-Lovers Paradise
Asheville, North Carolina's scenic natural landscape is a mecca for all things green, with its favorable climate and diverse citizens instilled with a passion and respect for the land. From elegant grand estates to fun-meets-funky, this farm-to-table town is eager to educate. Asheville boasts some of the best garden centers in the Southeast, a top-notch arboretum, miles of hiking trails for wildflower and fall color jaunts, and plenty of plant society shows.
Asheville's green love affair began in the late 19th century, when George W. Vanderbilt hired Frederick Law Olmsted, the father of modern American landscape architecture, to oversee the development of his new estate, Biltmore. Under Olmsted's keen oversight, Vanderbilt hired a forestry manager to revitalize his land, thus setting into motion the first forestry stewardship practices in the country. Asheville, known as the Cradle of Forestry, continues to be on the cutting edge of horticulture in the Southeast.
Here, you will find just a sampling of what our area offers. You don't have to be an avid gardener to enjoy these venues, but beware: Gardening is addictive. Like many who frequent the area to get their green fix, you may find yourself planning your return trip before you even leave!
Public Gardens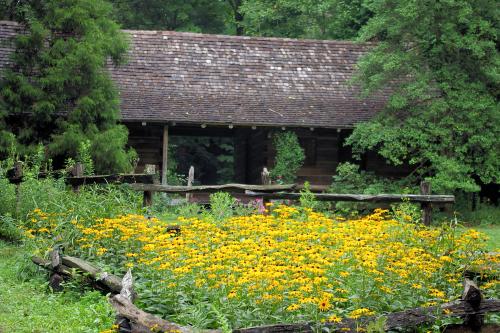 Ready, set, wow! No matter what season, the public gardens of Asheville and Western North Carolina set the stage for memorable touring. Groves of dark rhododendrons and conifers blanket the mountains, creating a dramatic backdrop for myriad wildflowers and formal plantings, and professional landscape designers have been at work here for more than a century.
Visit again and again. The views change every day at these favorite public gardens:
Secret Gardens
Secluded alcoves, winding paths, and great greenhouses create mystery and intrigue in gardens both large and small, and several of Asheville's private gardens offer a little something special to be discovered. Take advantage of these opportunities to see how vision, patience, and love can transform a few acres of ordinary land into something unique and inspiring. Among the garden treasures on this special list are a bamboo grove, daylily farm, and lovely greensward created from industrial wasteland. Note that reservations may be required to tour these special places.
Other "secret" gardens are hidden in plain sight amid the area's public gardens.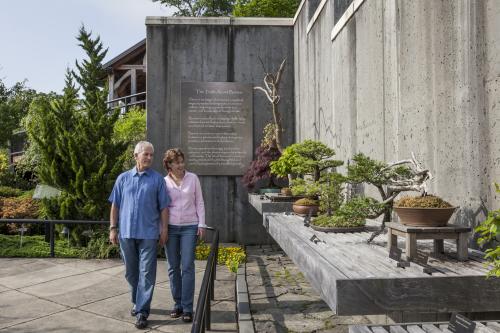 Tucked behind a high wall at the North Carolina Arboretum is an intricately designed display of up to 50 exquisite bonsai trees. The collection is botanically diverse and includes a number of plants native to the Blue Ridge region as well as specimens from traditional Asian bonsai species and other American plants.
Nearby, the Arboretum's Quilt Garden puts a new spin on the Appalachian heritage craft of quilting by interpreting traditional quilt block patterns as colorful flower beds. A different quilt pattern is chosen each year and the garden designs change seasonally. The garden is viewable from a raised observation area, for a birds-eye perspective, as well as from pathways that divide the garden's 24 beds. And don't miss the quilt garden lit up for the holidays!
A woodland garden nestled by the banks of Bent Creek features nearly every species of azalea native to the U.S., as well as some natural and selected hybrids. The National Native Azalea Collection is a little-known but easily accessible area of the Arboretum, where azaleas can be found blooming in yellow, white, pink, purple and orange from March to August.
Another colorful celebration of the native azalea can be found at Biltmore. The 15-acre azalea garden is the Estate's largest and the collection of 1,000+ blooming bushes is largely the work of Chauncey Beadle, who was hired as an Estate horticulturist and who stayed at Biltmore for 60 years.
Biltmore's Conservatory, located on the edge of the Walled Garden, is a Gilded Age testament to opulence through horticulture. The impressive glass structure features room after room of tropical plants from palms to cacti to orchids, with interesting specimens tucked into every corner.
Rebecca Reed contributed to this story. Arboretum photos by Art Meripol. Botanical Gardens at Asheville photo by Mark File. Biltmore photo by Jared Kay.
September 22, 2015