Biltmore Estate Events for Spring
Welcome spring in high style with more than 130,000 flowers, blooming in gardens fit for a Vanderbilt. At Biltmore Blooms, the estate's annual festival of flowers, the color and fragrance of orchids and thousands of spring bulbs steal the show.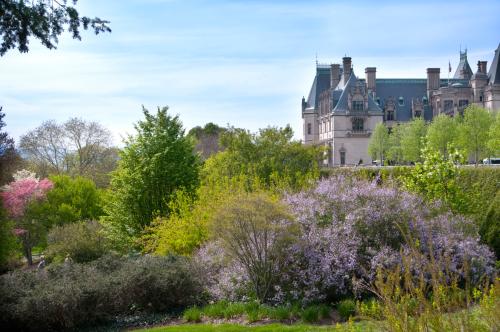 When George Vanderbilt decided to build his 250-room family home in the mountains of Western North Carolina, he hired renowned landscape architect Frederick Law Olmsted (also known for his role in designing New York's Central Park) to help his estate make a statement. Biltmore Blooms celebrates the natural progression of blooms dictated by Mother Nature and arranged by Olmsted and by the estate's current team of expert gardeners and horticulturists.
Opulent Orchids on Display
In the early days of spring, visitors to the estate can experience nearly 1,000 orchids in full bloom, showing off their tropical colors and exotic look. Check out the Conservatory to see a wide variety of species, but also take a look inside Biltmore House.
Visitors in the Conservatory can also enjoy "Orchid Talks" with gardening experts on weekday mornings.
In the Gardens
The daffodils and forsythia take the stage first in the 75+ acres of landscaped gardens across the Biltmore Estate.
Next come 96,000 tulips, which transform the 4-acre Walled Garden into a can't-miss floral paradise. The tulips bloom in purple, pink, white and orange and last 3-4 weeks before making way for later season blooms in the shrub and azalea gardens.
From here, native azalea species, rhododendron, roses and other vibrant annuals and perennials steal the show.
Savor the Season
For those looking to enjoy the outdoors or a fine glass of wine amid the splendor of spring blooms, the Biltmore Winery and Antler Hill Village should be the next stop. America's most-visited winery offers daily tastings of it's limited release spring wine, as well as the new Vine to Wine Tour that takes oenopiles to the estate's vineyard and ends with a grand tasting.
The barnyard animals at Antler Hill Farm are waiting to welcome families with baby goats, lambs chicks and bunnies, and kids (the human kind) will also enjoy the weekend grape stomps outside the winery.
Antler Hill Village will feature live music on the bandstand on weekends during the Biltmore Blooms celebration.
If You Go: 2017 Event Details
Biltmore Blooms runs from March 20 through May 25, 2017.
Adding to the celebration this year is the special exhibition, "Designed for Drama: Fashion From the Classics," which will include more than 40 elaborate costumes from recent films inspired by books in George Vanderbilt's 22,000-volume library.
Book your visit with special spring savings by purchasing your ticket at least seven days in advance and receiving $10 off.
Bring all of your gardening dilemmas to the "Ask a Gardener" stations in the Walled Garden, and speak with a Biltmore horticulture expert. Biltmore-inspired spring decoration classes are held daily at A Gardner's Place below the Conservatory. 
March 23, 2017