Asheville Beer Scene Tours, Tastings, & Tips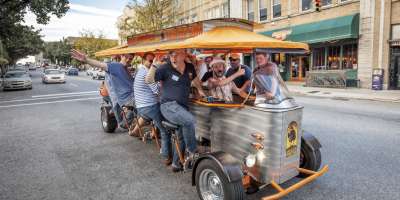 Here are the top ways to truly experience Asheville's craft brew scene.
Asheville Brews Cruise

Get a behind-the-scenes tour of what's happening in Beer City USA. The Brews Cruise is your all-access pass and comes with your very own designated driver!

Bruisin' Ales

Looking for some expert guidance or micro-brew souvenirs? Check out this specialty shop on Broadway, which was named the number three beer retailer worldwide! Plan to visit during one of their popular tasting events.

Get Funky

Take a trip down to the Funkatorium, a new and unusual tasting room by the brewers at Wicked Weed. Here you can sample trendy sour and wild beers, which often have more in common with wine than with their hoppy counterparts. Order eats off a tasting menu designed specifically to pair with these bold flavors.

Move & Booze

Also known for an active outdoor scene, it's no wonder that Asheville offers beer tastings for folks on the move. Grab some buddies and pedal your way around Asheville on the Amazing Pubcycle—part touring trolley, part bike, part party bus. Or slow down with a Bend & Brew class, offering 45 minutes of all-levels yoga followed by a refreshing tasting. If you're in a hurry, you may want to try the Original Asheville Beer Run, which pairs brewery stops with a 5k group run.

Farm-to-Glass

The secrets behind Asheville's tasty brew can be found in the fresh mountain water plus locally sourced ingredients such as North Carolina malts and fresh hops from mountain-based farms. Schedule a hops tour with Hop N Blueberry or Echoview farms to learn more about the beer making process.

Mountain Boogie

Pisgah Brewing Company in Black Mountain jams all summer long with their outdoor concert series. Grab a Frisbee and enjoy a pint of their popular Pisgah Pale Ale under the open sky. Just be sure to leave Fido at home.

Picnic by the River

The Bywater is a local's favorite with multiple grills for cooking out, outdoor games and plenty of local beer on tap. You'll have to purchase a membership at the door, but it's worth it. Get there early to avoid the waiting list.

Go Nano

And you thought micro-brews were all the rage. Check out the nano-brews served up at Thirsty Monk. Brewing smaller batches allows more flexibility to create unique concoctions like Coconut Porter, Cherry Chocolate Stout and their Scotland TrainWreck IPA. This menu changes constantly so you never know what they'll come up with next.

Mountains to Sea

Bringing the ocean a little closer to the mountains, Oyster House Brewing Company creates quality craft beer in various styles, including their award winning "Moonstone Stout", which is a special brew where oysters (shell and all) are included as an ingredient. You won't get the actual taste of oysters from the beer, but it does provide hints of sea salt, calcium and other minerals that become part of the overall flavor. Oyster House Brewing Company (which also offers a full food menu) recently relocated to 625 Haywood Rd in West Asheville and upgraded to a 5 bbl brewhouse, 12 taps and 2 cask beer engines. Their beers are also available exclusively downtown at The Lobster Trap, which is where the brewery was originally founded.

Feel the Burn

Visit Asheville Brewing Company in downtown Asheville for their unique Fire Escape Ale. Brewed with smoked jalapenos, this brew has offers a bit of a bite and a particularly piquant finish. Can't stand the heat? Check out their Rocket Girl Lager, a local favorite.

Movie Night

Sip on an Iron Rail IPA while watching a cult-hit flick at Wedge Brewery in the River Arts District. Bring a chair and enjoy their outdoor theater experience right by the train tracks. Or, take it indoors and catch a movie at the Asheville Pizza and Brewing in north Asheville. Try their Rocket Girl Ale!

Filtered Flavor

Shake it up a bit. No not your beer, just the flavor. French Broad Brewing creates unique batches of brew using a Randall filter. This gives them the ability to add roasted almonds to their brown ale or lavender to their porter.

Fly South

Asheville's South Slope, a fast-growing district located on the edge of downtown, has been dubbed by some as Asheville's new brewery neighborhood. Head down here to find great new beers at Burial Beer Co., Twin Leaf Brewery, and Hi-Wire Brewing. Or catch up with some of Asheville's original favorites at Green Man Brewery, known to the locals as "Dirty Jack's."

Keeping it Classy

If dive bars aren't your scene, take it up a notch, or at least up a mountain. The Grove Park Inn serves up their very own brew, The Great Gatsby Abbey. Created by Highland Brewing, you can enjoy a pint while taking in the sunset view from the Great Hall Bar.

Biltmore Beer

Biltmore is well-known for their wines, but they also serve up their own signature beers. While visiting the estate, head over to Cedric's Tavern in Antler Hill Village for the Cedric's Brown Ale with hints of toasted caramel or their Pale Ale.