8 Unique Ways to See Fall Color in Asheville
The autumnal bliss that overtakes Asheville throughout the fall months is not something to be missed.
There's nothing like a mid-October drive on the Blue Ridge Parkway or a hike in the Blue Ridge Mountains, so check out these great spots for some scenic splendor.  But, with one of the longest and most vibrant fall color seasons in the nation, there are so many different ways to experience fall in Asheville: some that give a new perspective, put you among or above the treetops and help you avoid the crowds.
View Fall Colors from Above
For a sunrise view of Asheville-area mountains, consider booking an early morning one-hour  hot air balloon trip with Asheville Balloon Company. Floating at an altitude of 500 to 2,000 feet, rides include views of mountains near Pisgah National Forest, downtown Asheville and more. Demand for these trips increases during October, so the earlier you book, the better.  Float above it all with this once and a lifetime experience.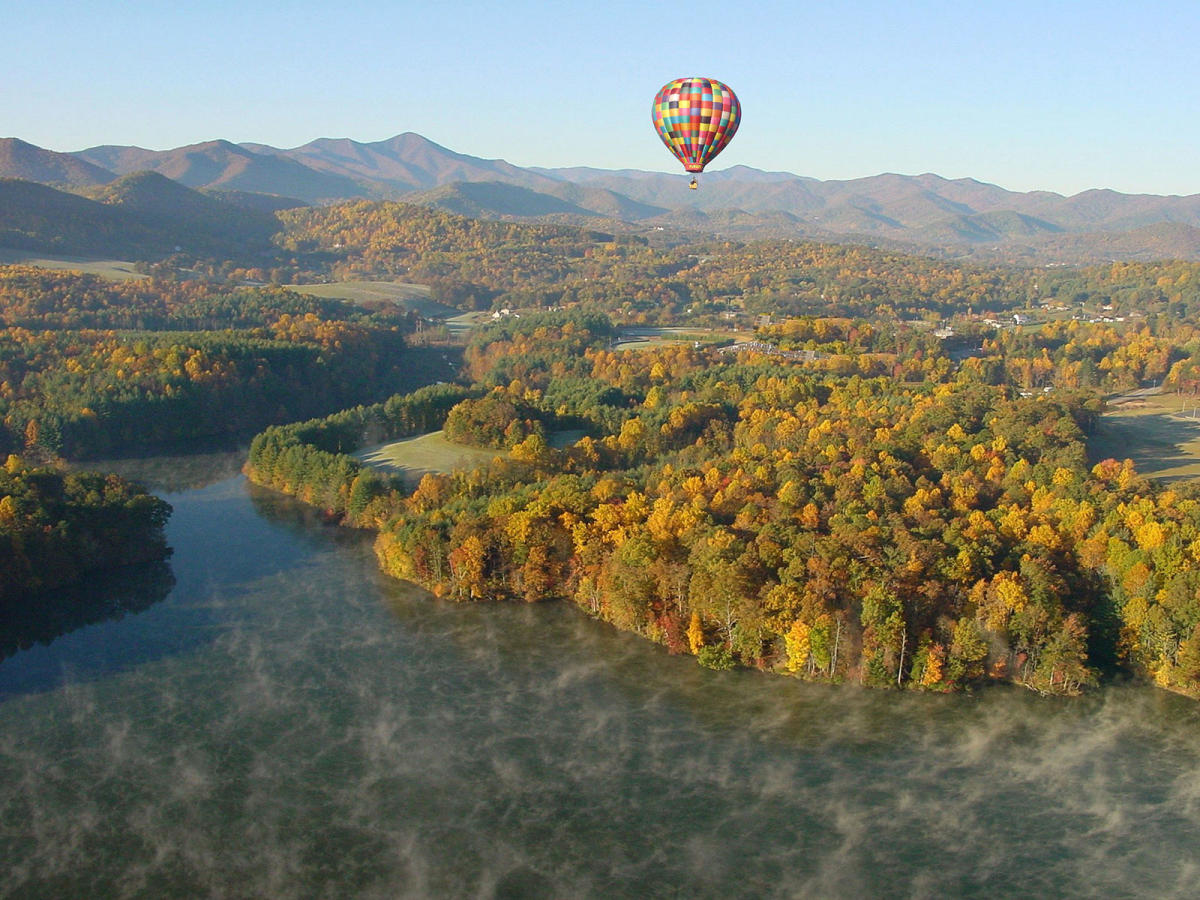 Get Lost Among the Trees
Imagine yourself flying through the forest canopy high above the forest floor, surrounded by the sights, sounds and smells of autumn. If you're into trying something new and getting that heart rate up, check out some of the best zip line canopy tours in the country.
Grab Some Wheels
One of the best ways to experience fall colors in Asheville is on a bike. Whether it's a lovely roll through urban streets or greenways, the paved roads at the Biltmore alongside the French Broad River or from the crests of the Blue Ridge Parkway, renting a bicycle or e-bike from local companies like The Flying Bike and Asheville E-Bikes is a can't miss opportunity for a beautiful fall reward. Looking for something a little more extreme? Check out these popular mountain biking trails.
Water Fun
As the third oldest river in the world, the French Broad River is a vital part of Asheville's outdoor community. Skip the traffic and enjoy Asheville's fall colors at your own pace as you paddle through the refreshing mountain waters. Asheville's Wai Mauna SUP offers stand up paddle board (SUP) tours and rentals through late October, including an early morning sunrise SUP tour. Rent a kayak from French Broad Outfitters or Asheville Outdoor Center and cruise through the calm waters as you soak in the views. Bring proper layers and clothing as temperatures can be cooler during the fall season. 
Climb to New Heights
Are you an experienced rock climber? Maybe you're looking for a new challenge? Either way, check out Cultivate Climbing Guides for an opportunity to scale some of the most picturesque spots in and around Asheville, like Chimney Rock State Park, Looking Glass Rock and Linville Gorge. All climbing experiences can be tailored to skill level, making for an exciting and unforgettable experience during Asheville peak fall color season.
Get Hooked
For the experienced fly fisherman, experience the quiet beauty of Asheville's fall colors is a huge draw to a day on the river chasing trout. Even if you're new to the world of fishing, there are plenty of fall fishing expeditions you can take to find tranquility and the thrill of the catch.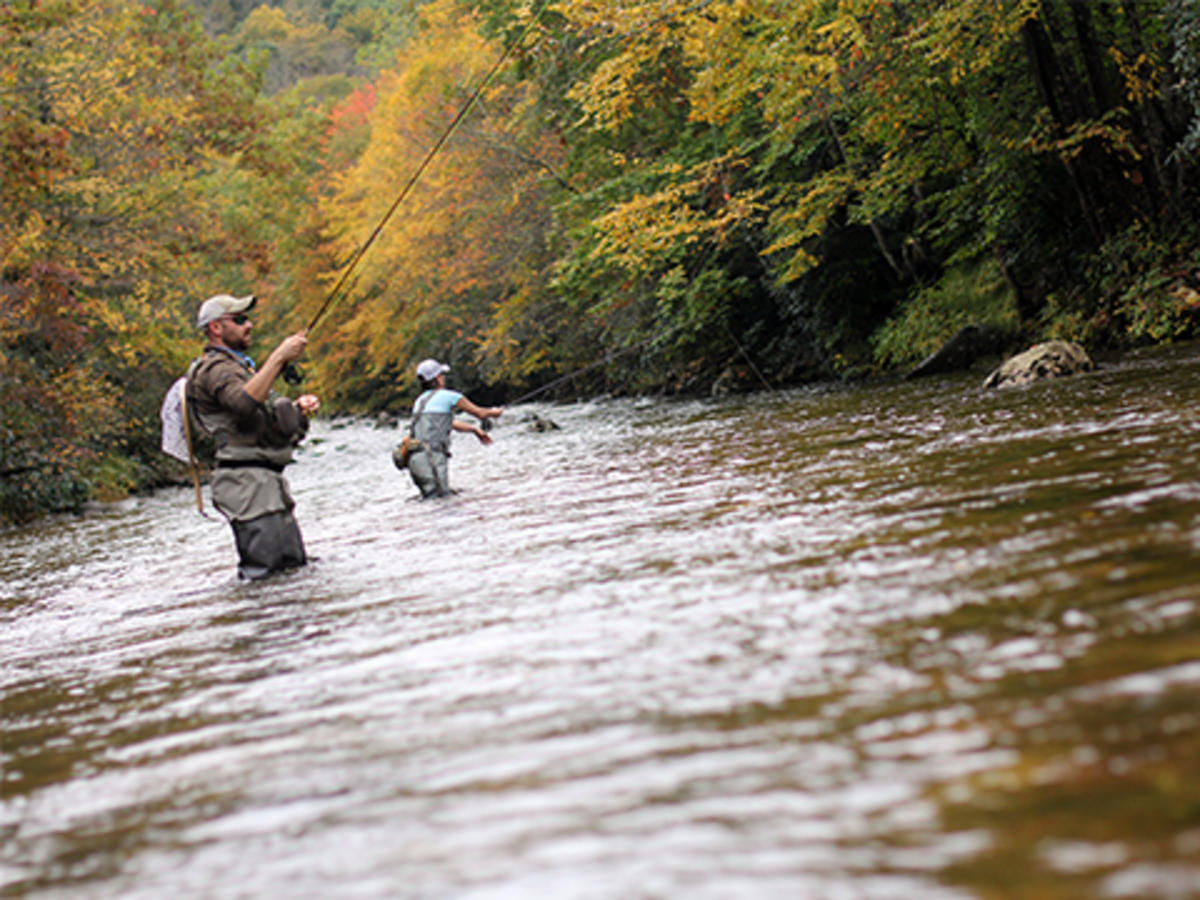 Help Keep Asheville Colorful
Experience fall foliage in a way that helps the environment! WNC Photo Tours' Protect Pisgah program is a monthly clean-up activity where participants pick up trash in high traffic areas and receive a free, three-hour photo tour and lesson afterwards.  Locals and visitors can also "adopt" a waterfall through Waterfall Keepers of NC by visiting their adopted waterfall four times a year to pick up trash and sending condition reports back to the organization (now that's a perfect reason to come back to Asheville!). Also, check out volunteer opportunities with the Blue Ridge Parkway Foundation, Asheville Greenworks and other environmental groups for ways to connect during your visit – or provide a financial donation.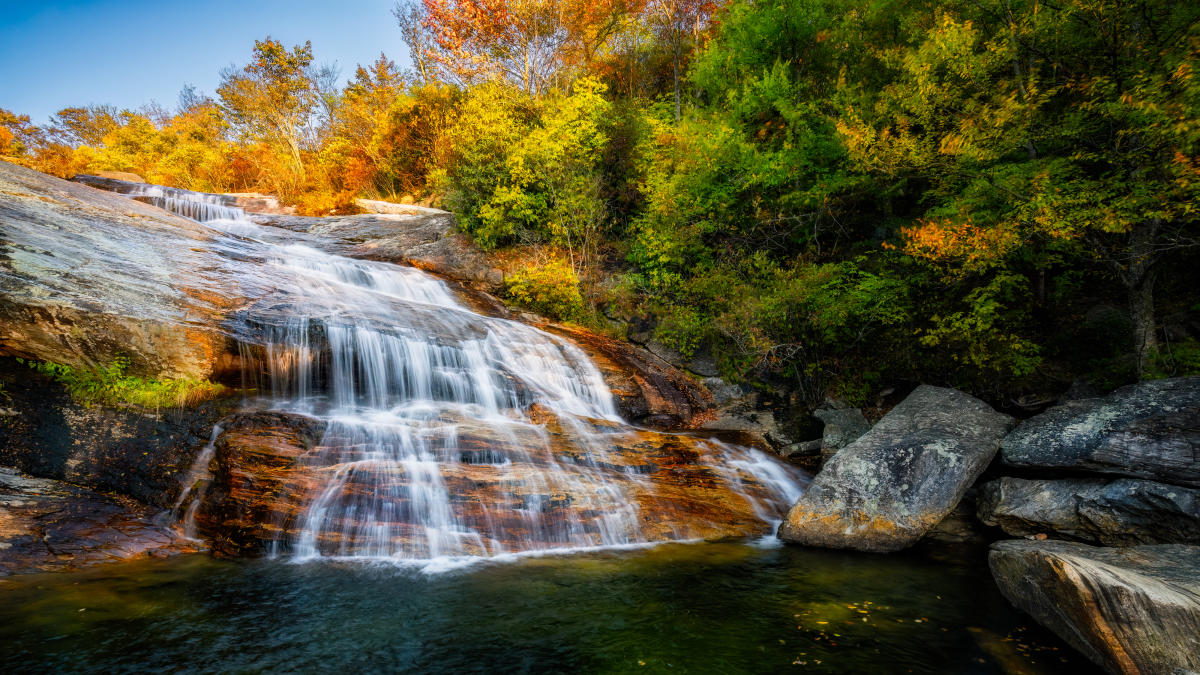 Fall Into Learning
Take in the fall color while expanding your appreciation and knowledge for the natural world at one of Asheville's family-friendly nature attractions. The North Carolina Arboretum is a 434-acre public garden that offers educational events and programs, hiking trails and rotating exhibits. Across town, the WNC Nature Center showcases over 60 animal species native to the area. On the Blue Ridge Parkway, visit the Cradle of Forestry where you can learn about the first forestry school in America. By visiting any of these attractions, you are supporting each of their missions to further protect and conserve this special area.
Updated September 22, 2023