Get Hooked on Guided Fishing Expeditions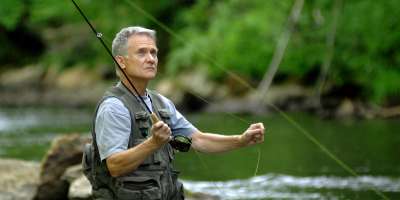 Trout, smallmouth bass, and great scenery abound
The phrase "gone fishing" typically means goofing off, avoiding responsibility, or just dozing in the shade. Not so for a dedicated group of Asheville-based outdoor guides.
For these hardworking sport fishermen, "gone fishing" means long hours of field research: heading into the mountains to explore the region's nearly 4,000 miles of public trout streams, evaluating local conditions throughout the year, and choosing the perfect spot for guests to experience the tranquility of deep woods and the thrill of the catch.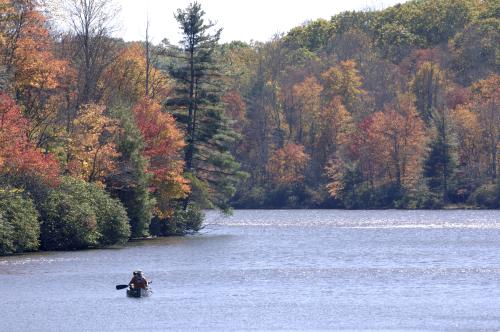 Visitors from around the world have discovered how easy it is to book half-day or full-day trips with experienced local fly fishing outfitters including Hunter Banks Company, Curtis Wright Outfitters, Asheville Fly Fishing, Brown Trout Fly Fishing, Altamont Anglers Fly Fishing Guides, Asheville Drifters, Orvis, Brookside Guides and Southern Appalachian Anglers. And the offerings suit every skill level from beginner to expert. Wade or float, hike in or bike in, learn to tie a fly or cast a line. Spend a whole day or just a few hours. The variations are endless.
Yet there's one constant – lots of fish, including three trout species, several kinds of bass, and even the elusive muskellunge, called "fish of a thousand casts."
"Every single one of these little creeks that flow off the Blue Ridge Mountains have brook trout," says Nathan Capron of Hunter Banks Company, mentioning the beautiful native Appalachian fish that inhabits shady pools set amid rocky outcroppings.
One easy way to explore local options is the Sourwood Inn's fly fishing package, which includes a stay plus a personalized half-day outing guided by Curtis Wright Outfitters.
Learn all about it
The clear, cool rivers and lakes of Western North Carolina and nearby East Tennessee teem with trout. In some places, such as the tailwaters of the Holston River, concentrations of fish top 10,000 per mile. The largest brown trout can reach 27 inches in length, and nearly five pounds weight.
Visitors who opt to set out on their own can find all the maps and equipment – and advice – they need at Asheville outfitting shops. Hunter Banks is located next to I-240 downtown while Curtis Wright has a shop with plenty of parking in Biltmore Village and in downtown Weaverville. The Orvis retail store, in Biltmore Park, sits close to fishing sites on the French Broad River. Knowledgeable staffers at all three firms and several other local outfitters offer frequent classes and clinics.
To learn about the big picture of fish in Western North Carolina's natural environment, take the whole family to the Pisgah Center for Wildlife Education, near Brevard, a branch of the N.C. Wildlife Resources Commission. The center offers a year-round calendar of free programs, including fish hatchery operations.
Sunburst Trout Farms, a family business for three generations in the Shining Rock Wilderness, near the town of Canton, offers both guided and self-guided tours of the facilities. Best of all, Sunburst Trout will package rainbow trout filets to order, and they offer other delicacies, like trout jerky and trout spreads, that make ideal picnic fare. Trout caviar, anyone?