Top Events To Celebrate LGBTQ+ Pride Month in Asheville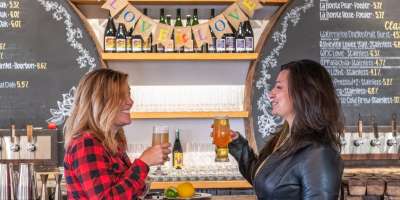 Take part in the spirit of Pride throughout Asheville the entire month of June! Asheville is a welcoming destination for LGBTQ+ travelers, and this month our queer visitors (and allies) can take part in a number of festive celebrations. Make plans to attend one of the great gay pride events in Asheville featured below.
If you can't make it to Asheville in June, then you still have another opportunity to celebrate Pride in 2023. Mark your calendar for this year's Blue Ridge Pride Festival, which is slated for Saturday, September 30, 2023! Or visit some of these LGBTQ+ friendly spots in Asheville, North Carolina.
Kiki Thursdays (Recurring Event)
Thursdays, January 26-April 13, 9 p.m. – 2 a.m.
Asheville Beauty Academy
Enjoy stellar performances from a rotating lineup of drag queens and cocktail specials. DJ RexxStep spins late into the night.
'Sugar Daddy' featuring Sam Morrison – Stand-up Comedy
Friday, June 10, 8 – 10 p.m.
Getaway River Bar
NYC comedian Sam Morrison (The Drew Barrymore Show, Bravo TV, Stand Up NBC Finals) grapples with the death of his partner. He makes grief hilarious through tales of love, diabetes and seagull attacks.
Calcutta's VMA Inspired Drag Show
Friday, June 10, 10 – 11:30 p.m.
Getaway River Bar
Turn back time in a good way and relive the most iconic moments from the VMA's! Hosted by Calcutta, you're invited to get a tropical drink and live your red-carpet fantasy.
Saturday, June 11, 9:30 – 11:30 a.m.
Location Available to Members of Asheville Lesbian Social Club
Get to know members of Asheville's lesbian community over a cup of coffee during this social club meet up. Follow the event link to learn how to participate.
Saturday, June 11, 1 – 9 p.m.
Multiple Locations
Join local LGBTQ+ organizations for Pride Night at the Stadium. It starts at Green Man Brewery from 1 to 4 p.m. and then it's 'Walk the Walk,' a procession of the community to Memorial Stadium for two soccer games. The women's game starts at 5 p.m. followed by the men's fame at 7:30 p.m. Be sure to catch the rainbow smoke display during the night.
Pride Pup Parade
Saturday, June 11, 2 – 4 p.m.
Getaway River Bar
Join the hilariously cute pup parade where dogs dress up and show off their best pride lewks and cute tricks. Open to friendly dogs of all genders and sexual orientations.
Sunday, June 12, 11 a.m. – 2:30 p.m.
Lake Julian Park
Bring your canoe, kayak, chair and food to share. The Lesbian Social Club of Asheville is going to have a day in the park.
Life's A Drag Brunch (Recurring Event)
Sundays, June 12, 19, & 26, 12 – 2:30 p.m.
Asheville Beauty Academy
Enjoy a delicious buffet and a fabulous Drag Show! Hosted by the legendary Ida Carolina featuring Vivian Valentine & Vandeja Voo. Seating is limited so purchase your ticket early.
Sunday, June 12, 12 – 2 p.m.
New Belgium Brewing Co.
This event is free to attend, but it is a fundraiser to support Blue Ridge Pride. Seating is first come, first served. Enjoy local brew from New Belgium and food trucks will be on site.
Sunday, June 12, 4 – 7 p.m.
Banks Avenue Bar
It's time for a PRIDE tea dance! Join this community dance and help raise funds for Blue Ridge Pride.
Monday, June 13, 7 – 10 p.m.
One World Brewing West
The Asheville Lesbian Social Club will meet up at One World Brewing in West Asheville to enjoy live music and a pint of local brew.
Wednesdays, June 15, 22, & 29, 9:30 – 10:30 a.m.
City Bakery Charlotte Street Cafe
Gay men's coffee group meets every Wednesday at 88 Charlotte St. Gather for stimulating conversation over a cup of Joe.
Saturday, June 18, 1 – 3 p.m.
Getaway River Bar
Join in on the fun and laughter with this picnic for the LGBTQ+ senior community (55+). Bring your favorite side dish or dessert. A main dish is provided.
Saturday, June 18, 4 p.m. – 12 a.m.
Catawba Brewing Company
Take part in this special bar crawl with a portion of proceeds benefiting The Trevor Project. You'll make your way to select destinations across town culminating in a late-night dance party at Scandals night club. Tickets get you exclusive drink specials, local food, and waived cover at all venues.
Saturday, June 18, 7 – 11 p.m.
Hi-Wire Brewing Biltmore Village
Brenda the Drag Queen will be hosting with tunes being spun by DJ Lil Meow Meow till 11:00 p.m. Doors open at 7:00 p.m. with the show going from 8:00 p.m.-10:00 p.m.
Paint: A Drag Cabaret
Saturday, June 18, 8 – 11 p.m.
Getaway River Bar
Head out for a night of irreverent comedy and intoxicating performances. This professional drag troupe have excited audiences from the Hudson Valley to Central and Upstate NY and all over Vermont.
Drag Bingo
Tuesday, June 21, 8 – 10 p.m.
Asheville Beauty Academy
Hosted by the amazingly beautiful inside and out Calcutta! Try out classic games and also some not so conventional games.
Karaoke with Ganymede (Recurring Event)
Tuesday, June 21 & 28, 10 p.m. – 2 a.m.
Asheville Beauty Academy
Ganymede hosts Asheville's newest karaoke night. She's tall, she's beautiful, and she will sing along with you so come prepared to laugh and have a great time.
Thursday, June 23, 7 – 9 p.m.
Highland Brewing Event Center
Dine With Divas dinner cabaret is a mouth full of fun for locals and visitors. The production is a perfect combination of spectacular burlesque and comedy performances by the area's best professional drag queens. This sauciest show in town is also a fundraiser for local charities. You've been served!
Friday, June 24, 9:30 p.m. – 2 a.m.
Asheville Beauty Academy
The Asheville Lesbian Social Club will head out for a night of dancing at the Asheville Beauty Academy.
Saturday, June 25, 1 – 5 p.m.
Aloft Asheville Downtown
It's a pool party on the rooftop of Aloft! Special guest Ganymede will be there along with prizes and surprises. This event has limited availability so grab tickets early.
Saturday, June 25, 3 – 7 p.m.
The Odditorium
Come keep the spirit of Stonewall alive by smashing a car destined for the junkyard. $1 buys you one swing of the sledge hammer and you can buy as many hits as you want. Music, a drag and burlesque show are planned.
Saturday, June 25, 9 p.m. – 11 p.m.
O.Henry's
It's a dance party in recognition of the Stonewall Riots anniversary! Head out to NC's longest running gay bar, O.Henry's, for a night of dance, performances, swag, raffles and an auction!
Chow Chow: Appalachian Pride Brunch
Sunday, June 26, 11:30 a.m. – 2 p.m.
Smoky Park Supper Club
This lively event will feature a fabulous cocktail hour, featuring local drag performers, followed by a beautifully crafted meal. This is part of Chow Chow, Asheville's annual culinary event featuring fun, delicious, and educational events celebrating the unique foodways of Southern Appalachia, while fostering dialogue about issues that impact our community including racial justice, climate change, and food justice.
Tuesday, June 28, 5 – 7 p.m.
Black Wall Street
Local nonprofits will share information and resources during an 'information fair'. We invite the public to come learn more about our LGBTQ+ community and how they can become involved. Then at 7 p.m. there will be a Raise Your Voice rally.
Updated June 15, 2023