LGBTQ+ Friendly Asheville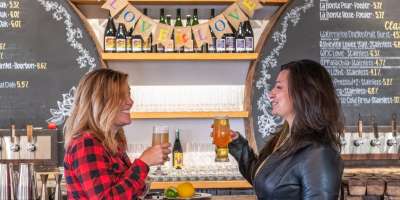 Inclusive Spaces Helping to Build Community
For years, Asheville has been a popular and important destination for the LGBTQ+ community. What with the live music scene, the outdoors, and the abundance of places to eat and drink, it's no surprise that there's a lot in Asheville for the queer community to enjoy. And while you'll likely hear the phrase "Y'all means all" while visiting, there are some businesses that go above and beyond. Keep reading to see some of the best gay-friendly spots in Asheville.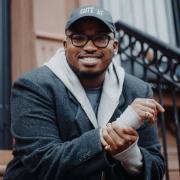 Jefferson Ellison (JE): As a queer Black man, I'm aware that not every environment will be conducive to my desired form of expression. I've also become increasingly aware of how much that matters to me when exploring new places or celebrating big moments. So when I'm headed out on the town, I'm looking for good vibes, great cocktails, and even better conversation.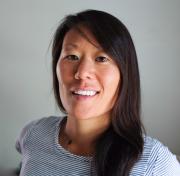 Erin McGrady (EM): Going off what Jefferson said, we created a list of some of our favorite spots in and around Asheville that we frequent, know, and love. These are places where we feel at ease and comfortable. While there's no guarantee that you'll always have a positive experience, the places on this list will go out of the way to make sure that you do.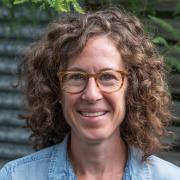 Caroline Whatley (CW): These aren't the only places in Asheville where the LGBTQ+ community is welcome and safe but it's a start. There are other places around town that also show up for the gay community and we hope to add more to the list at a future date. Stay tuned!
LGBTQ+ Friendly Businesses in Asheville, NC
12 Bones (River Arts District)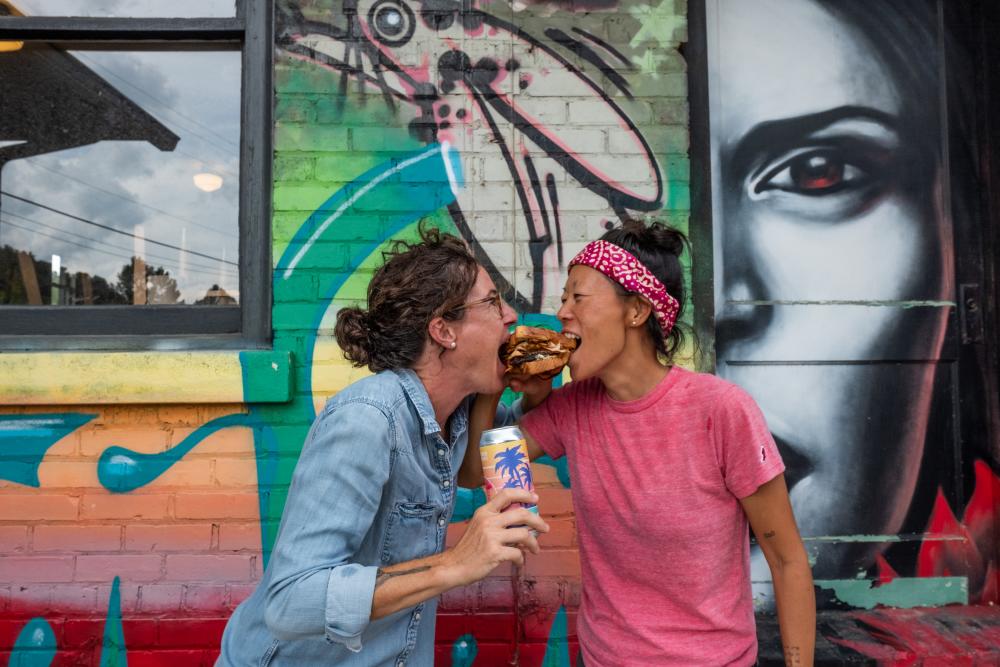 Photo by Authentic Asheville
EM: BBQ and beer … this is one of my favorite spots in Asheville. When someone asks what they should do when they come to Asheville I always include 12 Bones in my recommendation. Not only is their food and beer delicious but it's served in a relaxed, chill spot with plenty of outdoor seating and easy parking. The owners and staff are super friendly and you can't beat their location in the River Arts District.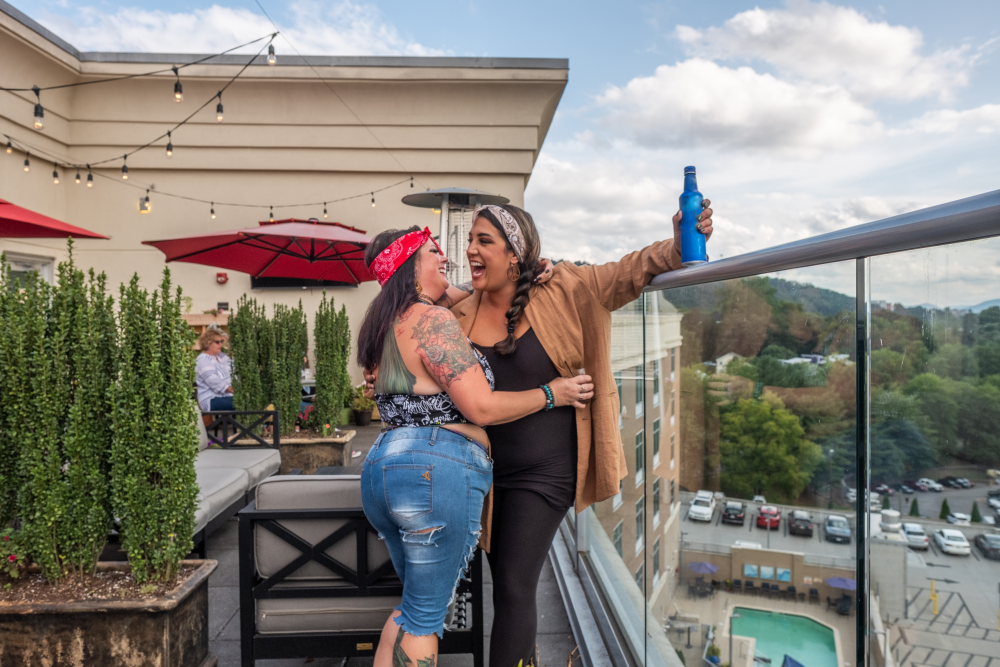 Photo by Authentic Asheville
CW: They say it's all about perspective, right? Well, how about a unique view of Asheville from some of the coolest rooftops in the city to help you take your Asheville experience to new heights (pun intended). Guests on this tour will visit three different rooftops downtown and be treated to a different sample cocktail or mocktail at each location. You'll come away with not only numerous Insta-worthy photo opportunities but also a birds-eye view of the city. There's a special place in their heart for hosting guests from the LGBTQ+ community. It's no wonder there have even been a few engagements on the tours!  
Banks Ave. (South Slope)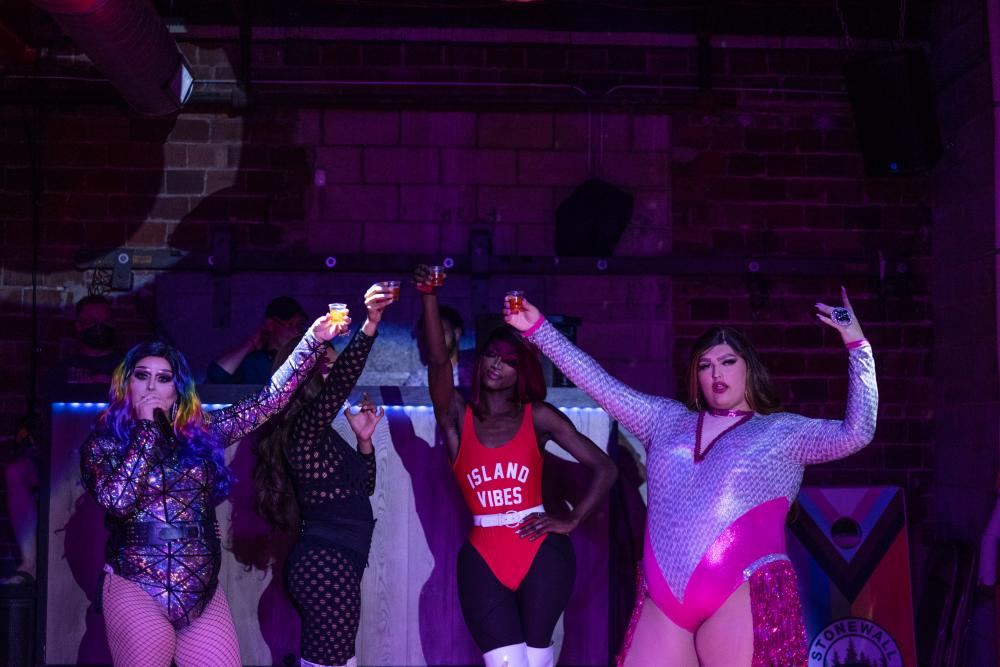 Photo by Authentic Asheville
CW: You can pop into Banks Ave any day of the week, grab a drink and play a couple rounds of pool or Skee Ball, but if you're looking for a little more, make plans to visit Banks Ave. when they're hosting one of their drag shows. The Queens at Banks Ave. are nothing short of fabulous and you'll be glad you came.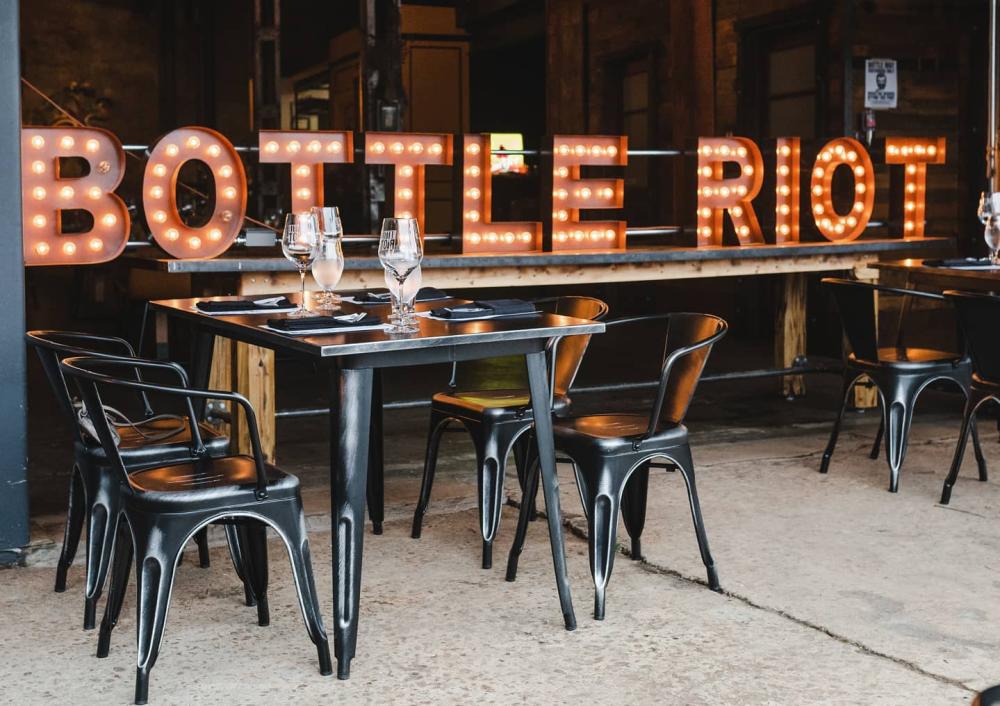 Photo provided by Bottle Riot
JE: I love, love, LOVE this wine bar. The couches are cute and comfortable, the wine list is elevated and informed, the staff is fantastic, and the cheese plate has the best almonds I've ever had. It's the perfect place to drink at 4pm and finish answering emails, have a pre-dinner drink before eating at The Bull and Beggar, or simply have a girls' night and Uber home. Laurie, the owner, and her staff set a tone of a "posh night out with intentional conversation," and that level of class always feels like a safe place to be. 
Pro-tip: They don't have cocktails, but they do have beer and a lot of really delicious wine. If you don't know what you like, just ask for Jonathan and tell him you want whatever Jefferson had last. ;)
Chef J Chong (Location Varies)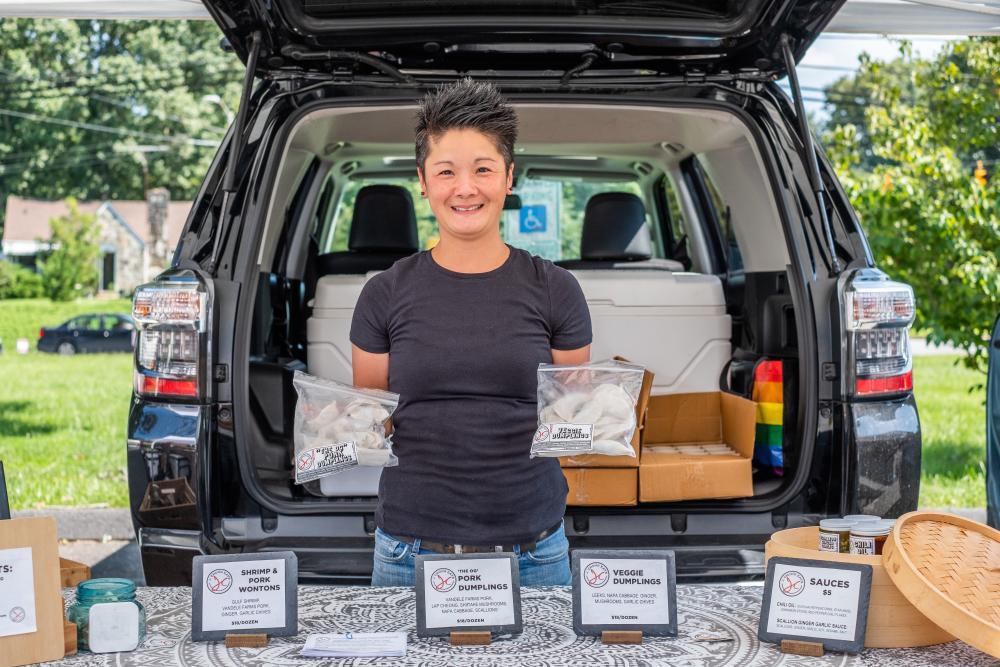 Photo by Authentic Asheville
EM: You haven't lived until you've experienced Chef J Chong's dumplings and sauces. They're incredibly flavorful, made with local ingredients, and one of my favorite things to eat in Asheville. You can pick up her homemade Cantonese food (and meet her) by going to one of the area's farmers markets. Her location varies to be sure to check out where she is via her Instagram. Just be sure to get there early because she often sells out. Oh, and if her delicious take-homes pique your interest in learning how to make some of her dishes, you can book a private cooking class with her via Asheville Wellness Tours.
Double Crown (West Asheville)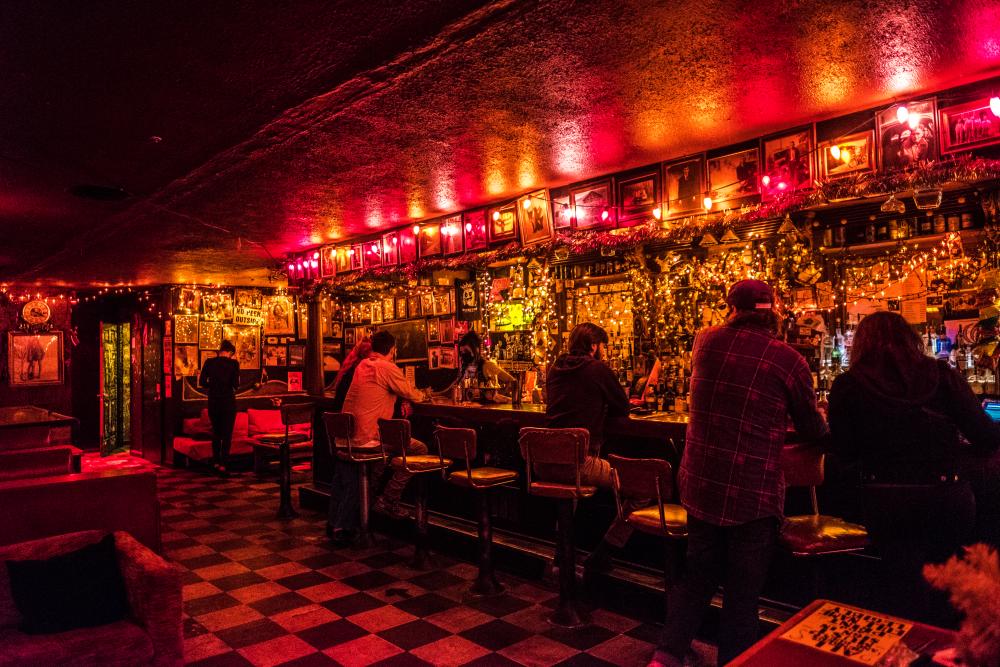 Photo by Authentic Asheville
JE: A grungy little dive bar with graffiti on the mirrors and wooden tables in their parking lot, this place is a favorite among locals and tourists alike. It's perfect. The boys are tattooed and greasy, the drinks are affordable, and the bar is big enough to deal with the burgeoning scene in West Asheville. What I love about "punk bars" like this is that everyone is already doing their own thing so no one is concerned about who you are, what you're wearing or how you show off. It's the type of bar where everyone could know your name and no one would care. Just mind your manners, pay your tab and catch a vibe.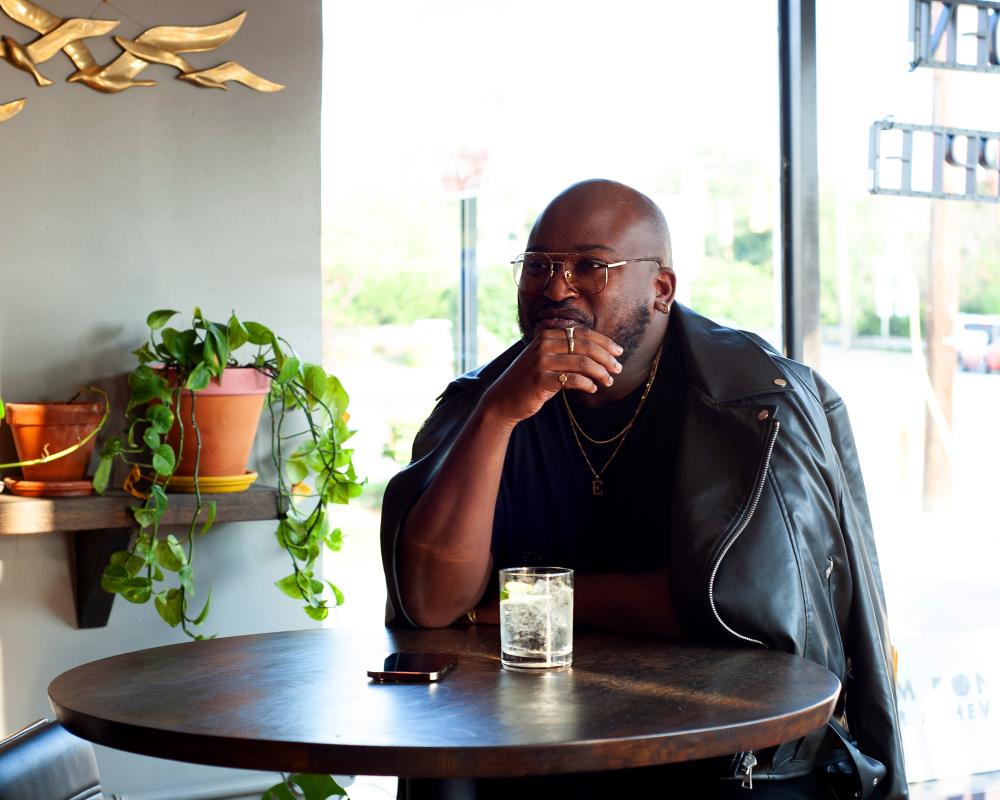 Photo by Savannah Gibson
JE: Chic, a little quirky, and full of personality, this bar located along West Asheville's Haywood Road blends all the best parts about the Asheville scene including delicious foods, interesting cocktails, trivia nights, the occasional DJ and very Instagrammable decor. It's a trendy little bar on the trendy side of town so, of course, it's the only place the "girls, gays and theys" want to be. I recommend getting the Turtle Records cocktails and an order of wings to start, and then before you leave, have a "Snaiquiri" shot and leave them a big fat tip.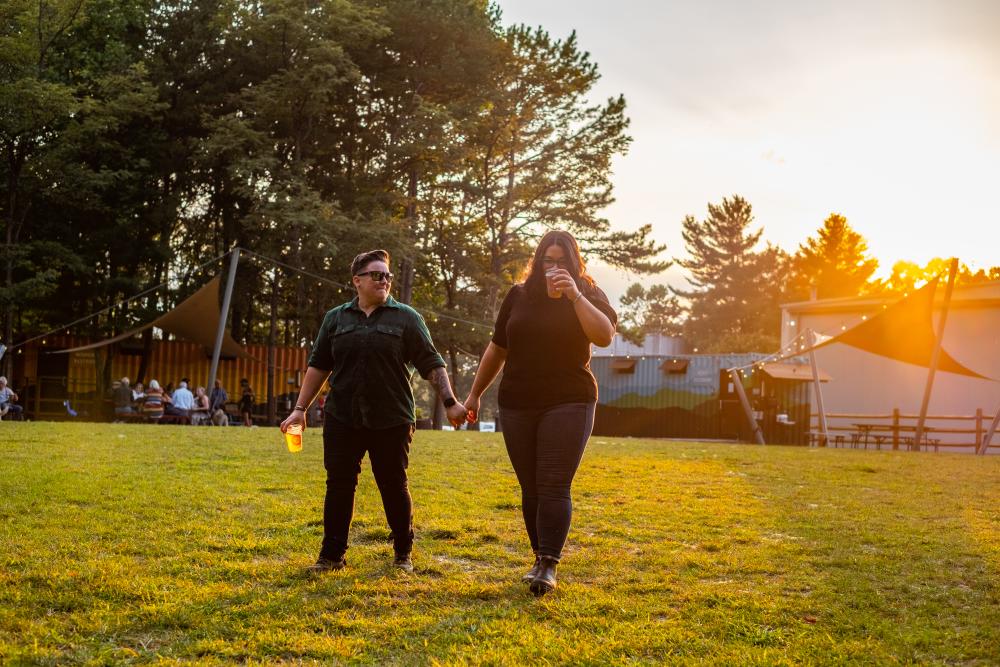 Photo by Authentic Asheville
EM: For starters, Highland's beer is delicious. We're big fans of their Daycation IPA, Rising Haze IPA, and their AVL IPA. But Highland Brewing makes our list of one of the best LGBTQ+ spots in Asheville because they have taken pains to create an environment that's safe and friendly. They've hosted numerous gay weddings and truly embody the slogan that you're sure to hear in Asheville, that "y'all means all."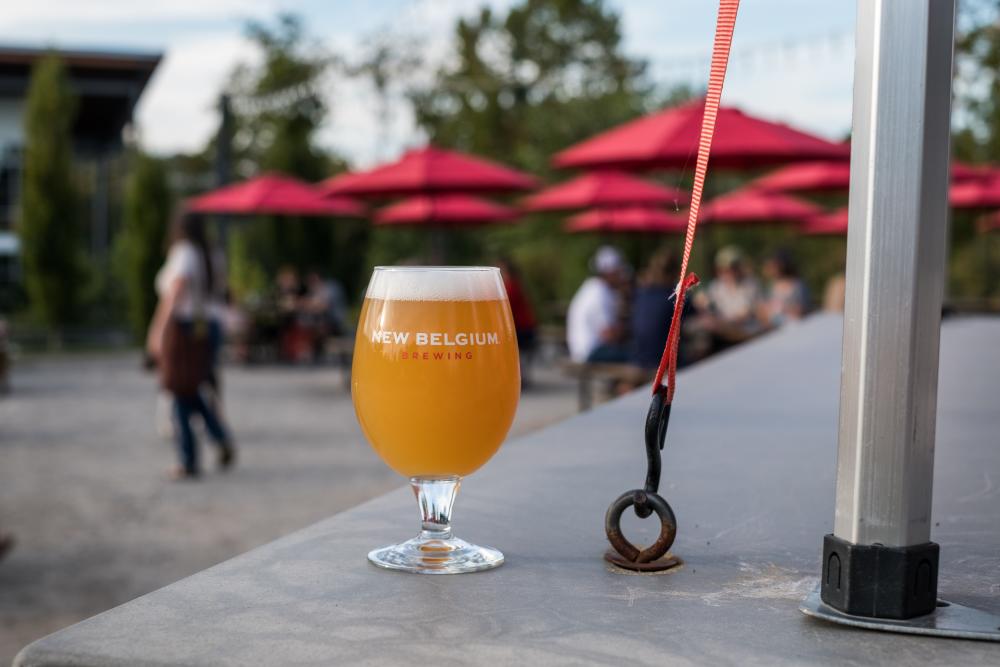 Photo by Authentic Asheville
EM: This brewery is an inclusive, welcoming space for all. They provide continuous internal training for coworkers to actively create a safe space and their principles are posted around Asheville's tasting room that say, "We are in inclusive, welcoming, and safe space for all. We value our community and we have zero tolerance for any form of harassment, sexism, racism, or homophobia. If you witness anything in opposition to our principles, please let us know." In addition, New Belgium brews a Belgian-style ale called Bière de Queer, whose proceeds directly benefit Blue Ridge Pride. In 2021, they also pushed the beer release further as an advocacy campaign directed to Legislators to drive awareness in passing the Equality Act. To top it all off, New Belgium was also the first brewery to make the HRC's list as one of the Best Places to Work for LGBTQ+ Equality and scored a 100/100 on the Corporate Equality Index.
o.henry's (Downtown)

Photo by Authentic Asheville
CW: North Carolina's oldest gay bar just so happens to be in Asheville, North Carolina. For over 40 years o.henry's has been building community, giving the LGBTQ+ community a place to gather for drag, karaoke, drink specials, and even dance parties in the back aka "The Underground" If you haven't made it over there yet, what're you waiting for?!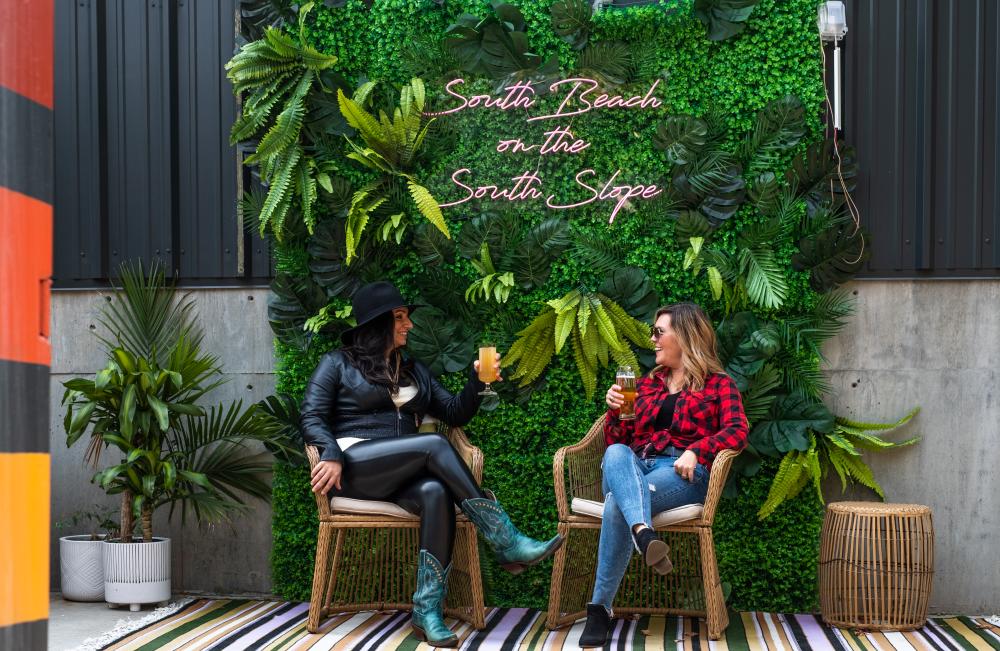 Photo by Authentic Asheville
EM: One of Asheville's most popular breweries also happens to be an inclusive space where the LGBTQ+ community is not only accepted but welcomed with open arms. (The gay flag waves at the entrance and is just one of their visible signs of support for the queer community. Be sure to check out their newest mural in the Biergarten which depicts revolutionary trans activist Marcia P. Johnson.) Beyond the symbolism, Wicked Weed also holds a Pridetoberfest at their Pub and Funkatorium (the east coast's first sour beer dedicated taproom) and they also brew a beer where a portion of the proceeds go to the Campaign for Southern Equality as well as Blue Ridge Pride.
Bonus:
The Odditorium - You can be yourself at this LGBTQ+ friendly spot in West Asheville. Check their Facebook page for their events and keep your eyes peeled for their drag shows.