LGBTQ+ Asheville: Your Best Bets for Gay-Friendly Travel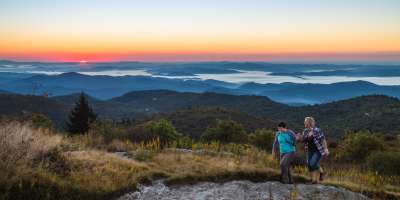 Asheville, North Carolina's progressive attitude, vibrant arts scene, and booming nightlife make this a welcoming city for the LGBTQ+ traveler.
While you won't find a gay district, or "gayborhood," you will discover a town with a vibrant gay community that is integrated into every aspect of the city's culture. Discover the best gay-friendly things to do and support businesses that support the LGBTQ+ community with these top picks to experience gay Asheville.
Check out this list of LGBTQ-owned businesses in Asheville.
Annual Events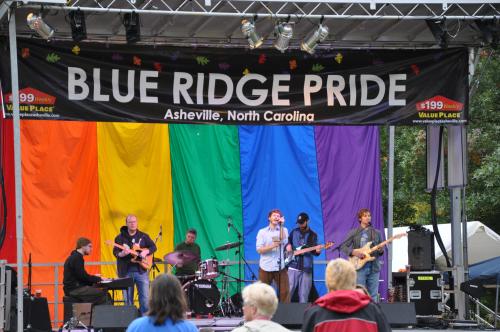 Blue Ridge Pride Festival: Each fall, the Asheville's LGBTQ community takes to the streets to celebrate the rich diversity Asheville has to offer. The weekend is filled with pageants, parties, and a street festival dubbed by CNN as one of the world's best places to celebrate pride.
Asheville Mardi Gras Parade: When Fat Tuesday rolls around, Asheville hauls out the feathers and sparkles for a family-friendly procession through downtown streets, complete with brass bands and dancers.
Nightlife
Scandals: This legendary late-night gay club is the best place to go dancing in downtown Asheville. Featuring a state-of-the-art sound and lighting system, this hotspot is known for its great music and entertaining drag shows that hit the stage Thursday through Sunday nights at 12:30 a.m.
O.Henry's: Visit one of the oldest gay bars in North Carolina. Here you'll find a relaxed atmosphere with nightly specials and events, including a growing drag show scene. Attached to the bar is The Underground, which throws a dance party each weekend.
Where to Stay
These are just a sampling of some of the area's gay-friendly and/or gay-owned accommodations, and are certainly not a complete list. Be sure to browse all of Asheville's lodging options.
The Reynolds Mansion: Rated the number one bed and breakfast in Asheville by Trip Advisor, this beautifully appointed inn was once home to the famed Hope Diamond. An iconic Asheville landmark, this pre-Civil War home is listed on the National Registry for Historic Places.
Renaissance Asheville Hotel: This gay-friendly hotel is located in the heart of downtown and is steps away from the Thomas Wolfe House, the Asheville Community Theatre, and some of Asheville' most buzz-worthy restaurants.
Doubletree Biltmore Hotel: Located in beautiful Biltmore Village, this hotel doubles as a showcase for Vanderbilt memorabilia and hosted Asheville's first same-sex wedding expo.
1889 WhiteGate Inn & Cottage: This luxurious AAA 4-diamond B&B is known for its exquisite amenities, a 3-course gourmet breakfast, and award-winning gardens.
Engadine Inn & Cabins: Choose from the classy, historic inn or one of six fully equipped cabins nestled on 12 acres of rolling hills with tranquil mountain views.
Things to Do
The Spa at the Omni Grove Park Inn: Treat yourself to some much-needed relaxation at this world-class spa overlooking the Blue Ridge Mountains. Get a couple's massage in an outdoor cabana, or enjoy the mineral pools and multiple hot tubs. There are also private men's and women's contrast pools, saunas, and eucalyptus-infused steam rooms, which means same-sex couples get to share more of the experience together.
Biltmore: A trip to Asheville isn't complete without visiting America's largest home. This sprawling, 8,000-acre estate offers everything – outdoor adventure, arts and culture and history, plus an incredible garden designed by Frederick Olmsted. Be sure to visit their winery for a free tasting, or upgrade to the paid tasting to try their bubbly.
Asheville Rooftop Bar Tours: Experience Asheville's scenic beauty and historic landmarks, enjoy sample cocktails and mocktails at three rooftop bars, and discover Asheville's fascinating history from the rooftops. Asheville Rooftop Bar Tours is an LGBTQ-owned business.
The Great Outdoors­: You don't have to go far from Asheville to be immersed in its natural beauty. Go waterfall hunting, embark on a guided adventure, or hit the Blue Ridge Parkway in search of the perfect hike.
Asheville's Art Scene: Asheville is home to hundreds of working artists. Stroll around downtown to peruse more than 30 art galleries, or head to the River Arts District to see more than 150 artists at work in their studios. You can even take a class!
Get Married: Asheville is a gay wedding destination offering a beautiful mountain backdrop and a lively mountain town for the festivities.
Where to Eat
When it comes to eats, Asheville's nickname says it all. Our Foodtopia is a foodie's paradise of farm-fresh produce, locally raised meats, craft beverages and unique flavors. The city is home to more than 200 independent restaurants, plus numerous farmers, bakers, cheesemakers, foragers and chocolatiers. 
And Asheville's other nickname, BeerCity USA, pays homage to the area's 27 craft breweries and the award-winning beers they produce.
Shopping
Malaprop's Bookstore & Cafe: – Stop by one of Asheville's most popular independent bookstores in downtown Asheville. Here you'll find an extensive selection of gay and lesbian literature, as well as books on gardening, art, wellness, and spirituality, and a wide array of works by local and regional authors.
Asheville Bee Charmer: This downtown shop pays homage to all things bee. This eclectic, gay-friendly shop features a tasting bar to sample their small-batch regional honey.
Vintage/Antique Shopping: Asheville is filled with specialty vintage stores. Also check out the Biltmore Village antiques district, including Antique Tobacco Barn, a huge warehouse dedicated to treasure hunting.