Spend a Perfect Day in Black Mountain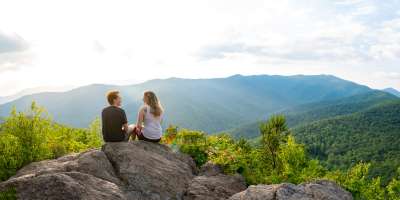 Simply put, Black Mountain is one of the prettiest small towns in America. Don't take our word for it, ask TripAdvisor. With gorgeous mountain views at every turn, incredible eats and a rich arts culture, Black Mountain has enough to fill up an entire vacation. But, hey, we get it, sometimes you just have a day.
Let's help you get the most bang for your buck. Here's one way to spend a perfect day in Black Mountain!
8 a.m.
Get an early start to your day with breakfast at the Open Oven. It's hard to go wrong with its extensive menu, but we recommend the Black Mountain Benny that's served with homemade sourdough biscuits or the Shrimp & Grits. This hearty eatery should get you ready for the next part of your day.
10 a.m.
With breakfast in the bag, it's time for a robust morning hike. Head over to the Lookout Trail for a 1.4-mile round trip adventure that will put you on top of the world for a 360-view of the Seven Sisters peaks.
If you're looking for something a little easier, check out the Harry Bryan Trail, a 0.8 up-and-back through the woods of Bell Forest to Flat Creek that takes you to a bridge at Greybeard Trail. You can continue on Graybeard to make it a longer loop.
1 p.m.
A long hike always gets the tummy churning, so head back into downtown Black Mountain for a quick lunch at Veranda Café. Open seven days a week from 11 a.m. to 3 p.m., Veranda offers an unforgettable Hungarian mushroom soup as well as a host of tasty sandwiches including a mouth-watering Cuban and Turkey Reuben.
2:30 p.m.
All right, enough eating (at least for now). It's time to get your shop on! You could spend all day shopping in Black Mountain, but we've got a few you can't miss like Seven Sisters and Mountain Nest Gallery, Red House Studios and Chifforobe Home and Garden. Don't miss the Black Mountain Center of the Arts, which is housed in the former town hall and hosts multiple exhibitions and featured artists.
3:30 p.m.
Shopping till you drop is easier with a little caffeine infusion. Stop by the Dripolator for an iced coffee or a tasty fresh baked treat. Stay for the cozy atmosphere before heading to the next shopping destination.
5 p.m.
Need a quick stroll to work up an appetite for dinner? Head to the scenic Lake Tomahawk Park for a quaint walk around the half mile trail. It's a great place to let the kids burn off some energy while taking in the surrounding mountains. 
6 p.m.
Dinner time can often be the best time in Black Mountain, especially with a stop at Pure and Proper for some upscale dining and affordable pricing. Try the braised pork cheeks or Okonomiyaki, a roasted lamb belly with crispy potatoes and chipotle aioli. There's also the fan favorite Goldfinch and popular Trailhead Restaurant and Bar. Stop by The Hop or Kilwins after dinner for a sweet treat.
8 p.m.
End your perfect day in Black Mountain with a trip to either Pisgah Brewing Company, White Horse or the newly opened RailYard for some post-dinner drinks, music and maybe even some dancing! Check their schedules to see who's playing!
Updated August 22, 2023