Asheville's Wildflower Bloom Schedule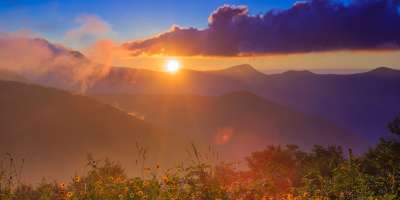 Spring in the Mountains is a Pastel Paradise
The landscape of the southern Appalachians, the oldest mountains in the world, is rich in biodiversity, offering you an opportunity to discover flora not found anywhere else in the world. In Asheville, seasonal favorites like trillium, tulips, azaleas and violets herald the arrival of spring with their showy blooms, and as the season progresses, budding wildflowers climb in elevation to the tops of the highest peaks. It is this progression that provides Asheville with one of the longest wildflower seasons in the country, extending from March all the way through October.
Where the Wild Things Are
April through June offers the best opportunity to see the most blooms appearing at one time. During these months, the forests are covered with flowering trillium, lady slippers, japonicas, jack-in-the-pulpits, wild ginger, evening primrose, mountain laurel, rhododendron, and hundreds of other species. See wildflowers galore on one of the Asheville area's best spring hikes, or check out one of these favorite local spots for spring blooms. Our spring flower bloom schedule will give you an idea of what to look for during your visit.
Amazing Gardens You're Sure to Dig
The fertile grounds of the Asheville valley are a gardener's paradise, and you'll find our area floral displays are so well crafted, they're practically works of art. Western North Carolina's largest showcase of flowers is the annual Biltmore Blooms. This masterpiece of gardening runs from March through May and features over 130,000 flowers. Other beautiful gardens include the North Carolina Arboretum, the Botanical Gardens of Asheville and a number of secret gardens you can tour by appointment only.
Ode to the Rhododendron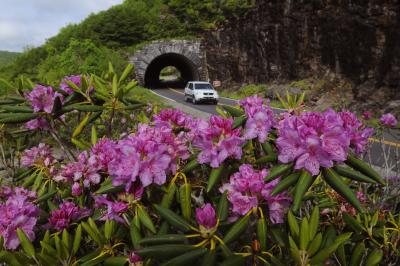 The rhododendron is one of the showiest and most memorable blooms in the Blue Ridge Mountains. This hearty shrub that pops out white, pink or purple flowers is most vibrant in late spring and early summer. The best-known rhododendron in the Asheville area is probably the Catawba rhododendron, which takes over the Craggy Gardens area of the Blue Ridge Parkway in early June. Find the white flowers of the Carolina rhododendron as early as late April by heading south of Asheville on the Blue Ridge Parkway, near Frying Pan Mountain and the Cradle of Forestry.
The azalea is a native cousin to the rhododendron and another local favorite during this season. The Flame azalea, with it's bright orange blooms, is on display along the Blue Ridge Parkway just north of town, as well as further south toward Graveyard Fields. Both Biltmore and the North Carolina Arboretum offer impressive collections of native azaleas that are wonderful to behold in May and June.
Asheville's Bloom Schedule