Best Spring Hikes in Asheville, N.C.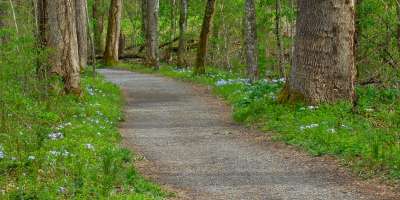 As the mountains green up with the coming of spring, the new season also brings a burst of color to the trails in and around Asheville. Hundreds of types of wildflowers line the paths that lead to stunning vistas and thundering waterfalls. These trails are among local favorites for seeing the best spring wildflowers in the mountains of Western North Carolina.
Note: All directions are from downtown Asheville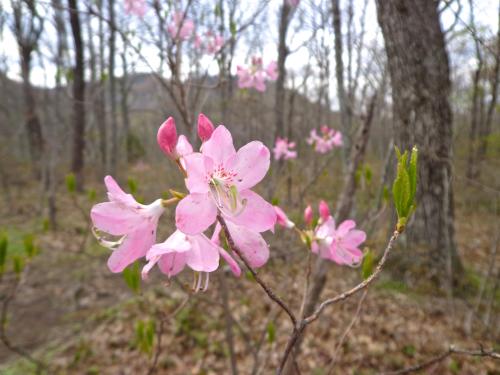 The trailhead for Craven Gap is just 15 minutes from downtown Asheville, meaning you'll be among the forest and the wildflowers in no time. This trail is part of the Mountains-to-Sea trial, which spans the state of North Carolina. However, this two-mile stretch is particularly accessible and diverse. As you make the two-mile hike to Bull Gap, you'll likely see robin trillium, violets, and azaleas and you may smell the wild mountain mint. Flowering prickly pear cactus await you at a small rock outcropping that provides nice views across the Blue Ridge Parkway.
Directions: Take College Street east to Town Mountain Road. Turn left onto Town Mountain Road before College Street enters the tunnel. Take Town Mountain Road to its intersection with the Blue Ridge Parkway. Turn left onto the Parkway. The parking lot is just ahead at Milepost 377.4. Hike north toward Ox Creek Rd.
Douglas Falls Trail, Big Ivy Area of Pisgah National Forest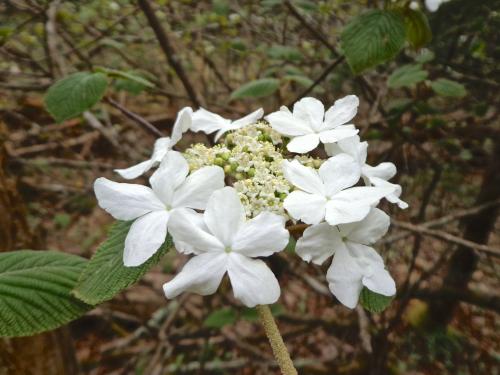 With about 35 species of wildflowers that bloom throughout the spring, you'll have plenty to look at along the way to 70-foot Douglas Falls. Enjoy exploring around the base of the waterfall – a great place for a picnic. You can even walk behind the falls (watch your step on the slippery rocks). As you are driving to the trailhead, keep an eye out for Walker Falls, which tumbles next to the road.
Directions: Take I-26 W for 11 miles. Take Exit 15 for Jupiter/Barnardsville (NC 197). Make a right and drive six miles. Turn right onto Dillingham Rd. Stay on Dillingham for about six miles. The road turns into gravel road FS 74. Follow 8.7 miles until it ends at a parking area.
Grandfather Mountain is one of the region's most ecologically diverse nature preserves and it's home to many rare North American wildflowers. At any given time in the spring months, you'll see dozens of varieties of stunning blooms. The show at Grandfather Mountain begins in March with serviceberry, bloodroot, violets, oconee bells, and dutchman's breeches. April brings bluets, trout lilly dwarf iris, wild geranium, and pink/yellow lady slipper. In May, enjoy a display of true mountain staples such as flame azaleas, mountain laurel, and mountain magnolia. Park rangers at Grandfather Mountain offer annual wildflower walks to help you explore the amazing variety of spring flora and fauna.
Directions: Take I-240 E to I-40 E. Take Exit 85 toward Marion and US 221. Turn left at the bottom of the ramp. Go one mile to a stoplight. At the stoplight turn left and follow US 221 N about 30 miles to the entrance of Grandfather Mountain. 
The distinctive landscape of Graveyard Fields, with large open areas, makes it a nice place to easily see beautiful wildflowers just steps from the Blue Ridge Parkway. You can also see the cascading Lower Falls and Upper Falls on this popular hike. Graveyard Fields offers a great display of wildflowers common to the Blue Ridge including bluets, galax, asters, and honeysuckle. You may also see larkspur, foamflower, jack-in-the-pulpit, evening primrose, bellflower and many more along the way. As spring turns to summer, Graveyard Fields features many budding blackberry and blueberry bushes.
Directions: Take I-240 W to I-26 E. Take Exit 33 for Blue Ridge Parkway/Brevard Rd./Hwy. 191. Turn left (south) onto Highway 191. Go 2.1 miles and turn right toward the North Carolina Arboretum. Follow signs for Blue Ridge Parkway. Turn south onto the Parkway and drive to Milepost 418.8.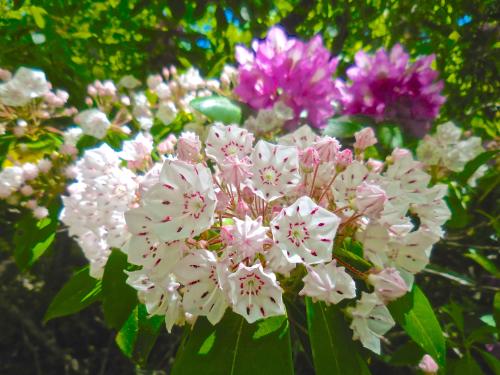 For a treat in late spring, the relatively level Pink Beds Trail in Pisgah National Forest offers the chance to discover the rare "swamp pink" flower that only grows in a few locations in the southern Appalachians. Swamp pink is part of the lily family and loves the rare mountain bogs found in this valley. It'll also be hard to miss the mountain laurel and rhododendron on the trail, which in many cases also shows a pink hue. This area of Pisgah National Forest is known as the "Cradle of American Forestry." Babbling brooks, beautiful wooded areas, and beaver dams are among the other forest features you'll encounter.
Directions: Take I-240 W to I-26 E. Take Exit 40 (Airport Rd.). Make a right onto Highway 280 and go 16 miles to the town of Brevard. Turn right onto US 276 N into Pisgah National Forest. Drive 11 miles to signed parking area on the right.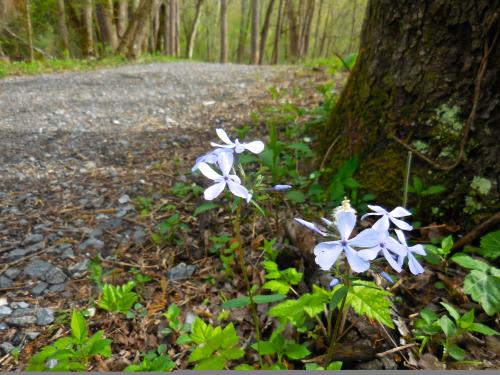 At the North Carolina entrance to Great Smoky Mountains National Park, the Oconaluftee River provides fertile ground for a stunning two-mile display of wildflowers accessed by the Oconaluftee River Trail. April is probably the best time to see the more than 40 species of wildflowers which include fringed phacelia, wild geraniums, trillium, phlox, and crested dwarf iris. While taking in the wildflowers along the river banks, explore the outdoor Mountain Farm Museum, a series of historic log buildings built in the Park area during the 1800s and early 1900s.
 Directions: Take I-40 W to Exit 31B to merge onto I-40 W toward Canton/Knoxville. Use the right two lanes to take Exit 27 for US 74 toward Hwy. 19/23/Clyde/Waynesville/Maggie Valley. Continue on US 74. Take Exit 103 for US 19 toward Maggie Valley/Cherokee. Continue 11.9 miles on US 19 to the Blue Ridge Parkway. Follow the Parkway south. Turn right onto US 441 and park in the Oconaluftee Visitors Center parking lot.
Three waterfalls, glistening streams, and gorgeous wildflowers, make Deep Creek a popular spot for hikers looking to experience the great outdoors. There are 1,600 species of flowering plants in Great Smoky Mountains National Park and Deep Creek features a nice variety of those including beard tongue, solomon's seal, and trillium. If you're lucky, may see some lady slippers, too. The flowers create an idyllic setting for the area's three most well-known waterfalls: Toms Branch Falls, Indian Creek Falls, and Juney Whank Falls. Deep Creek is also a top area for outdoor recreation such as tubing.
Directions: Take I-40 W to Exit 31B to merge onto I-40 W toward Canton/Knoxville. Use the right two lanes to take Exit 27 for US 74 toward Hwy. 19/23/Clyde/Waynesville/Maggie Valley. Continue on US 74 (Great Smoky Mountains Expressway). Take Exit 67 toward Bryson City. Turn right onto Main St. Turn right onto Depot Street. Take a slight left onto Collins and quick right to get back onto Depot St. Depot Street turns into Deep Creek Rd. Follow Deep Creek Rd. into Great Smoky Mountains National Park to the parking area at the end of the road.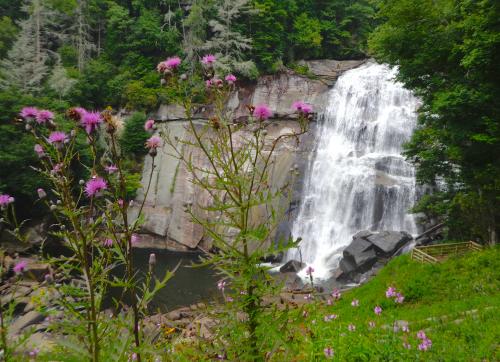 Imagine a 150-foot tall waterfall framed by bright pink, purple, yellow and blue wildflowers that carpet the foreground. That's exactly what you'll find on this trail that begins in a dense forest in Gorges State Park. The abundant wildflowers and waterfalls are a result of the area's high rainfall totals which are enough to help Gorges State Park earn the classification of a temperate rain forest. The highlight is thundering Rainbow Falls. Add a few tenths of mile to your hike and you'll also see Turtleback Falls, a popular summer swimming hole.
Directions: Take 1-240 to I-26. Take Exit 40 and make a right onto Highway 280. Go 16 miles to US 64. Turn west on US 64 and travel toward Sapphire. To reach the Grassy Ridge Access Area (the west side of the park), turn left (south) on NC 281 in Sapphire. The Grassy Ridge Access is .7 mile on the left.
For more great trails in the Asheville area, please visiting our hiking page.
Photos by Jason Tarr.
March 27, 2017