Top Pet-Friendly Places to Stay in Asheville N.C.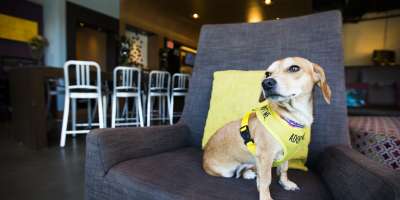 Where to Curl Up with Your Furry Travel Companion
Asheville loves its four-legged friends. Dogs lounge beside cafe tables and proud owners parade their pups through downtown. Meeting pets of every size and stature is one of the most exciting ways to experience Asheville. So why not let your pup join in on the fun?
Many Asheville hotels and cabins offer amenities just for pets. From in-room treats and dog beds to pet-friendly cottages, there are plenty of reasons to bring along your best buddy. Here are just a few ways to pamper your pet during your next visit to Asheville.
Aloft Pet Luxury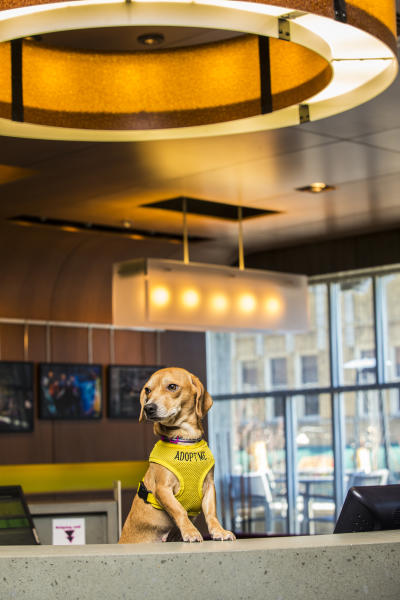 Canine and feline companions feel right at home at Aloft Hotel in downtown Asheville. Each pooch gets her own doggie bed, water bowl and access to a rooftop dog run. Both cats and dogs are welcome with no pet fee, making it easy to bring your favorite creature.
If you're searching for your forever friend, Aloft has its own pet adoption program. The hotel partners with Charlie's Angels Animal Rescue to foster one pup at a time. The lucky dog wears an "adopt me" vest throughout his stay and potential parents are screened to find a good match. Who knows, you may just come home with a new addition to your family.
Canine Cottages
Pets are a top priority at the 1900 Inn on Montford. Griffin Cottage is nestled along the inn's leafy green property and is a perfect haven for pups. Specialized doggie trundle beds and food bowls give pooches their own prized spot in the room. French doors open up to a garden where dogs can romp and play. Pets and humans alike enjoy the peaceful pleasures of staying in a quiet neighborhood just a few blocks from downtown.
Historical Hounds
The Omni Grove Park Inn combines history with luxury, even for pets. The front desk is happy to drop off doggie room service, including treats, water and food bowls. Pups and their owners can walk through the hotel's historic grounds near the Blue Ridge Mountains or cozy up in the inn's pet-friendly Vanderbilt Wing.
Modern Pups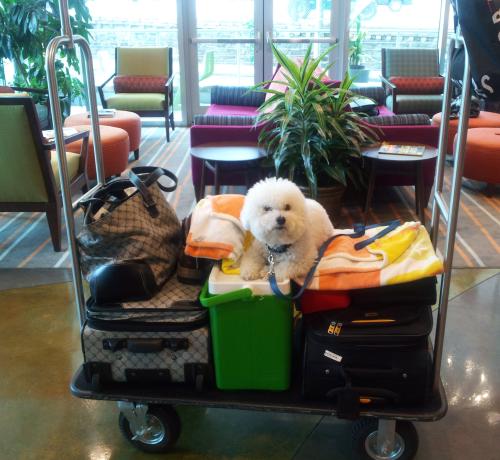 Hotel Indigo is a stylish addition that is a magnet for posh guests and pampered pooches and a convenient launch pad for all the shopping, dining and strolling that downtown offers. Everyone is welcome at this chic hotel, including pets and owners who enjoy bright colors and bold patterns. Well-behaved pets under 80 pounds can stay in the sleek rooms for a small pet fee.
Play All Day at DoubleTree
If your pup is more at home in wide open spaces than urban climbs, DoubleTree by Hilton Hotel Asheville has everything a dog needs to explore the outdoors. The hotel's adjacent field is carefully maintained so that pups have a place to run. Mature trees line a secluded garden where dogs can sniff around on leash. The Biltmore Estate is just a few miles away and welcomes leashed dogs. It is a (very) big backyard.
Rustic Retreats
Vacation like it's 1939 at Asheville Log Cabins and Vacation Rentals. This cluster of 1930s cabins near Asheville comes complete with fireplaces and cozy kitchens. Dogs are invited to join in on the rustic charm for a small pet fee. Walk your pup around the wooded grounds and don't forget a dog crate if you plan to explore the city while Fido snoozes.
Make Asheville Your Pup's Favorite Destination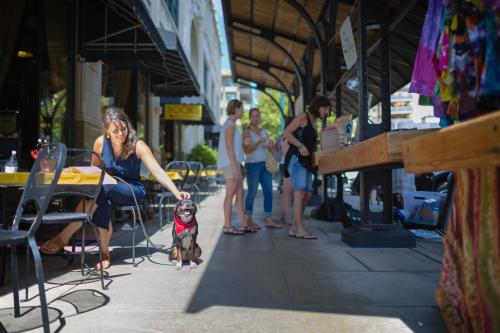 The majority of Asheville's breweries, outdoor cafes and even some of its ice cream shops are dog friendly. All you need is a sturdy leash and an adventurous dog to explore Asheville with your favorite pup. Check out our full guide to dog-friendly Asheville for more details.
Dog with adopt me vest images courtesy of Aloft Asheville Downtown; dog on luggage cart image courtesy of Hotel Indigo Asheville Downtown.