Asheville Hotel Matches Guests with Dogs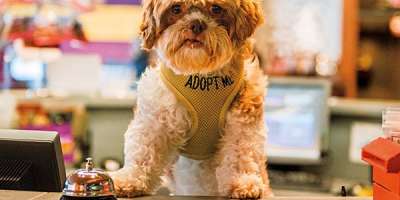 A New Kind of Pet-Friendly Vacation
An unusual amenity at one Asheville hotel is drawing a lot of attention, and is warming hearts and saving lives in the process.
Guests checking in to downtown's Aloft hotel may notice a furry, four-legged greeter in the lobby, an ambassador from the hotel's new adoptable dog program that matches rescued pooches with potential owners from all over the country.
The dogs wear an "Adopt Me" vest and interact with guests in the lobby and lounge area. They can also accompany visitors to one of Asheville's many pet-friendly restaurants, and if all signs point to a good fit, the guests can fill out an application to take the dog home for good.
Since the Aloft began this adoption partnership with Charlie's Angels Animal Rescue, more than 100 dogs have been adopted through the Asheville program.
And the pups have been featured on Fox News, in the Washington Post  and People magazine and on Yahoo.com, among others.
Watch this story about the program from NBC Nightly News:
Photo courtesy of People magazine.