Experience Late Nights in Asheville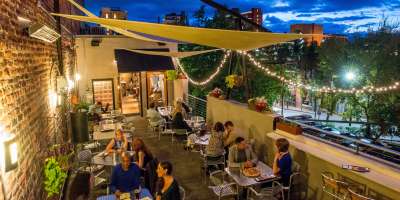 Asheville's Late Night Offerings: Food, Brews and Fun
Sometimes, you just don't want the fun to stop, the music to fade away, the celebration to be over. You want to squeeze every last minute of living life to the fullest out of each and every day. So, after a day in the Blue Ridge Mountains, enjoy a night on the town at one of these popular spots.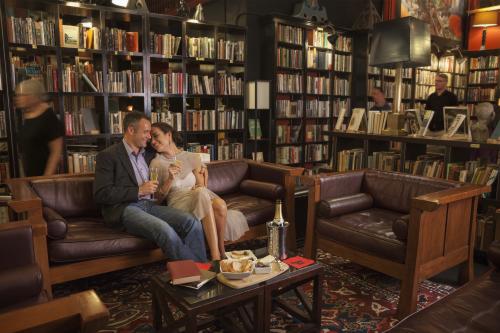 After dinner or a show, wander into downtown Asheville's quaint pastry and coffee shop, Old Europe, for a cappuccino and something sweet. Be transported to a Japanese tea house with an enormous selection of loose-leaf teas from around the world at Dobra Tea – either downtown Asheville, West Asheville or Black Mountain. 
If your conversations have just gotten started, you may want to land at the Battery Park Champagne Bar and Book Exchange. What's better than comfortable living room seating, row after row of books and coffees, wines and light desserts? How about dogs? They're up late too and you'll find them at the Book Exchange along with their interesting owners.
The sweet blue and brown historic building on Pack Square in downtown Asheville is home to the French Broad Chocolate Lounge, where artisanal chocolate – truffled, liquefied, barred or baked – is the way to finish a busy day of sightseeing or hiking. For groups with competing desires for late night sweets and well-mixed cocktails, everyone can get excited about Crave Dessert Bar on N. Lexington Ave. Their S'more Platter is served with an actual tabletop campfire, which can be served alongside sippable desserts like the Tiramisu Dream, made with espresso vodka.
Enjoy Mediterranean and Moroccan cuisine, live music and belly dancing at Jerusalem Garden in downtown Asheville. Or some Celtic jigs and swigs at Jack of the Wood, original home of Green Man Brewing. You'll likely find additional jamming – often impromptu – at the Orange Peel, the Grey Eagle, or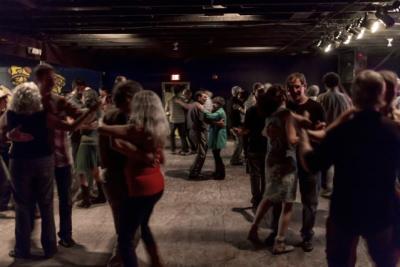 White Horse Black Mountain. If you're looking for a little night music (or dance), make plans to attend one of the on-going top-notch performances at the Wortham Center for the Performing Arts, or head to the dance floors at The Grove House complex for late-night revelry and weekend drag performances at Asheville's gay and straight-friendly club, Scandals. 
Enjoy the up-and-coming South Slope end of downtown Asheville with late night craft beer, house-made sake or a bite to eat while you listen to live music at Ben's Tune Up.  Or try some delicious sour beer at Wicked Weed's Funkatorium. If you're fortunate, you may just catch the pit master at work late at night at Buxton Hall Barbecue. 
And then there are the breweries, many such as Highland Brewing in Asheville and Pisgah Brewing Company in Black Mountain, offer live music to go along with your craft beer. If you choose to just imbibe in brews, Asheville's breweries and beer houses are great late night spots to simply chill out, wind down and lay low.
Updated April 11, 2023