Shopping for Art in Asheville's Biltmore Village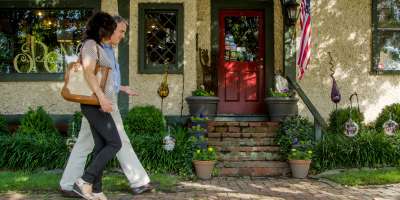 "Sapphires come in seven different colors," Susan tells me, nodding at the silver-hued band that she designed and made by hand. My Art Connections tour guide Sherry Masters models the ring, a small-yet-bold work of art, crafted from pure white gold and set with a dazzling amber-colored gem. The jewelry sparkles in the Sunday morning sun and I am genuinely enchanted by the gleam. Before now, I never knew there was such a thing as yellow sapphires — let alone purple, orange, pink, or green.
"Every stone is the beginning of the inspiration," Susan explains, guiding me along the glass display case that is filled with her artwork. The gold designs are wildly different and each of the precious stones is hand-cut to maximum brilliance. I am in awe of this rare jewelry, and grateful to Sherry for introducing me to Susan's work.
No, I am not in one of the shops at Place Vendôme in Paris, or on the Ponto Vecchio in Florence, or even the shiny gold markets of Dubai — rather, I am inside a cozy cottage in historic Biltmore Village at the south end of Asheville, North Carolina. As a specialist in heritage crafts and of Western North Carolina, Sherry is guiding me through the amazing world of art in Asheville, which she knows intimately.
Susan West is the wunderkind goldsmith and owner of Blue. Born and bred in North Carolina, her strong Southern roots shine through each piece — her buckshot collection is a coy nod to hunting culture in these mountains, while another unique line was inspired by the bottle rockets she and her brother used to light on the Fourth of July.
"I fell in love with metal and fire," Susan jokes, sharing stories from her childhood. Though all of her jewelry is amazingly distinguished, each piece wields some playful, unexpected quirk. The element of surprise keeps me browsing until Sherry drags me from the shop. There is simply too much to see — Asheville is a city of artists and craftsmen, and always has been.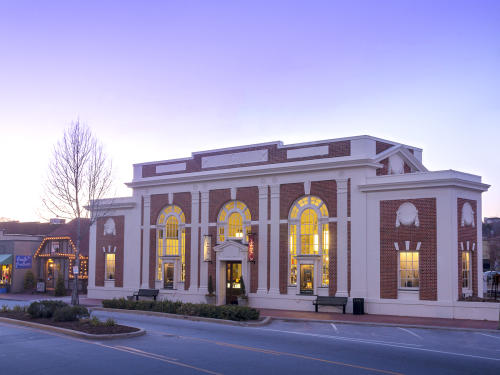 It was George and Edith Vanderbilt, after completing the colossal Biltmore Estate, who lent their appreciation and support to the well-established craft traditions of the region by opening schools to train local craftsmen. These homegrown industries helped employ locals and trained them in textiles, ceramics, glassmaking and woodcarving. More than a century later, these Appalachian craft traditions have survived and continue to flourish in and around Asheville. A visit to the Grovewood Gallery (at the northern end of the city, near the Omni Grove Park Inn) feels like jumping back to the time of the original Biltmore Industries — Sherry Masters was manager of the gallery for over 20 years and knows the artists and their work intimately. Now she shares that same passion with visitors like me through her tour business.
For a more innovative spin on the old ways, Sherry brings me by the Southern Highland Craft Guild, housed in a refurbished bank in Biltmore Village, at the southern end of Asheville. Beautiful objets d'art and sublime curiosities fill the space, and it's a must-stop for anybody visiting Biltmore.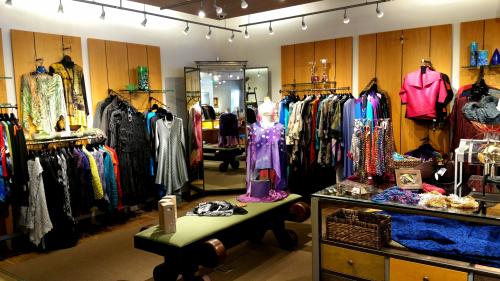 For an even more colorful and contemporary experience, Sherry takes me to Bellagio, where curator Matt Chambers showcases "wearable art" in a boutique that feels a lot more like Asheville's secret museum of modern art, set with marvelous installations of fashion, fabrics, jewelry and so many cool things you simply cannot find anywhere else — not even online. This is my personal measure for "good shopping" and Bellagio has it in droves.
This is not the place for a quick peek — rather, Bellagio offers a more sensual experience, one that involves looking, feeling and breathing in each piece. I touch the rough silk of a reversible jacket, then get lost in the labyrinth of original handbags, scarves, dresses, shawls, necklaces, bracelets. This is exactly why Bellagio offers individual style consultants to guide you through their collection. No two pieces look alike.
"This is what you get when you work with individual artists," explains Matt, "None of it looks quite the same." He opens up a case and shows me a new line of jewelry made from dark pitched glass — the same material used on the space shuttle.
"This is not your everyday fashion," Matt acknowledges. "Women nowadays are starting to escape all those rules — what colors to wear when, and so on." Bellagio is a shop for those who want to break fashion rules with flare — and for those who long to dress like a true individual. Obviously, the success of the shops comes down to Matt's careful and clever eye for creative perfection.
"My relationships with artists — they're like my family," says Matt, motioning around his marvelous store of things, "I feel an emotional connection to all these pieces. I've worked with some artists for over twenty years." It is precisely this emotional connection between craftsmen and those who love their work that sets Asheville apart, and visitors can feel it.
"If somebody comes into my shop," Matt tells me, "I just want to leave them feeling happy. If they leave the store happy, then I'm happy." He's not exaggerating or being overly sentimental — Matt means it. He loves connecting people with good art, and I hear that same desire from so many others in Asheville.
"We really want our guests to enjoy the art," says Constance Richards, gallery manager at the nearby Grand Bohemian Hotel. "It's so exciting to help acquaint our hotel guests with our collection. You can feel their joy when they acquire their first piece of art."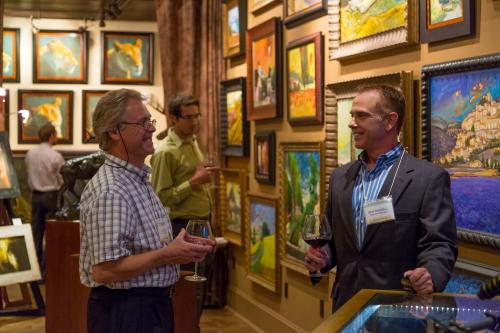 Constance is another true Asheville character, bohemian in style and spirit like the 104-room hotel, which is inspired by an old Austrian hunting lodge. Vivacious and smart, Constance guides me through the collection, ranging from the vivid ground-floor gallery and up through the hallways of each floor, hung with stunning canvases by some excellent painters.
"To be surrounded by art is a beautiful thing," says Constance, which is really the concept behind the Kessler Collection of hotels. She introduces me to the names of each painter like good friends at a party—the French expressionist-colorist Jean-Claude Roy sells exclusively with the Grand Bohemian in the United States. I am especially fond of the raw Appalachian scenes by North Carolina artist Mitch Kolbe and the "mystic realism" of Chris Sedgwick.  These are tremendous pieces, some of them very valuable, while others are very affordable.
"We don't do snob appeal," explains Constance with a humble smirk. "We kick off a lot of new artists — we like new artists!" Constance appreciates good art, no matter where it comes from, and she loves the paintings on her wall — she can talk about them for hours, and we do.
This is the joy of Asheville — and it is why I keep coming back. I can spend days and days here, floating from one gallery to another, soaking up all the creativity and beauty, and then carry a piece of it home with me — on my finger or wrist, around my neck, or inside a frame. Art in Asheville is literally a hands-on experience where you touch the art — and if you know how to shop — the art touches you back.
Top photo by Ian Curcio. Gallery at night courtesy of Southern Highland Craft Guild. Photo of Bellagio courtesy of Bellagio. Grand Bohemian photo by Jared Kay.