Asheville's Ancient (and Modern) Tradition of Ceramic Arts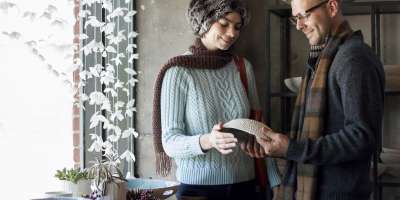 Shaping the Blue Ridge Craft Scene
Here's our best advice: when you're in Asheville, become a lump of clay: Malleable. Impressionable. Promising a serendipitous ending that's unexpected. Become a richer, more colorful person as the result of alchemical time spent here in this Appalachian anagama. 
Look out over the horizon at the blues and greens and ambers of our mountains and you can understand why the mineral rich clays of our southern mountains would create one-of-a-kind stunning pottery and ceramics. One of the oldest artistic media in the world, the marriage of Earth, Water and Fire in the Blue Ridge Mountains produces some of the most beautiful ceramic work in the country.
Engage with Artists First-Hand
Ceramic artists in Asheville and the surrounding area are creating almost every iteration of pottery imaginable Artist Steven Forbes deSoule creates American Raku ablaze with fiery colors. Glazed porcelain is molded by delicate antique lace by artist Michael Hofman, whose studio is in the River Arts District. Ceramic artist Josh Copus fires wild clay, dug fresh and unprocessed from the ground, evoking the earth itself.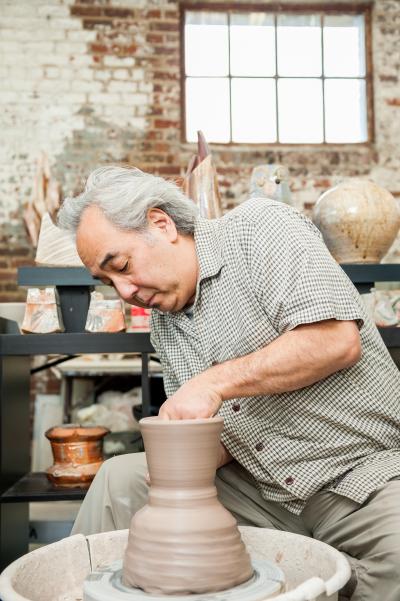 The handmade utility of artistically shaped serving pieces and colorfully glazed lamps and creative ceramic jewelry. Stylistically, pieces range from minimalist to utilitarian to kaleidoscopic. Akira Satake coaxes the impact of nature and the elements from his kilns, resulting in unexpected shaped stories of undulating sand and the artistry of wind over time. Artist Heather Knight (pictured above), also working in the River Arts District, uses slab-building, wheel-throwing and pinching to create her nature-inspired porcelains, blending textures and patterns with modern aesthetic or traditional mountain forms.
You'll likely encounter the work of clay artist Matt Jones who fires his kiln with wood – up to 2300 degrees for several hours – to produce pitchers and pots elaborately patterned with ancient-looking drawings. You may also find whimsical face jugs, wide smiles urging you to take one home. Jones maintains a studio in the nearby Leicester community of Sandy Mush.
Witness world-renowned ceramic artists molding and shaping and throwing and extruding and hand building here. Our River Arts District is filled with ceramicists and potters and clay artists. Visit area artists' studios or stroll through the myriad of galleries all over the area to get a sense of the eclectic and diverse ceramic spectrum.
Take A Spin Yourself
Watch artists at work as well as try it yourself at workshops and classes at Odyssey Ceramic Arts where you can take a one-night pottery class or a basic "give it a whirl" introduction to clay arts.
The Wedge studios in the RAD are home to the cooperative Clayspace Ceramic Arts Center, where can gain first-hand inspiration from watching and purchasing the work of artists as Josh Copus, Kristen Schoonover, Tara Underwood, Matt Weigleiter, Laura Cook and Dustin Fowler. The artists specialize in a variety of wood-fired and electric-fired ceramics. The Clayspace Ceramic Arts Center is open to the public Tuesday through Saturday 11 a.m. to 5 p.m. and other hours by appointment.
Just immerse yourself in the creative process and witness your lump of clay becoming a work of art.
Because whether you throw your pots on the wheel or watch artists at work in their studios or purchase a piece of art created from fired mountain earth, you'll be touched deeply by the palpable spirit of creativity in this place. Musicians, artists, actors, writers, performers – all of them creators congregate in this vibrant community. 
Photo of Heather Knight courtesy of Heather Knight.