Local's Guide to Asheville's Top Asian-Owned Restaurants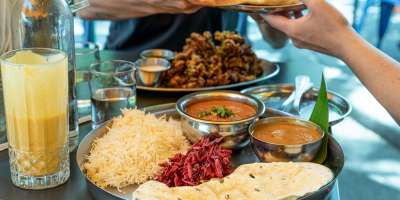 The best places to get delicious authentic Asian cuisine in Asheville, North Carolina.
The food and beverage scene in Asheville is hot! But, in all fairness, it's been this way for a while. Asheville has several James Beard nominated restaurants and chefs, as well as numerous spots that fly under the radar but are just as delicious as some of their more well-known counterparts. When it comes to Asian food, we've got everything from hot pot to chaat to whole fish and more. Keep reading to see some of our favorite Asian-Owned restaurants in Asheville. 
*By Erin McGrady and Caroline Whatley of Authentic Asheville*
Chai Pani (Downtown)
Asheville's very own Chai Pani was the 2022 winner of the prestigious James Beard Award. Chef Meherwan Irani has been nominated five times, but this is the first time the restaurant has won Outstanding Restaurant. Those who have been dining at Chai Pani won't be surprised at this news as it is easily some of the most delicious comfort food in the city. When you visit, be sure to try their Kale Pakoras, Vada Pav and Corn Behl. We've been known to travel out into the rain for these dishes because it's just that good!
Dragon China (West Asheville)
Fast, affordable and tasty. Dragon China is our go-to spot when we want a quick and easy meal. Dinner is great, but we recommend going at lunch when you can order one of their specials. You'll get a big helping of food, enough to satisfy any craving you're having, especially if that craving happens to be their fried chicken wings. Add a touch of lemon juice to 'em, and you're good to go.
Green Tea Japanese Restaurant (West Asheville)
Sushi lovers are in great hands when they go to dine at Green Tea. Their fish is fresh and your options are numerous. While you can't go wrong with one of their maki rolls, sashimi or any of their sushi chef specialties (we love their Green Tea Roll which is spicy tuna, lobster salad, king crab and avocado wrapped in soy paper and topped with their special sauce and caviar), there are a ton of other dishes to try such as their hibachi shrimp, veg pad thai and hot sesame dumplings. 
Heiwa Shokudo (Downtown)
One of our favorite restaurants in downtown Asheville is Heiwa Shokudo. The menu is deep and tasty. They offer everything from noodle plates to noodle soups to ramen to hot pots to sushi, and all of it's good. Though we're partial to their sushi, we love hearing their daily specials, and if the shiitake steam bun is one of them, we're going to get them every time. Bonus: Heiwa has its own parking lot right next to its outdoor patio, and it is free to park.
Little Bee Thai (Downtown)
Little Bee Thai has developed a devoted following of people who first fell in love with it when it was operating out of a gas station. As the business grew, Little Bee Thai began cooking out of a food truck and now runs a busy lunch and dinner out of a brick and mortar on South French Broad that has a great outdoor patio. Anytime we need some comfort food, we make our way over to Little Bee Thai. Their curry's and stir fry's are served in generous proportions and there's almost always enough left over for a snack later on.
J Chong (Farmers Markets + Pop-Ups)
Chef J Chong is one of Asheville's most beloved Chefs in Asheville. She is on a mission to bring Cantonese food to western North Carolina and is using her food as a vehicle to spark and inspire conversations around LGBTQ+ equality, racism and other social justice issues that are impacting our community. You can find her and her famous handmade "OG" pork dumplings and her chili oil at various farmer's markets around the city.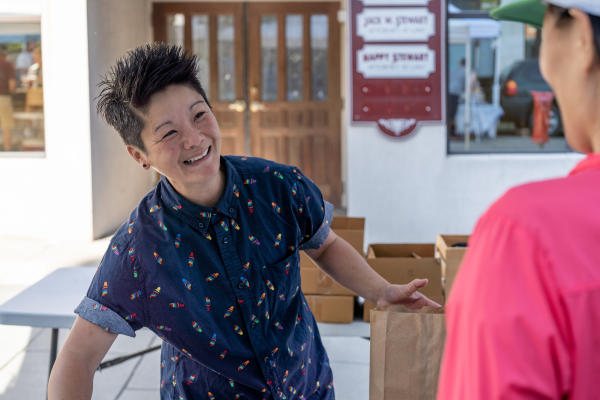 Red Ginger Dimsum and Tapas (Downtown)
There are so many dining options in downtown Asheville that it can sometimes be difficult to make a decision! If you need some help in that area, please allow us to steer you towards the award-winning Red Ginger. You can dine inside or on their outdoor patio. Red Ginger has some traditional and hard-to-find foods, such as chicken feet and other popular crowd-pleasers like their Shanghai dumplings and Amazing Lobster Roll (an eight-piece sushi roll stuffed with mango, avocado and tempura lobster tail and topped with caviar and spicy mayo and eel sauce.) Two words: come hungry. 
Stonebowl Korean Restaurant (South Asheville) 
The mere mention of Stonebowl makes our mouths water. It's located at the end of a strip mall, and if you don't know it's there, you may drive right past it. But set your GPS to it and keep your eyes peeled as this is one Asian-owned business in Asheville you won't want to miss. The food is dished up in generous portions, and the quality matches the quantity. If you go, you must try one of their stone bowl entrees. Your dish will arrive sizzling and popping. The rice inside the bowl will crisp up as it continues to cook, and your dish will stay nice and hot the entire time you're eating it.
Thai Pearl  (West Asheville)
If there's one good thing that happened during the pandemic, it was the opening of Thai Pearl. Chef May, the owner and Executive Chef, is one of the most talented chefs in the Asheville area. It should come as no surprise, however, because she trained and worked at the Royal Palace in Bangkok. If you're looking for authentic Thai cuisine, this is your spot. We've enjoyed everything we've tried here but the dishes we keep coming back to are the Thai Pearl Drunken Noodles Issan, Larb salad with lime and fish sauce dressing, Thai Fried Rice, and Green Papaya Salad.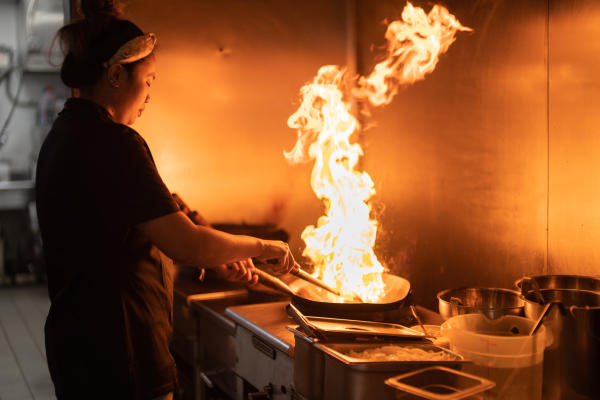 Wild Ginger Noodle Bar (South Asheville)
What used to be a secret between locals was that you could get some of the best phở and one of the best bánh mìs at Wild Ginger. But the secret has been out for a while now as Wild Ginger is one of the most popular restaurants in Asheville, having won the Mountain Xpress' Best Restaurant in South Asheville Award several years in a row. This is easily one of our favorite restaurants in the entire city and if we had to pick, we'd choose this spot as our favorite restaurant in all of Asheville.
YZ Asian Market (West Asheville)
An entire aisle of instant ramen, a couple of live seafood tanks holding live Dungeness crabs, numerous fruits and vegetables, both fresh and frozen, and several different types of rice await you at the YZ Asian Market. Though smaller than some of the H Marts and other Asian markets found in larger cities, this local market has not only the staples you'll need to cook your favorite dishes but also some of the novelties (candy, chopsticks, tea sets, soy bean paste, noodles) that you might not know you even wanted. 
Bonus: 
Neng Jr's | (West Asheville)
Silver Iocovozzi's Neng Jr.'s was one of the most highly anticipated new restaurants to open in Asheville in 2022. Chef J Chong says, "Neng Jr.'s was such a special and warm experience! It felt like we were guests in Silver's home enjoying a meal together, from the moment we were greeted at the door to the moment the Ube ice cream hit the table. My two favorite bites were the grilled sweet breads with a citrus spicy sauce and perfectly grilled whole pink snapper."
Erin McGrady and Caroline Whatley are writers, photographers, and outdoor enthusiasts. When they're not out on the trails near Asheville, you can find them slurping a bowl of noodles or sipping on a cold IPA at one of the local breweries. Keep up with them online at www.authenticavl.com and on Instagram at @authenticasheville
Updated April 20, 2023