Asheville's Food and Beverage Scene Scores Big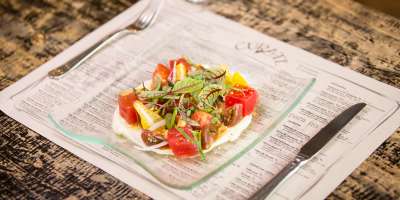 It's no secret that Asheville's food and beverage scene has skyrocketed over the past decade. A combination of farm-fresh ingredients, flavorful cuisines and a community of culinary experts is what makes Asheville's "Foodtopia" an unparalleled experience. 
In 2022, Asheville gained national attention for its unmatched restaurants, handcrafted cocktails, tasty beers and welcoming people, and in 2023, the town makes good on that tradition. Take a look at some of Asheville's recent culinary awards and you'll see why this eclectic Blue Ridge Mountain town continues to climb.
Asheville's Food Scene Awards 2023
One of Asheville's newest restaurants, Neng Jr.'s is its fastest growing, in name recognition, anyway. This small restaurant, recently opened in 2022 with head chef Silver Cousler, combines Filipinx and southern flavors in Asheville's most eclectic neighborhood, West Asheville. Cousler pulls inspiration from their travels and from cooking with their mother to create entirely unique dishes that can't help but stand out amongst the country's best. Neng's was a finalist for the James Beard Best New Restaurant Award in 2023, and it was named among the New York Times best restaurants of 2023. In the same week, Neng's was also ranked among the best restaurants in Bon Appétit magazine, and Cousler was named among the top innovators for Time100Next.
In 2023, Travel + Leisure called Asheville one of the best food cities in the country. Cousler, along with Meherwan Irani and Katie Button, the chefs behind James Beard award winners Chai Pani and Cúrate, and Morgan Owle-Crisp, the owner of the Native American 7 Clans Brewery, was named as one of the minds behind Asheville's shifting dining scene. Irani was tapped by Food & Wine to their 2023 Game Changers List, which recognizes only 15 people and companies changing the way we eat and drink. 
For the sandwich lovers among us, you'll need to take a trip to Buxton Hall Barbecue. The Food Network recognized this Asheville classic for the best chicken sandwich in all of North Carolina. 
When it comes to the brew scene, Asheville continues to be a standout among some of the biggest cities in the U.S. Asheville was named the fifth best beer city in the country by USA Today, and Highland Brewing was named by Southern Living as the best brewery in North Carolina. 
Asheville's Food Scene Awards in 2022
Two Asheville Restaurants Receive James Beard Awards
That's right, not one but TWO awards were given to Asheville's culinary community in June 2022. And, there's a common thread between the two recipients: Outstanding.
Chai Pani, Outstanding Restaurant — Known for its innovative and delicious Indian street food, Chai Pani has become one of Asheville's top restaurants. The restaurant's crunchy, spicy, sweet, tangy and brightly flavored Indian street snacks and traditional family meals are what draw in locals and visitors alike. Chef Meherwan Irani (who grew up in Ahmednagar, in the midwestern state of Maharashtra in India) opened Chai Pani in 2009 with his wife and business partner, Molly. Thirteen years later the restaurant continues to deliver outstanding food and service, which is why it is no surprise that Chai Pani was named the winner of 2022 James Beard Awards for Outstanding Restaurant due its "consistent excellence in food, atmosphere, hospitality and operations while contributing positively to its broader community."

Cúrate, Outstanding Hospitality — Husband and wife team, Chef Katie Button and Felix Meana, opened Cúrate Bar de Tapas in Asheville in 2011. Since then, the duo and their team of dedicated staff have continued to gain national recognition, including America's "100 Best Wine Restaurants" by Wine Enthusiast Magazine and most notably as the winner of the 2022 James Beard Awards for Outstanding Hospitality. Cúrate is a celebration of authentic Spanish cuisine and wine, featuring lively tapas including jamón Ibérico, gambas al ajillo and croquetas de pollo, as well as a thoughtfully curated all-Spanish wine list. Meaning "cure yourself" in Spanish, Cúrate leans on the philosophy that there are curative effects in sharing good food and wine with family and friends. With a strong focus on hospitality, Button shares that "we never stop pushing to improve both our hospitality externally — the experience we offer our guests — and our hospitality internally — the type of company culture that we are creating and the experience, training and support we're offering our employees and each other."
Asheville's Food Culture & Fairview Brewery Receive #1 Spots by Yelp
The "Land of the Sky" continues to soar in the culinary sphere and visitors around the nation are also taking note. In 2022, Yelp named Asheville as the Top Foodie City in the U.S., which was determined by Yelp's team of Data Scientists based on the highest restaurant ratings from out-of-towners, among other factors. Of note, two Asheville restaurants, Chestnut and Cúrate, received high rankings by Yelp reviewers.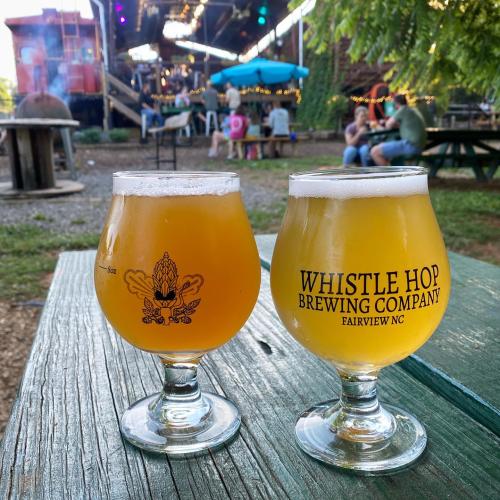 In the nearby neighboring town of Fairview, Whistle Hop Brewing Company has grown its reputation for its unique train-themed tap rooms, outdoor games and of course, their delicious beer. The family-owned and operated brewery has also gained the attention of Yelp reviewers as it was recently named the Top Brewery in North Carolina by Yelp. Known for its wide selection of handcrafted beer, including its award-winning pineapple vanilla milkshake IPA, this charming kid-friendly brewery overlooks some of Asheville's most picturesque mountain valleys and offers something for everyone to enjoy and experience.
Photo credit: @AshevilleUntapped
Citizen Vinyl's Session Cafe Among Best Bars in U.S. by Esquire Magazine
Since opening in 2020, Asheville's Citizen Vinyl has become a common communal space for both locals and visitors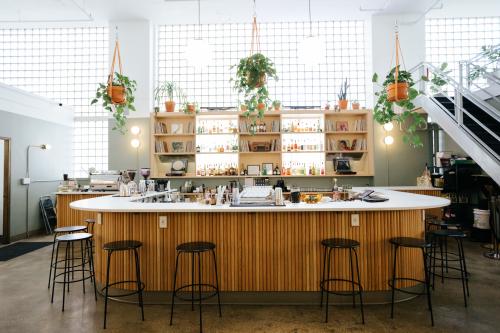 . Located in the historic former Citizen-Times building, Asheville's largest newspaper, this gathering spot serves as a record press facility, café, bar, recording studio, and analog art and record store. Inside the heart of Citizen Vinyl you can find Sessions Cafe — a vinyl-themed café and bar that offers local artisan coffee, a full bar specializing in aperitivo cocktails and a "playful menu that finds the soulful spot where nostalgic deli classics meet WNC's vibrant local food scene." Sessions casts a vibe unlike any other bar in the area and the writers of Esquire Magazine caught onto this vibe, too. That is why in 2022, Sessions Cafe was named as one of the Best Bars in the U.S. in 2022 by the magazine.
Updated September 21, 2023