Asheville Under $100: Do It All the Budget-Savvy Way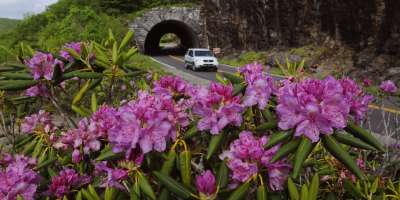 Your Guide to a Wallet-Friendly Weekend
Asheville is well known for its splurge-worthy attractions and high-end culinary experiences, but there are just as many options for anyone seeking an affordable getaway to the mountains. Explore everything Asheville has to offer with a weekend itinerary that delivers on experience, but won't break the bank.
Friday
1 p.m. – Lunch at 12 Bones Smokehouse – Anyone who has tasted the blueberry-chipotle ribs will attest that the line to get in the door is worth it! Most dishes here are less than $10 (that includes sides) unless you want to go whole hog and get the full rack of ribs.
3 p.m. – Dessert before dinner? How decadent. That's how you'll feel while visiting the French Broad Chocolate Factory. Take a self-guided tour through this bean-to-bar operation in Asheville's burgeoning South Slope neighborhood, and enjoy a tasting of their incredible chocolates.
5 p.m. – Back in downtown Asheville, the streets come alive on Friday evenings. Here you'll find lively street performances around every corner. During the warmer months the rhythm of the drum circle echoes through the city streets, inviting you to dance.
Saturday
8 a.m. – Breakfast at Early Girl Eatery – This farm-to-table eatery has been a mainstay in downtown Asheville for years. Their made-from-scratch breakfast is available all day, and includes amazing dishes like the Porky Breakfast Bowl (think, bacon gravy!). Breakfast prices range anywhere from $10-$20.
9:30 a.m. – Lace up your walking shoes and hit the Urban Trail for a unique and interactive history tour detailing Asheville's unique architecture and cultural heritage. Discover the Asheville Urban Trail with this interactive web site.
1 p.m. – Tucked between the gorgeous Victorian homes of Asheville's historic Montford neighborhood is Nine Mile, a laid-back Caribbean restaurant frequented by locals. You'll fall in love the moment you walk in the door and smell the warm, garlicky aroma of their Natty Bread. You can't go wrong here – each entrée is amazing with well-portioned entrees priced from around $18-$25. 
3 p.m. – River Arts District – What used to be the hub of Asheville's factory and mill operations is now home to over 180 artist studios. Explore at your own pace the many showrooms and galleries. A free studio guide is available online to help you plan your visit to the neighborhood.
5 p.m. – Dinner at Barley's Taproom and Pizza – This downtown pizza joint has been an Asheville staple for over 20 years, and was ground zero of Asheville's beer scene. Here you can build your dream pizza and sample some of the 40+ beers on tap, including Highland Brewery, Asheville's first local brewery, which was born in the basement of this pizzeria.
Sunday
Stunning outdoor beauty is something you can't put a price tag on. Amid the forest canopy you'll find wildlife sanctuaries, secret swimming holes, and breathtaking experiences around each bend in the road. Best of all, the views are free!
8 a.m. – Breakfast at Biscuit Head – In West Asheville you'll find the perfect place to fuel up before hitting the Blue Ridge Mountains. Here the menu features scratch-made cathead biscuits served any way you like. Take advantage of their butter bar, jam and jelly bar, or try their gravy flight where you choose three of their house-made gravies. It's heaven on a biscuit! You'll leave here with a full belly and a full wallet as prices range from $7-$11.
10 a.m. – Cruise the Blue Ridge Parkway – From Asheville you have a couple of options for exploration. This is your chance to choose your own adventure.
5 p.m. – Dinner at Chai Pani – With recipes straight from Bombay, this downtown Asheville hot spot has mastered the savory flavor of Indian street food. Featured as one of the "Top 10 Cheap Eats in the US" by Huffington Post, this is one spot you'll definitely want to try. Don't miss out on the okra fries, and pro tip: you can order half orders of the chaats! 
Updated July 27, 2023