Asheville Beer History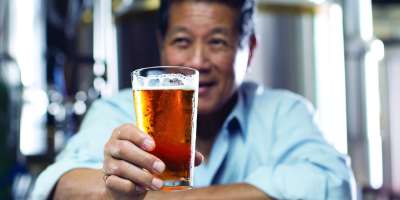 The Evolution of a Beer Town
Asheville's beer culture all started back in 1994, when Oscar Wong, a retired engineer living in Charlotte, moved to Asheville and opened Highland Brewing Company in a rustic basement space below Barley's Taproom and Pizzeria in downtown Asheville.
What began as a home-brew hobby became the first successful brewery operation in Asheville landing Wong his status as godfather of "Beer City USA." Since then, Asheville has seen dozens breweries of all sizes and styles open their doors. Asheville offers everything from tiny nano-breweries adjacent to taprooms, to a tasting bar offering exclusively wild and sour beers, and from outdoor patios where everyone feels like a local, to a "mostly organic" operation that sources local flavors like coffee and pumpkin — plus everything in between.
Today, the craft beer scene in Asheville has reached a fever pitch with several annual beer festivals, brewery tours by foot, car or mega-bike, and every kind of sweet treat infused with craft brew goodness.
Asheville is four-time winner of the annual Beer City USA poll, hosted by Charlie Papazian with Examiner.com. This designation helped put Asheville's beer scene on the map and garnered the attention of Sierra Nevada and New Belgium Brewing, both of which have established East Coast homes in the area.
And the local brews themselves are making quite a splash. In 2013, Wicked Weed brought home a gold medal from the Great American Beer Festival, and Asheville Brewing Company's longtime favorite Ninja Porter won its category in 2014. Many other Asheville breweries have collected medals and accolades at competition across the U.S.
Asheville has also received recognition from SmartAsset.com as the "The Best City for Beer Drinkers" (2016 and 2017).