Celebrate the Spirit of Oktoberfest in Asheville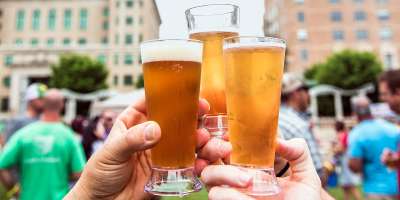 When it comes to fall in Asheville, the autumn colors are brilliant and the beer is brewing. Raise a glass in the spirit of Oktoberfest throughout the season. You'll find the fall season rich with beer festivals.
Asheville has more breweries per capita than any other city in the United States. There are more than 50 breweries in the Asheville area. So, you'll easily be able to get your fill of seasonal suds this fall in Beer City USA.   
Asheville Fall Oktoberfest Beer Festivals
On Saturday, September 17, Highland Brewing is celebrating the return of its seasonal Marzen Lager with Clawtoberfest, an Oktoberfest style party filled with music, food, games, small-batch releases and more! The following week, Hillman Beer will host its Oktoberfest event on Saturday, September 24, at its Asheville brewery location. The annual celebration includes special beer releases, food, commemorative steins for sale and live music from the Steubenville Tootlers Band, from 1 to 4 p.m. Also on September 24, Asheville Brewing Company and Industry Nine, an internationally renowned cycling component manufacturer, will host its ninth annual i9pa release party at Rabbit Rabbit to benefit Pisgah Area Sorba. 
On October 1, The Whale in West Asheville will be pouring some of the world's finest brews at its Oktoberfest event. And to round out the season, Burial Brewing Co. will host its annual Burnpile beer festival on Saturday, October 15, featuring a full-day concert from three musical acts alongside a tasting experience from a diverse lineup of over 50 of the best breweries in the county.  
If you want to add a little exercise to your Oktoberfest celebrations then grab your lederhosen and lace up your running shoes for Asheville's 2nd annual Oktoberfest Half Marathon and 5K, Saturday, October 1. Participants will receive a complimentary beer post-race at Hi-Wire Brewing in the River Arts District. 
*The Asheville Oktoberfest, put on each year by the Asheville Downtown Association will not take place in 2022
Asheville Fall Cideries & Festivals
The North Carolina mountains is home to one of the largest apple growing regions in the state, which makes  the prime place for apple picking and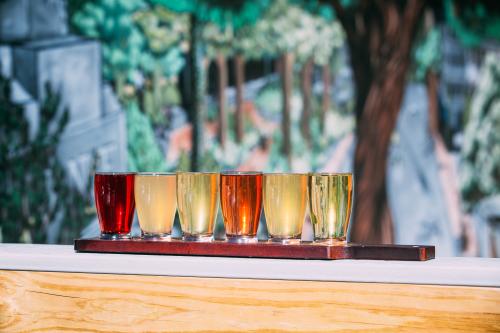 locally-made ciders. Get a taste of Western North Carolina's cider community at the 8th annual CiderFest on Saturday, October 8 at Olivette Riverside Community & Farm. Taste hard ciders, mead and apple wine, along with artisanal food, live music, workshops, a kids zone, and more along the scenic French Broad River. If you can't make CiderFest, don't fret. There will be cider celebrations continue throughout the month of October. Asheville's new Bold Rock taproom will host its own Oktoberfest event on Saturday, October 1, with a German-inspired featured menu, live music, décor and a costume contest. On Saturday, October 29, Urban Orchard will celebrate its 9th anniversary and the spirit of Halloween with DJs, a large costume party and the release of "Fire Flights" - a flight of six ciders that contain hot peppers from Smoking' J's Hot Pepper Farm.  
Asheville Fall Seasonal Beer Offerings
Beyond the festivities, many Asheville-area breweries create their specialty Oktoberfest brew. Among the fan favorites include Highland Brewing's lightly colored, but toasty, Clawhammer Oktoberfest beer. In nearby Black Mountain, Pisgah Brewing offers their own Oktoberfest beer consisting of light hints of toasty malt and subtle sweetness. 12 Bones Brewing's most requested beer, Works Every Time Peanut Butter Porter, will be released on October 8 and is made with seven different malts and is peanut-free.
D.I.Y.: Craft Your Own Beer Adventure
With so many great breweries to choose from in Asheville, you can craft a do-it-yourself beer adventure any time.
Asheville's South Slope District, just blocks south of downtown, makes it easy to experience many breweries on a self-guided walking tour. Burial Beer Co., Green Man Brewing, Catawba Brewing, Twin Leaf Brewery and the Wicked Weed Funkatorium are all within steps of one another. Hi-Wire Brewing, Wicked Weed, Asheville Brewing Company, Bhramari Brewhouse and Ben's Tune Up are also within an easy walk.
And, if you are looking for a unique experience, try the music and beers at the caboose that houses Whistle Hop Brewing in Fairview. Not far away in Fairview is Turgua Brewing Co., a unique, inspirational Farmhouse brewery and winery focused on sustainable production.
Oktoberfest photo courtesy of the Asheville Downtown Association.
Updated September 6, 2022