8 Ways to Celebrate the Spirit of Oktoberfest in Asheville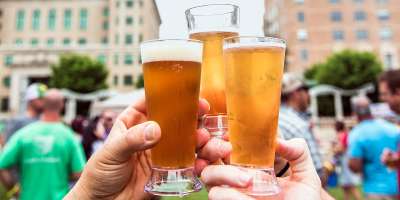 When it comes to fall in Asheville, the autumn colors are brilliant and the beer is brewing. Raise a glass in the spirit of Oktoberfest throughout the season. You'll find the fall season rich with beer festivals.
Asheville has more breweries per capita than any other city in the United States. There are more than 50 breweries in the Asheville area. So, you'll easily be able to get your fill of seasonal suds this fall in Beer City USA.   
Kick Off Fall with Oktoberfest
In Asheville, Oktoberfest celebrations are going virtual for 2020. The largest Oktoberfest celebration each year is Asheville Oktoberfest in downtown's Pack Square Park (canceled for 2020). It's a great time to get a taste of the local beer scene with more than 20 breweries, cideries and wineries represented. Many of them will be pouring seasonal ales. For your entertainment while you sip, yodelers, dancers and polka musicians take over the main stage.
Hillman Beer has hosted an Oktoberfest celebration. The celebration has include special beer releases, great live music, special food selection and commemorative steins for sale. The event has historically been free to attend. 
Oktoberfest at Sierra Nevada Brewing in nearby Mills River is going virtual in 2020. Learn more on Sierra Nevada's web site about the virtual celebration.  
Celebrate in the spirit of Oktoberfest all season with Highland Brewing's lightly colored, but toasty, Clawhammer Oktoberfest beer.
Fall Beer Festival Highlights
One of the fall's biggest festivals is Brewgrass, the city's "original craft beer festival." In 2019, the festival reinvented itself to focus more heavily on showcasing regionally and nationally known bluegrass acts. The festival no longer included a traditional beer tasting. However, beer was be available for purchase. Details for 2020 have not been announced. 
Another highlight in the fall is Burnpile Harvest Fest, which celebrates the local harvest with music and seasonally-inspired beers from more than 60 breweries. Many of the beers are brewed just for this special event. Burial Beer Co. has not released details for 2020.  
Save the date for the annual CiderFest NC, the state's premier hard cider tasting event. In 2020, CiderFestNC will feature small gatherings and virtual offerings throughout the month of October. The CiderFest Tours are small-group curated tours of three Asheville cideries that will be offered in partnership with local business Leap Frog Tours. 
If music is what you're after, there's perhaps no better fall event than the LEAF Festival in nearby Black Mountain. LEAF is a treasured local tradition. The family-friendly festival is a multi-cultural music and dance extravaganza in a gorgeous park-like setting. In October 2020, the event is going virtual. LEAF currently plans to resume its traditional festivals in May 2021. 
D.I.Y.: Craft Your Own Beer Adventure
With so many great breweries to choose from in Asheville, you can craft a do-it-yourself beer adventure any time.
Asheville's South Slope District, just blocks south of downtown, makes it easy to experience many breweries on a self-guided walking tour. Burial Beer Co., Green Man Brewing, Catawba Brewing, Twin Leaf Brewery and the Wicked Weed Funkatorium are all within steps of one another. Hi-Wire Brewing, Wicked Weed, Asheville Brewing Company, Bhramari Brewhouse and popular bar Ben's Tune Up are within an easy walk.
For the winning combination of music and beer, choose from nightly shows at breweries that double as great live music venues. Pisgah Brewing Company in Black Mountain has an indoor and an outdoor stage. Sierra Nevada hosts live music events in its outdoor amphitheater. Highland Brewing Company has live music events in its meadow and indoor taproom. You'll also want to head to a live music show at New Belgium Brewing on the French Broad River. Check our event calendar for listings of great shows at these breweries and others!  
And, if you are looking for a unique experience, try the music and beers at the caboose that houses Whistle Hop Brewing in Fairview. Not far away in Fairview is Turgua Brewing Co., one of the newest spots on the scene, which has an intimate/natural setting.  
Top photo by David Simchock. Oktoberfest photo courtesy of the Asheville Downtown Association. Cider photo by Jared Kay. Green Man Brewing photo my Emily Chaplin.
Updated September 1, 2020