8 Ways to Celebrate the Spirit of Oktoberfest in Asheville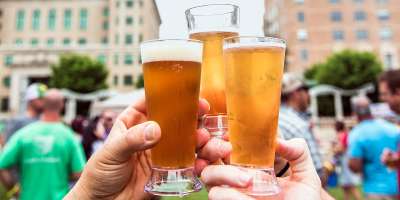 When it comes to fall in Asheville, the autumn colors are brilliant and the beer is brewing. Raise a glass in the spirit of Oktoberfest throughout the season. You'll find the fall season rich with beer festivals.
Asheville has more breweries per capita than any other city in the United States. There are more than 50 breweries in the Asheville area. So, you'll easily be able to get your fill of seasonal suds this fall in Beer City USA.   
Kick Off Fall with Oktoberfest
Hillman Beer will host its Oktoberfest event on Saturday, October 2, at its second brewery location in Old Fort just 30 minutes outside of Asheville. The annual celebration typically includes special beer releases, live music, food and commemorative steins for sale.
In nearby Brevard, grab your running shoes and pint glass for the Oktoberfest Half Marathon and 5K at Oscar Blues Brewery on October 2.
Beyond the festivities, many Asheville-area breweries create their specialty Oktoberfest brew. Among the fan favorites include Highland Brewing's lightly colored, but toasty, Clawhammer Oktoberfest beer. In nearby Black Mountain, Pisgah Brewing offers their own Oktoberfest beer consisting of light hints of toasty malt and subtle sweetness. For tea lovers, Dobra Tea recently launched their Oktoberfest tea beer, a crisp, non-alcoholic blend of energizing infusions with a touch of fruit sugar.
*The Asheville Oktoberfest, put on each year by the Asheville Downtown Association, has been cancelled for 2021. 
Fall Beer Festival Highlights
For the craft home brewing afficionados (or for those who are just starting out), get a taste of some of the region's top home brewers at the Just Brew It Homebrew Festival on Saturday, October 2, at Pisgah Brewing in Black Mountain. The festival features close to 100 different beers and more than 40 amazing homebrewers. Attendees must be members of Just Economics to attend. 
Asheville's famed Burial Beer Co. will also host its 8th annual Burnpile Harvest Fest on Saturday, October 9, at the Burial-Forestry Camp location. Enjoy a full tasting experience with beer from over 50 of the best breweries in the county, live music and thoughtful conversations. VIP and general admission tickets are available for purchase. 
October also kicks off the beginning of the "Road to Asheville Beer Week." This multi-event series consists of specialty tastings, dinners and creative programming that will be held throughout Asheville starting in October and ending in May 2022 as part of the triumphant return of Asheville Beer Week. 
If music is what you're after, there's perhaps no better fall event than the LEAF Festival in nearby Black Mountain October 14 - 17. The family-friendly festival is a multi-cultural music and dance extravaganza in a gorgeous park-like setting.
D.I.Y.: Craft Your Own Beer Adventure
With so many great breweries to choose from in Asheville, you can craft a do-it-yourself beer adventure any time.
Asheville's South Slope District, just blocks south of downtown, makes it easy to experience many breweries on a self-guided walking tour. Burial Beer Co., Green Man Brewing, Catawba Brewing, Twin Leaf Brewery and the Wicked Weed Funkatorium are all within steps of one another. Hi-Wire Brewing, Wicked Weed, Asheville Brewing Company, Bhramari Brewhouse and popular bar Ben's Tune Up are also within an easy walk.
And, if you are looking for a unique experience, try the music and beers at the caboose that houses Whistle Hop Brewing in Fairview. Not far away in Fairview is Turgua Brewing Co., a unique, inspirational Farmhouse brewery and winery focused on sustainable production.
Oktoberfest photo courtesy of the Asheville Downtown Association.
Updated October 5, 2021