You Shall See Wonders: A Day at Grandfather Mountain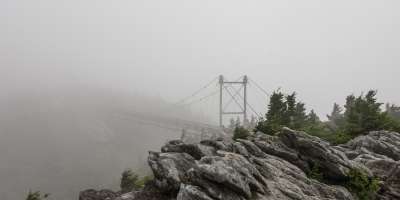 Visit an Internationally Renowned Nature Preserve, Just 90 Minutes from Asheville
Shakespeare is staring at me. The cleverly named barred owl is perched on the leather glove of Grandfather Mountain's head naturalist. It's as if the bird knows I mistakenly thought a mourning dove cooing was an owl hooting this morning—just one of the revelations I've had during this educational presentation. Clearly, Shakespeare doesn't approve of my sad lack of bird-song identification skills. Or maybe he's just surveying the weather?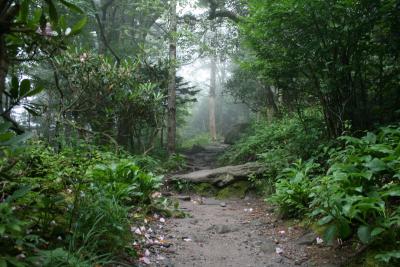 Either way, he seems unimpressed.
Half the mountain is shrouded in fog. There are no long-range views from Grandfather Mountain today. This is what many people come for, as they have since the early 1900s, when visitors paid a toll to stand on a wooden platform on top of this face-shaped mountain, once mistakenly believed to be the highest point in North America. According to parking lot license plates, today's visitors have come from as far away as Ontario to wander the mountain's twelve miles of scenic trails. But they don't seem upset. Maybe because, like me, they're learning and witnessing things they didn't know to expect.
I've spent the morning with black bears, river otters, and eagles. These animals live in the mountain's wildlife habitats because, like Shakespeare, they are unable to survive on their own. Here, they play a role in a variety of naturalist presentations, given throughout the day. I'd love to attend them all. But weather is pushing me toward the Nature Museum.
I pass a solar-powered Fudge Shop and Mildred's Grill, which recycles its fryer oil into biodiesel, to loiter in the warm museum. My favorite part of the exhibit might just be the most austere—a single rock, displayed on a pedestal, inviting visitors: "Touch 1.2 Billion years of history here."
Soon, I'm standing on that geologic history, marveling over it. The Bridge Trail—a gentle, winding walk to the top of the mountain—is littered with fallen rhododendron blossoms. When trees part, I spot the cables that anchor Grandfather's Mile High Swinging Bridge—the country's  highest suspension footbridge—to earth. I admire the new Top Shop building, which includes elevator access to the summit, and take stone steps up, until I'm a full mile above sea level.
On a clear day, it's possible to see nearly 100 miles from this overlook.
Today, it's possible to see roughly forty feet out.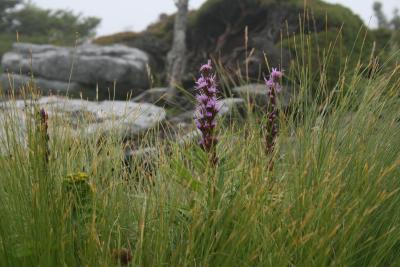 I've been here before, but—distracted by the bridge and its views—I've never really focused my attention on the immediate setting. I study the museum's placards more closely this morning than I might have on a sunny day. Now, thanks to one of those displays, I've identified some Heller's Blazing Star flowers alongside a path. And isn't that a critically endangered Blue Ridge Goldenrod?
I venture onto an outcropping for a closer look.
Fog has transformed this place—usually geared toward sweeping, awe-inspiring views—into an opportunity to revel in the intimacy of small wonders. A visitor, curious about why I'm stooped, walks out to my perch and asks, "What are you looking at?"
I point to the Blue Ridge Goldenrod and share everything I remember. The man's wife, nearly obscured on a far walkway, calls out to see what he's up to. "I'm looking at an endangered species!" he says.  
They'll cross the famous bridge later today. So will I. But, for now, it can wait.
His wife hesitates, worried about unsure footing, the high elevation. "Blue Ridge Goldenrod! Only found five places in the entire world!" he shouts. "Come on out and join us. This is your chance to see something extraordinary!"
Swinging Bridge photo by Monty Combs. Hiking trail and Heller's Blazing Star photos by Leigh Ann Henion.