Visit Biltmore: A True American Treasure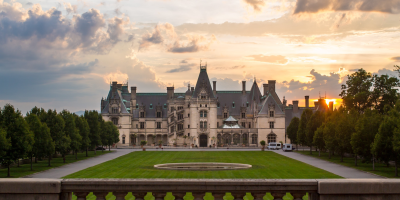 Discover an American fairy tale, complete with a castle.
Asheville's crown jewel, Biltmore, was created by George Vanderbilt in 1895 as a retreat reminiscent of the grand castles and estates of France and Britain. Vanderbilt fell in love with the North Carolina mountains after visiting with his mother in the late 1880s and immediately began acquiring land. By late 1889, he was ready to build his dream.
See our complete guide to Biltmore Estate in Asheville, NC.
Vanderbilt family friend, Frederick Law Olmsted, the father of American landscape architecture, created a landscaping masterpiece – from naturalist forest to formal gardens to productive farm. Biltmore became Olmsted's largest private project and one of his greatest designs. Originally 125,000 acres, Biltmore offered endless outdoor recreational activity and became the site of the first scientific school of forestry in America.
Architect Richard Morris Hunt was asked to build a mountain get-away for a young bachelor. After visiting the great chateaux of France's Loire Valley with Hunt, Vanderbilt was determined to build something majestic, a manor house where he could pursue his interests in horticulture, landscape design, land management, modern agriculture and animal husbandry.
A French Renaissance castle, then, with sweeping, panoramic views of his estate and the Blue Ridge Mountains beyond.
America's Largest Private Home
Plans began for the 250-room Biltmore House, its four acres of floor space qualifying it as the largest private home in America. The house is still privately owned by Vanderbilt's descendants and operates as a for-profit, self-sufficient enterprise, using no state or federal funding for its operations.
Because of the continuity of the family's ownership and oversight of the estate, Biltmore House is still filled with the original furnishings, art and artifacts collected by Vanderbilt. The collection includes portraits by Sargent, Renoir and Whistler, as well as 20,000 rare books in his library and five priceless 16th century Flemish tapestries.
Investment in historic preservation for over a century has kept Biltmore House true to Vanderbilt's original vision. And the thoughtfulness and attention to detail in the construction of the house has paid off. Hunt employed state-of-the-art technology throughout the house – two elevators, a fire alarm system, electricity throughout, two dumbwaiters, refrigeration and a modern laundry room.
Visiting Biltmore today is as close to time travel as you can experience. It begins with Olmsted's magnificent three-mile approach road. Entering Biltmore House, you can imagine the thrill of being invited here as a guest on Christmas Eve in 1895 when the home first opened.
Touring Biltmore House, which includes upstairs as well as downstairs, usually requires at least two hours. It's all self-guided, although there's a topnotch audio tour that will enhance your experience and deep dive into history and what it must have been like to live at the estate. There are additional guided tours for the curious: rooftop tours, behind-the-scenes tours and tours of the property itself.
Olmsted's formal gardens spread below Biltmore House like separate rooms – the Italian Garden with its long pools, the natural Shrub Garden and the English Walled Garden with its espaliered trees and seasonal floral pattern beds. It is easy to spend a whole day strolling the gardens and walking the estate's beautiful trails, which spill out into forest and then farmland.
Explore Biltmore's Winery and Antler Hill Village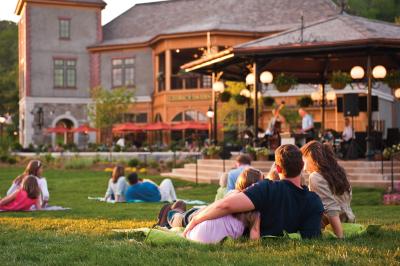 Beyond Biltmore House and grounds is Antler Hill Village, home of Biltmore's winery, which opened in 1985. The winery is a true production facility bottling varietal wines using estate-grown fruit along with the finest West Coast grapes the winery can source. The facility itself was originally the estate dairy barn and embraces that charming heritage as an important story to tell. The tour teaches the fundamentals of viniculture and making wine as well as gives an opportunity to taste several Biltmore's wines.
Antler Hill Village is also the home of The Biltmore Legacy, an intimate permanent exhibit hall displaying personal artifacts and stories of the Vanderbilt family. The Farm in Antler Hill Village gives insight into the century-old farming practices at Biltmore, where some of the most progressive agricultural programs in the country were initiated and continue today. A small barnyard, adjacent to the Farm, offers young visitors the chance to interact and learn about heirloom chickens, goats and horses.
The ultimate Biltmore experience, of course, is being a true overnight guest and staying at the Inn on Biltmore Estate. Beautifully appointed and situated on a hilltop overlooking the river valley, the hotel is a four-star, four-diamond property. Biltmore is currently constructing a new hotel, The Village Hotel on Biltmore Estate, adjacent to Antler Hill Village and anticipates opening in December 2015.
If you do stay or if you purchase a twelve-month-pass enabling you to access the estate year-round, head over to the Adventure Center in Antler Hill Village. You can sign up for a variety of outdoor recreational activities: biking, horseback riding, river float trips, carriage rides, and Experience Land Rover Driving School.
We're pretty certain George Vanderbilt would have insisted you partake of his magical estate to its fullest.
Top photo by Jared Kay. Library and Antler Hill Village photos courtesy of The Biltmore Company.
Updated December 12, 2022