Asheville Venue Guide: Under the Radar Music Halls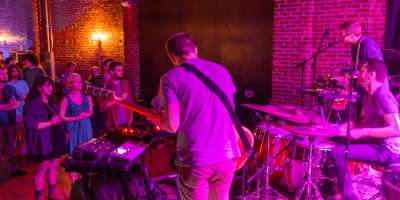 Music can be found everywhere in Asheville, from large music halls to the streets of downtown. Often times the best concerts are performed in rather unexpected places. Neighborhood dive bars, juke joints and local hot spots regularly play host to some of the best up-and-coming artists. Make plans to catch a show at one of these under-the-radar music venues, and get a glimpse of why Asheville's diverse music scene is beginning to build a buzz.
Double Crown
Walking into the Double Crown feels more like walking into a venue in the Treme of New Orleans than one tucked away in the Mountains of North Carolina. From the Christmas lights strewn across the old Hammond organ-turned-liquor-bar to the old photos of New Orleans chiefs covering every inch of the wall, it's the kind of place that feels twenty years older than it actually is. With Sunday Karaoke, DJ's spinning deep cuts of soul, old school rock and roll, and world music, and the occasional Soul nights featuring old school RnB bands from all over the country, it keeps that spirit alive. And with a $5 Whiskey list and daily specials, it's a great place to hear a band or just listen to a DJ spin classic country tunes.
A haven for oddball sets and cast offs, the Odditorium is home to Asheville's punk, hardcore, alternative, and metal scene. A long time dive bar in the area, it's an easy place to grab a PBR and hear some deafeningly loud local Rock 'n' Roll. In addition to tunes, the Odditorium also hosts burlesque shows and stand up comedy, even setting the stage once for Tim & Eric's Awesome Show's own David Lieb Hart.
Lazy Diamond
Decked out with memorabilia from shows and venues past, the divey and delightful Lazy Diamond is virtually a museum to days gone by in the rock and roll underbelly of Asheville. It is the kind of place that brags about not being fancy, and that has a sense of humor about its ambiance. The bar often features DJ's spinning Surf Rock, Hawaiian jams, punk, hip hop, and classic rock karaoke, and the occasional live acts playing an array of alternative styles. It's a crystal clear glimpse at the type of music venues that used to fill Lexington Avenue back when Rolling Stone called Asheville the" Freak Capital of America."
This laid-back Asheville hot spot offers a lot of great wines, local draft beer, and awesome music - minus any pretention a wine-bar may evoke. A long, hand carved, natural wood bar runs the length of the room, and big rollback windows open to the street making for a perfect people watching perch. They offer $5 wine specials and free live music daily at 8PM. Local acts play everything from ragtime jazz, to Afropop, to traditional Americana. Get there early as this intimate space tends to fill up quickly.
A family friendly outdoor venue that can hold over 2,000 spectators, the Salvage Station is what used to be a junkyard that was refurbished to be one of the area's largest outdoor venues. Hosting everything from monthly flea markets, food competitions, music festivals, and concerts for nationally touring acts, the newly opened Salvage Station is proving to be a great place to spend the day with friends and family alike. The venue boasts green grass, picnic tables, local draft beers, and one awesome view of the French Broad River. You could do a lot worse than winding up here on a sunny day.