Thrills for Everyone: A Zipline Guide to Asheville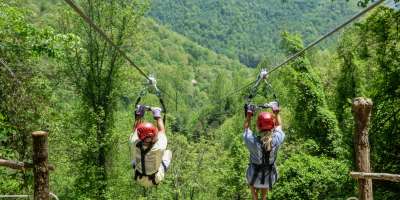 Find Your Perfect Zipline Tour in Asheville
Take in the sites of Asheville from a new perspective – by soaring hundreds of feet above the ground.  From strictly tree-based courses to courses fit for little ones, here's a guide to the best zipline experiences in Asheville.
Go Far, Go Fast
If you're looking for a heart-pounding thrill, grab a friend and head out on the Mountaintop Tour at Navitat Canopy Adventures, a side-by-side experience that features zips as high as 350 feet and as long as nearly three-quarters of a mile.
For those looking to scare their socks off, take the 40-minute ride from downtown Asheville, to The Gorge, the steepest and fastest zipline tour in the country.  The Gorge is made up of 11 ziplines, three towering rappels, a sky bridge, and drops 1,100 vertical feet from start to finish, earning its moniker as the fastest zip in the nation. It winds through 120 acres of forest, and offers breathtaking views of more than 14,000 acres of lush mountain scenery and the Green River.
Another day trip takes you west to the Nantahala Outdoor Center. Soar high above the trees with the NOC's signature Mountaintop Zip Line. Perched on the rim of the Nantahala Gorge, you'll glide more than 350 feet above the Nantahala River below, with spectacular 360-degree views of the Great Smoky Mountains National Park and the Nantahala Gorge.
Zips in the City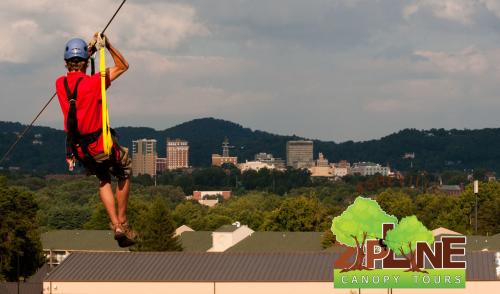 For those that want to stay close to the city, the Asheville Zipline Canopy Adventure is an urban tour that encompasses 11 ziplines, three sky bridges and soaring adventure towers that offer sweeping views of downtown Asheville. All AZCA tours are fully guided and available to guests 10 years and older.
Kid-Friendly Ziplines
KidZip is one of the first zipline tours in the United States that was designed specifically for kids age four to 10 years old. This fun course includes nine ziplines that range from 50 to 250 feet long and from ground level to 25 feet high. There are also four fun climbing elements that are self-guided, but kids four to six years old are provided an adult escort.
Tree-based Adventures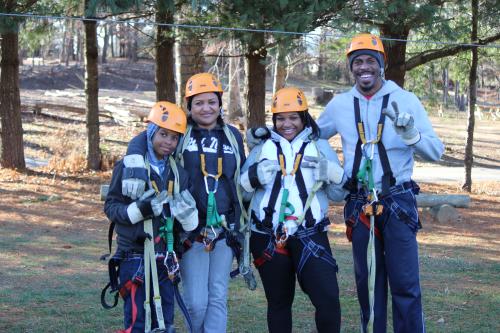 Nature-lovers will love Navitat's Treetop Tour zipline course because it is entirely tree-based and uses no poles or structures to support the platforms and course features such as sky-bridges and rappels. Additionally, because of their prime location in the Blue Ridge Mountains, 20 minutes north of downtown Asheville, you may spot wildlife like black bears, gray foxes and cottontail rabbits mingling among the Black Cherry and Maple trees.
French Broad Adventures, also about 25 minutes from downtown, features 10 separate lines and two rappels, plus a treehouse deck (the only one in the area) accessed by a 100-foot walkway through the treetops. 
Additionally, Asheville Treetops Adventure Park is a physically challenging course that features 60 unique climbing, jumping, swinging and zipping challenges across more than 30 trees and poles. The experience is self-guided and very safe due to the "smart belays" technology that ensures with proper use that guests are attached to safety systems at all times and cannot detach until they are on the ground.
The NOC also offers an adventure park experience: the Zip Line Adventure Park or "ZLAP." It's just a short walk from the river to ZLAP, which features 16 aerial adventure elements, from beginner to advanced, along with an exciting 600-foot long dual zipline. 
Header image courtesy of Navitat Canopy Adventures; downtown zipline and treetop park images courtesy of the Adventure Center of Asheville.