Roan Mountain Hike on the Appalachian Trail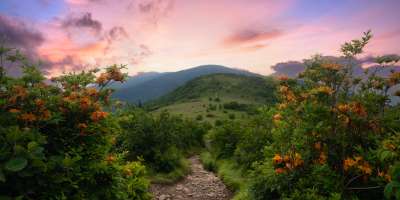 Roan Mountain Hike on the Appalachian Trail Details
Difficulty:
Easy Moderate
Length: About 5 miles roundtrip
Region: Roan Mountain Highlands
Duration of hike: 3-4 hours
Elevation gain: 300 feet to Round Bald, 200 feet to Jane Bald, 500 feed to Grassy Ridge Bald
Type: Out & Back
Blazes: White
Facilities & Parking: Paved parking area at Carver's Gap; facilities include toilets, picnic tables
Features:
Mountain Bald,
Pet Friendly,
Views
Roam the Roan Highlands on this unforgettable section of the AT
Considered one of the most scenic areas on the entire Appalachian Trail, this section starting from Carver's Gap (elevation 5,512) takes you across three spectacular unique grassy hilltops (known as "balds") with unimpeded views.
If you arrive in mid-to-late June, you'll catch the rhododendron bloom, one of Western North Carolina's most anticipated seasonal events, along with the bloom of the rare, endangered Gray's Lily.

LEAVE NO TRACE TIP
Roan Mountain features a collection of rare plant life, including some of the most beautiful wildflowers in the Blue Ridge Mountains. Leave what you find so blooms are there for others enjoy.
What to Expect
For the three-bald hike, you'll access the Appalachian Trail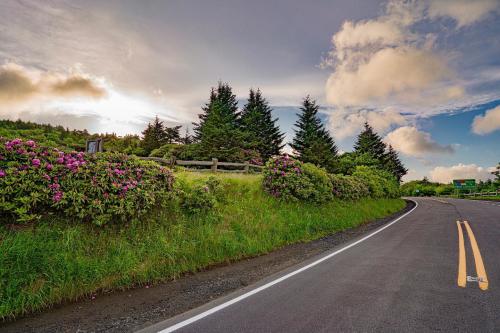 from the Carver's Gap parking area which sits at the North Carolina / Tennessee state line. Carver's Gap is marked with a giant National Forest sign. From the sign, cross the main road and enter through an opening in the wooden fence. Photo credit: @adamgravett
Follow the trail uphill into the forest. After a brief stretch in the forest, you'll quickly emerge out onto the open meadows of the Roan Highlands.
Just three-quarters of a mile from the trailhead, you'll reach the first bald: Round Bald (marked with a sign). Turn around here for a 1.5-mile roundtrip hike or continue onto Jane Bald. 
To reach Jane Bald, stay on the Appalachian Trail and head downhill and then back up to the rocky bald (marked with a sign). You can turn around here for a 3-mile roundtrip hike.
Last up is Grassy Ridge Bald. After leaving Jane Bald, you'll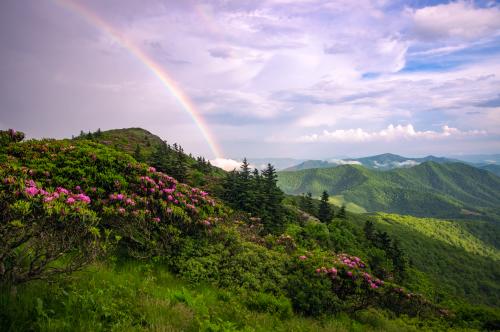 eventually come to a fork in the trail. To the left, the Appalachian Trail heads downhill to the Overmountain Trail Shelter. For this hike, don't make that turn. Continue straight ahead to make the uphill climb (much of it through a tunnel of rhododendrons) to Grassy Ridge.
Once there, you'll see a large stone with a plaque dedicated to Cornelious Rex Peake. Take some time to enjoy the expansive Grassy Ridge Bald. It's a great place for a picnic. Then, retrace your steps to Carver's Gap to complete your 5-mile loop hike.  
Other Hiking Options at Roan
In the opposite direction of the balds, you can hike from Carver's Gap on the Appalachian Trail south/west to Roan High Knob (there are limited views on this hike). The terrain on this part of the trail is quite a bit different from the balds because it's shady evergreen forest. After 1.5 miles of hiking, you'll come to the intersection with the Roan High Knob Shelter -- the highest elevation shelter on the Appalachian Trail (6,285 feet). Take this trail up to the summit and the view point behind the wooden shelter. The total hike is about 4.5 miles roundtrip.
Another option is to do a 2.4-mile roundtrip hike to the stunning Roan High Bluff overlook via the Cloudland Trail. Drive up the road from Carver's Gap to the Roan Mountain Recreation Area and park near the Old Cloudland Hotel. Please note that you'll pay a $3 to $5 access fee to enter this recreation area depending on the time of year. Begin the Cloudland Trail at the end of the parking area. You can also drive out farther to the end of the loop and catch the Cloudland Trail for just a 1-mile roundtrip hike each way.
While in the area, you can also choose to visit Roan Mountain State Park, which is located in Tennessee eight miles from Carver's Gap. Roan Mountain State Park features 12 miles of trails, plus a seasonal pool, historic farmstead and camping areas.
Know Before You Go
The temperature is often dramatically cooler here than in Asheville (it can be a 20 degree difference or more!), so dressing in (or bringing) layers is the way to go. It can also get very windy on top of the balds.
Directions
Take I-26 West to Exit 9, Burnsville Spruce Pine. Take 19-E 18 miles to Burnsville. Once you go through Burnsville, take 197 N to Red Hill (about 11 miles). At the intersection of NC 226, go south to Bakersville. In about 5 miles, you'll reach Bakersville. Turn left onto NC 261 North. Stay on this road for 12.8 miles until you see the sign for Carver's Gap. To get to Roan Mountain State Park in Tennessee, continue up the road you arrived on (NC 261 becomes Tennessee 143) for eight miles.
GPS Coordinates
36.106386, -82.110335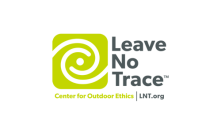 We all love the Blue Ridge Mountains! By working together, we can keep these incredible outdoor spaces beautiful and pristine for years to come. Make it your nature to Leave No Trace: Leave what you find, pack out what you pack in, stay on designated trails and plan ahead. To learn more about the 7 Principles of Leave No Trace, CLICK HERE >>.