Make Way for Woodfin, Asheville's Neighbor to the North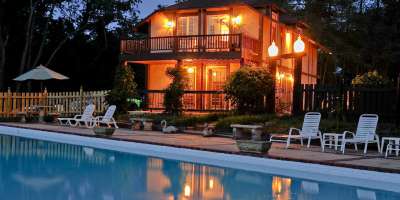 A Few Miles and a World Away
The town of Woodfin beckons just beyond Merrimon Avenue's shops and restaurants. Head north past the majestic trees that line scenic Beaver Lake and discover a town that reveals itself mile by mile. Woodfin is small in size but mighty in stature, boasting unusual shops and restaurants that welcome curious visitors.
Fueled by Chocolate
Weaverville Highway is the winding epicenter of Woodfin, so the easiest way to explore is to start south and head north. The Chocolate Lab of Asheville is an innovative new chocolate shop that makes its own beer truffles and offers a rotating list of creative concoctions like sriracha honey cashew chocolates. The shop's lovely patio is the perfect place to savor some truly original creations.
Reynolds Village Revelry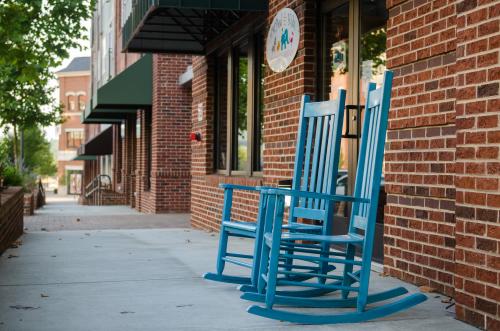 Reynolds Village is an exciting addition to the area that welcomes visitors with local restaurants and one-of-a-kind shops. The Knitting Diva offers yarn in every color of the rainbow. Kids can explore Spellbound Children's Bookshop before the adults soak up some local brews at the Thirsty Monk pub. Grab a taco made with local meat at Chupacabra Latin café, or stop by on the fourth Friday of the month for a culinary caravan of food trucks. There are plenty of places to relax in the sun while you eat.
Noteworthy Burgers at Newbridge Cafe
The outside of Newbridge Cafe is humble, but its burgers are lauded as some of the most delicious in the region. Recently named one of the Best Southern Burgers by Garden & Gun magazine, Newbridge Cafe also offers stellar BLTs and farm fresh egg salad sandwiches until the lunch rush crowd disperses (closed for dinner).  
Gardener's Delight
Look for the luminous greenhouse and welcoming flora at Thyme in the Garden, a destination for garden lovers. The garden shop offers lush perennials and annuals as well as colorful pots to contain them. Indulge in some small gifts for yourself or your lucky loved ones, and surprise them with something special from Woodfin.
Make a Weekend of It
If you're looking for a quiet place to relax in luxury after a full day of shopping and dining, let Reynolds Mansion be your home away from home. This iconic landmark built in 1847 by Daniel Reynolds boasts Colonial Revival architecture and is listed on the National Register of Historic Places. Enjoy a full breakfast each morning in the inn's formal dining room or on its elegant covered porches.
Indulge your nostalgia at The Pines Cottages, an original cottage court that has attracted visitors since 1929. Many updates and renovations keep these rustic cottages comfortable and accommodating for modern travelers. Studio and two-bedroom cottages on the four-acre wooded property offer privacy with a vintage twist.
Woodfin and Beyond
It's easy to zip back and forth between Woodfin and Asheville. The Biltmore Estate and downtown Asheville are just 6-8 miles away and offer a myriad of culinary and retail experiences. Outdoor adventures are just a few minutes away, although you may feel so cozy in Woodfin that you never want to leave.