Linville Gorge East Rim Trails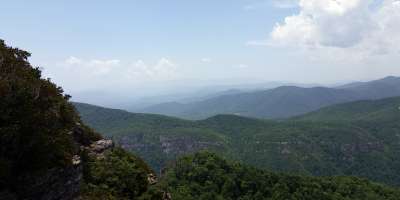 Linville Gorge East Rim Trails Details
Difficulty:
Difficult
Length: 1.5 to 2.4 miles each way
Region: Linville Gorge, Pisgah National Forest
Duration of hike: Between 2 and 5.5 hours round-trip, depending on the trail
Elevation gain: Depending on trail, anywhere from 1,000-foot descent (Devil's Hole) to a 873-foot descent (Spence Ridge) to a 650 feet gain (Jonas Ridge)
Type: Out & Back
Blazes: none
Facilities & Parking: none
Features:
Pet Friendly,
Views
Something wild for the advanced hiker
Called "the Grand Canyon of the East," Linville Gorge drops 2,000 feet to the Linville River. Part of the nearly 12,000-acre Linville Gorge Wilderness, this is unspoiled country where rock climbers and backcountry campers with serious gear like to spend time in solitude. West Rim trails tend to go down into the gorge, but along the East Rim, you'll find a number of trails that climb up to incredible views or feature a series of drops and climbs along the way. The spectacular scenery is worth the challenge if you're up for it and prepared.
What To Expect
First, pick up a trail map at the Grandfather Ranger District office in Marion (you can also get your camping permit here if you chose to camp) or at the Information Cabin on Kistler Memorial Highway (see directions below). Because the trails connect in so many different ways, you'll want to decide the length of your hike by choosing whether to create loops by connecting trails or to go out and back on a single trail.
Your parking area is determined by the trails you chose. Don't let the length of the trails fool you: some of the shortest ones are the also the most difficult. A good starter trail is the Spence Ridge Trail, about 1.75 miles each way. It's one of the easiest ways to get to the bottom of the gorge. This trail starts out on an old logging road. The descent is fairly easy and you'll pass long-distance views on the way. The trail leads to a picturesque bridge (the only one over the Linville River). Here you can connect to the Linville Gorge Trail (an 11-mile trail) or take the Little Table Rock Trail (1.1 miles) to the Table Rock Trail (1.2 mile climb). If you do only the out and back, expect about 30 minutes down and 1 hour or more back up.
For a shorter but more challenging hike, there's Devil's Hole, which is about 1.5 miles in length each way. You'll climb for a brief time, then the trail will drop 1160 feet into a thick forest where you'll need to rock hop over a stream. There's a short cliff climb (you'll need to use your hands) and then a descent to the Linville River. Here you can either connect to the Linville Gorge Trail or return the way you came.
The 2.4-mile Jonas Ridge Trail is another popular hike, leading to Sitting Bear Mountain, which offers view of Hawksbill and Table Rock mountains as well as the gorge. The hike is relatively flat until you ascend Gingercake Mountain. The last part is rather strenuous as it leads you up Sitting Bear Mountain. At this point the trail descends steeply to meet the Hawksbill Trail.
Directions
From Asheville, take I-240 to I-40 East.  Take exit 72 US 70 Old Fort/Gateway Museum. Take US 70 for 10 miles to U.S. 221 North. Take US 221 N to the intersection of NC 183 and continue to NC 181. Turn right and go south on NC 181 and continue three miles to Forest Service Road (FR) 210 (Gingercake Road). Turn right onto FR 210. At the first fork, turn left and continue through Gingercake Acres subdivision. The trailhead for Devil's Hole, Jonas Ridge and a trail that leads to Table Rock and Hawksbill Mountain is located off this road about 2 miles ahead.
The parking area for Hawksbill is one mile from the Devil's Hole parking area ((parking area on left and trail on right. The parking area for Spence Ridge and North Table Rock trails are an additional one mile from Hawksbill.
The information cabin for Linville Gorge Wilderness is located on NC 1238, Kistler Memorial Highway, 0.4 mile from NC 183.
GPS Coordinates
N35.922349, W81.906499