Hike 12,000 Years of History in the Swannanoa Valley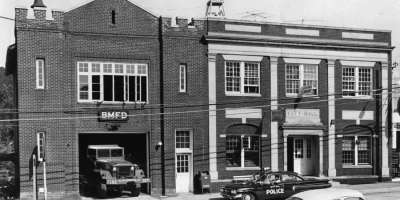 Experience a Popular Hike Series in Black Mountain, NC
A group of hikers tops a ridge, puffing a bit at the incline. As they straighten and look up, pure blue skies open to sweeping views of the mountains surrounding the Swannanoa Gap. The Swannanoa Rim™ Hiking Series has once again lured serious hikers to walk trails whispering 12,000 years worth of human secrets.
During this annual hiking series, hikers traverse some of the most storied portions of the Swannanoa Valley Rim—approximately 31 miles long. The hikes range from three to over eight miles in length, and they're hosted by the Swannanoa Valley Museum & History Center located in historic downtown Black Mountain, just 15 miles east of Asheville.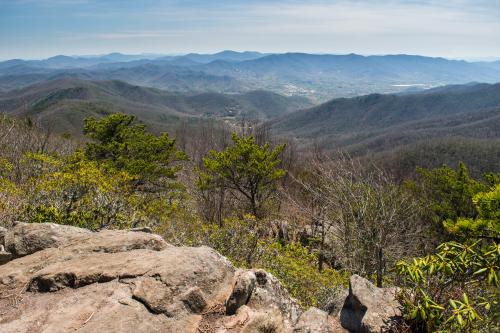 The Valley History Explorer Series offers a less strenuous experience. This series of eight hikes features moderate jaunts about three miles long. Hikers visit historic locations in the Valley such as the first permanent white settlement at Bee Tree. On the hike at Montreat, you'll learn how the words "mountain" and "retreat" were combined to name this place of physical and spiritual renewal. On the Black Mountain sojourn, learn how the town got its name (formerly Grey Eagle)…and more. Guide John Buckner, chair of the museum's hiking committee, says these hikes are less strenuous, yet they still require walking uphill and good walking shoes.
Buckner explains that Cherokee and Catawba Indians hunted these mountains, and the Swannanoa Gap—part of the Swannanoa Valley Rim—welcomed the earliest wagon roads and stagecoaches into Western North Carolina.
With a focus on history and natural surroundings for both series, Buckner says, "We aren't setting speed records on these hikes. We're talking about the history and what we're seeing." Some of the hiking guides are also descendants of Sam Davidson, the area's first white settler.
How To Hike the Swannanona Valley Near Asheville, NC
It's easy to join one of these hikes.
Hikers meet at the Swannanoa Valley Museum on the day of the outing. Built in 1921 as the Black Mountain Fire House, the museum was designed by Richard Sharp Smith, a supervising architect for the Biltmore Estate. Today, as in the past, the building houses people with heroic goals—this time, the education of locals and visitors, so that guests might understand where they've come from and chart a wise course going forward.
Swannanoa Rim™ Hiking Series: For all 11 hikes, fee is $280 for museum members. Hikes are held monthly on a Saturday, Feb. to Dec. An individual rim hike is $30 for museum members, $50 for non-members.
Valley History Explorer Hiking Series: $175 for museum members for all eight Saturday hikes, March to Oct. Individual explorer hikes are $25 for members, $35 for non-members. 
Traveler's Tip: Please check websites or call the museum to reconfirm all dates, gathering times and details. 
Find your perfect Asheville hiking trail! Use our Asheville Hike Finder to easily filter by distance from downtown, trail length and difficulty level.
Black Mountain Firehouse photo courtesy of the Swannanoa Valley Museum.