5 Haunted Tours in Asheville, N.C.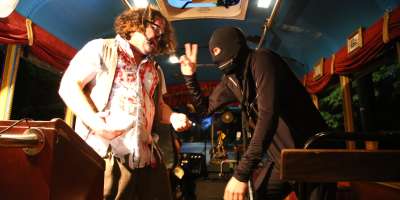 Tours & Celebrations to Give You Goosebumps... All Year Round
A city that has as much history as Asheville is sure to have a few mysteries, and exploring the unknown can sometimes lead down strange and even spooky paths. But do not fear! All of Asheville's haunted and mysterious adventures are fully guided.
Phantoms by Foot
The Haunted Asheville Tours were developed by renowned paranormal expert and TV personality Joshua P. Warren. In 2018, Country Living highlighted Haunted Asheville Ghost Tours as one of 20 top ghost tours across America. 
Mysteries on the Move
Gray Line of Asheville's Haunted History & Murder Mystery Tour offers more than an hour of ghoulish delights across Asheville, all from the comfort (or protection?) of their iconic red trolleys.  
Scared Silly
For a look at Asheville after dark as you've never seen it before, climb on the odd purple bus and join hosts like Thomas Wolfeman, Hellena Handbasket and Ghoulish Gary for a hilarious and hair-raising LaZoom Haunted Comedy Tour. These tours are only for those 17 years of age or older.
Not-So-Spooky Adventures
Most of Asheville's haunted excursions run year-round, but as Halloween draws near, some other Asheville attractions get in on the fun, too. See our guide to Halloween events in Asheville. For more non-scary, family-friendly celebrations, check our calendar for special events at the WNC Nature Center, Grandfather Mountain and Chimney Rock Park, among others.
LaZoom Haunted Comedy Tour photo by AshevilleChannel.com.
Updated February 3, 2020