Deep Gap Trail at Mount Mitchell State Park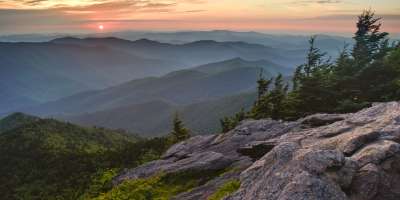 A walk in the clouds in the Black Mountains
Hike from the highest peak east of the Mississippi  River (Mount Mitchell, 6684 feet) to the second highest one (Mount Craig, 6647 feet). On the ridge line of these giants of the Black Mountains, you might find yourself above the clouds.
You'll begin the hike in Mount Mitchell State Park, one of the first state parks in the U.S. (established in 1915).
What to Expect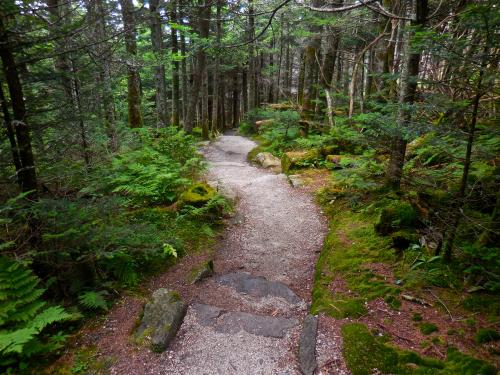 Also called the Black Mountain Crest Trail, the Deep Gap Trail starts from the far end of the parking lot at Mount Mitchell summit (at the start of the picnic area). You'll be able to see Mount Craig, your destination (about a 2-mile roundtrip hike), clearly from here. The trail goes through the picnic area, which is in itself very scenic, featuring an abandoned log cabin that's been refurbished.
As the trail leaves the summit of Mount Mitchell, it descends into an area of alpine forest. Along the way, you'll encounter stone steps and sometimes pass over exposed rock (which requires some scrambling). The path will be flat in places. Views are visible through gaps in the trees, but this is a wooded trail.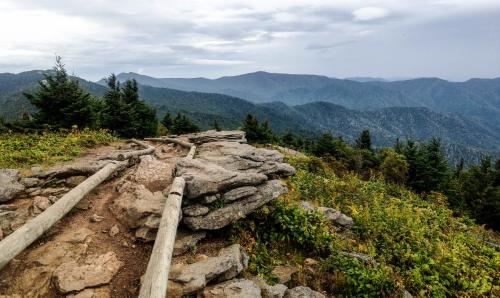 The trail begins to ascend Mount Craig at just under a half a mile. At the top, there's a plaque marking the peak's altitude (just 37 feet shorter than Mount Mitchell). From here, you have the option to continue on to Big Tom and the Deep Gap campground (3.5 miles further) or turn around.
Before starting out on your hike, know that the temperature here is often at least 10 (sometimes 20) degrees cooler than in Asheville. Weather conditions can change quickly. In winter, Mount Mitchell State Park may be limited.
The portion of the trail from Mount Mitchell to Mount Craig is more heavily trafficked than the additional sections.
Hike Details
Difficulty: Moderate to Strenuous

Distance from Asheville: 33 miles, 1 hour 5 minutes

Length: 2.1 miles round trip (to Mt. Craig)

Region: Mount Mitchell State Park

Duration of Hike: 1-1.5 hours

Elevation Gain: 300 feet

Pet-Friendly? Yes; leashed dogs

Multiple Use? No

Blazes? Orange

Facilities & Parking:
Mount Mitchell summit parking lot

Bathroom, picnic area, water fountain, concessions and gift shop (summer and early fall), museum

Natural Features: Alpine forest, tall peaks, rock outcroppings, rare plants
GPS Coordinates
35°46'02.5"N 82°15'52.3"W
Photos by Jason Tarr of ExploreAsheville.com.