Deep Creek Waterfall Hike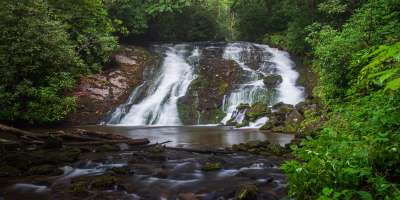 Deep Creek Waterfall Hike Details
Difficulty:
Moderate
Length: 5-miles loop (or shorter if only doing sections)
Region:
Duration of hike: 2-3 hours
Elevation gain: 847 Feet
Type: Loop
Blazes: None
Facilities & Parking: Parking lot at trail head with facilities
Features:
Waterfalls,
Wildflowers,
Kid Friendly
Three wonderful waterfalls on one Great Smoky Mountains National Park hike
Deep Creek is one of the most beloved areas in the Smokies, known for offering the opportunity to see three beautiful waterfalls. Take a 5-mile loop hike to see them all or craft a shorter hike. Deep Creek is also known for its popular tubing sections -- one of which passes directly in front of one of the waterfalls!
The Deep Creek trail was an old logging road used around the turn of the 20th century. Splash dams were built along the creek to float timber down to the sawmills in the area.  

LEAVE NO TRACE TIP
The rocks along the river is an important habitat for the hellbender salamander. You can do your part to protect wildlife by leaving rocks where they are and not building rock stacks (cairns).
What to Expect
From the trailhead, you'll see a sign indicating the distance to Tom Branch Falls (.2 mile), the Indian Creek Trail (.7 mile) and the Loop Trail (1.7 miles) that cuts through a ridge and valley to bring you back to the Deep Creek Trail.
The main trail is generally wide and flat, following Deep Creek directly most of the way. The first point of interest is 80-foot Tom Branch Falls, to the right of the trail after about a 5-minute walk. Continuing on, you'll reach the Indian Creek Trail at around .7 mile. Turn right onto the trail. After a brief walk, you'll see a spur trail to Indian Creek Falls on the left, which is worth the brief detour. These 45-foot falls are wider and more impressive than Tom Branch falls. Head back to the Indian Creek Trail after viewing the falls.
After about another mile, you'll come to the Loop Trail on your left. This is the only part of the trail that contains any significant elevation rise and would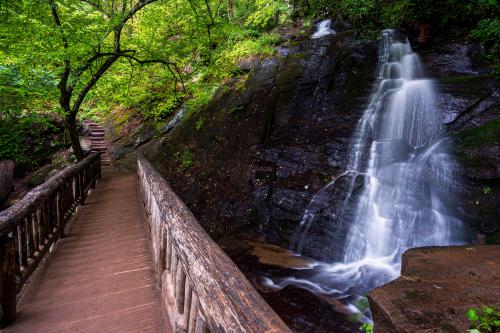 be considered moderate to strenuous for some. It's a fairly narrow trail with some roots and rises. You'll pass the Sunkota Ridge Trail and start descending back toward the Deep Creek Trail, at which point you'll turn left onto it, over a footbridge. At this point, the trail is once again wide and flat. You'll have the option to take a spur trail to Juney Whank Falls (an 80-foot falls) or continue back to the parking lot.
Directions
Take I-240 West to I-40 West. Take Exit 27, US-74 Great Smokies Expressway. Take Exit 67 toward Bryson City. You'll be on Veteran's Boulevard. Take that to downtown and turn right onto Main Street. Turn right onto Everett Street, then right on Water Street which will turn into Toot Hollow Road. Take Toot Hollow Road about 4 miles to the Deep Creek Falls Trail and parking area, past the campgrounds (which are on the right)
Know Before You Go
The Deep Creek area is very popular for visitors and locals and can be very busy during the summer. Trail (and parking lot) traffic eases up in all other seasons. If you do visit during the summer, you'll note a drop off in foot traffic once you reach the Indian Creek Trail.
There is no park admission in the Great Smoky Mountains National Park, but as of March 1, 2023, a purchased parking tag will be required to enter the park. Three tag durations are available for purchase for all vehicle sizes and types: $5 for daily, $15 for weekly and $40 for annual entrance. Parking tags are not replaceable, refundable, transferable or upgradable.
GPS Coordinates
35.464349, -83.434607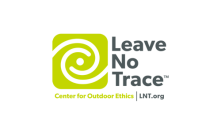 We all love the Blue Ridge Mountains! By working together, we can keep these incredible outdoor spaces beautiful and pristine for years to come. Make it your nature to Leave No Trace: Leave what you find, pack out what you pack in, stay on designated trails and plan ahead. To learn more about the 7 Principles of Leave No Trace, CLICK HERE >>.
Updated April 3, 2023