Cranberry and Roasted Sweet Potato Scones Recipe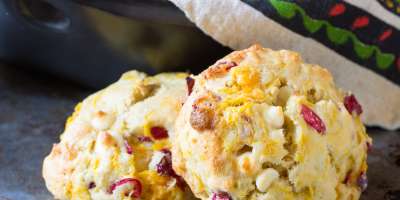 A perfect fall treat, these scones from The Rhu feature a soft and flavorful texture with tart bursts of cranberries. Make breakfast, or any other meal, extra special at the holidays by adding a scone to the menu.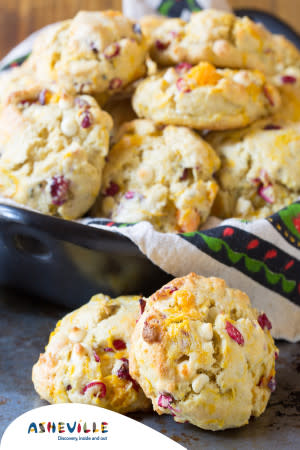 Ingredients (makes

24 scones

):
¾ cup Sugar (can use brown)

2 tbsp. Baking Powder 

1.5 tsp. Baking Soda

1.5 tsp. Salt

9 cups All-Purpose Flour 

¾ lb. Butter

3 Eggs

3 ¾ cup    Cream or Buttermilk

1 qt. Garnish (2 cups roasted cubed sweet potatoes, 2 cups dried cranberries)

1 cup Chopped White Chocolate 

1/8 cup Chopped Rosemary
Directions:
Combine all of the dry ingredients together in a bowl.

Cut/shingle the cold butter chunks into the dry ingredients. The larger the pieces the better.

Add the garnishes, then add the eggs and cream.

Mix by hand just until the dough comes together.

Turn out onto the table and very lightly knead and shape.

Cut and portion the scones and freeze for use.

Bake at 375 degrees. Scones should be baked for 10-15 minutes.