Climb, Soar and Paddle Around Asheville With a Little Help from Local Guides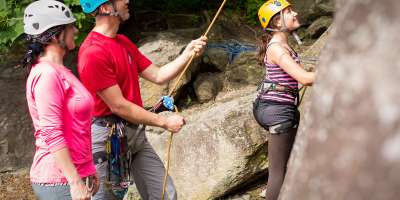 Expand Your Comfort Zone With Asheville's Professional Adventurers
Adventure is exciting but you might not know where to start. Asheville guides understand! They're here to help you scale cliffs, navigate rapids, seek out the hard-to-find, scenic waterfalls that attracted you to the region in the first place.
These are just a few of the companies working to provide the lessons and advice you need to explore with paddles, knee pads, ropes, and helmets.
Don't forget to share pictures #VisitAsheville!
Outdoor Adventures and Tours Near Asheville, NC
This tree-based adventure company offers a variety of tours, but its Moody Cove Adventure pulls rank. USA Today has called it "the best in the nation," and it's been featured by CNN, Outside Magazine, and the New York Times. In under three hours, you'll experience 10 ziplines, 3 bridges, 2 tree rappels, and three hikes. Afraid you might chicken out? Consider this:  Navitat recently hosted a 91-year-old visitor. As soon as she landed, she wanted to speed through the trees again. (TIP: For a more urban experience, check out the Asheville Canopy Adventure Tours just outside of downtown.)
Wai Mauna offers guided standup paddleboard tours on a four-mile stretch of the French Broad River. The boards used on these tours have fins designed for steady travel, and each Wai Mauna outing includes a lesson. You and your travel companions will glide past Biltmore Estate and come ashore in Asheville's River Arts District, a short distance from studios, bars, and restaurants—with new adventure stories to share.
Fox Mountain Guides & Climbing School
The instructors and guides at Fox Mountain have trained Army Rangers, Special Force operatives, and Outward Bound leaders. Now, they're ready for you. Fox Mountain is the largest guide service in the Southeast. They offer guided trips and courses for people who've never climbed, as well as training for seasoned climbers looking to better their technical skills. Gain perspective via a daytrip, or consider an immersive experience through their women's climbing programs and youth summer camps.
You heard there was a waterfall down this road, up this trail, somewhere around here. You just can't find it. This even happens to waterfall-hunting locals from time-to-time. Tumblestone's guided tours—which provide van transport for groups of 2-8 to some of the region's most scenic waterfalls—often include a few miles of hiking. They're a match for visitors interested in spending less time searching for waterfalls and more time soaking in them.
Velo Girl Rides
Velo Girl will help you travel the Blue Ridge Parkway on two wheels and tempt you with culinary tours. Crave cheese? Take a three-day bike tour down the WNC Cheese Trail, getting to know local creameries. Interested in local agriculture? Join a Cycle to Farm tour, featuring farm stops and a farm-to-table meal.  Love microbreweries? Try a Beer City Bicycle Tour or take advantage of custom options. You'll get expert cycling advice and access to a pace van full of snacks. But, on some of these tours, you might get your fill without even touching a cooler.
Guides from the Nantahala Outdoor Center lead full and half-day rafting trips from Asheville. On the French Broad River—just minutes from downtown—they'll point out heron, bald eagles, and maybe even a bear. If you venture to the center's outpost in Bryson City, you'll find additional river options. You might also consider paddling classes or a course that focuses on wilderness survival skills. Because the best guided experiences ultimately empower you to explore, ever farther, all on your own.