Celebrating Black-Owned Businesses in Asheville, NC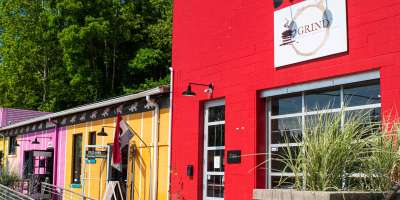 Nestled in the scenic Blue Ridge Mountains at the confluence of the French Broad and Swannanoa rivers, Asheville sits as the largest city in the most western part of North Carolina. While Asheville may be well known for its award-winning restaurants, eclectic style and surrounding lush forests, its rich tapestry of Black culture has also shaped this unique community.
We invite you to further experience Black Asheville by supporting – and visiting – Black-owned businesses in Asheville, NC. Learn more about some of these amazing entrepreneurs and their stories below.
Indulge Yourself: Black-Owned Eateries
Asheville Cake Lady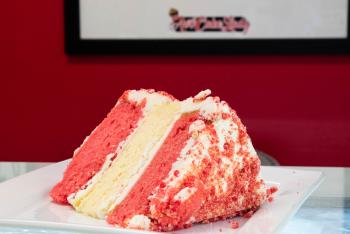 Asheville Cake Lady is a local, Black-woman-owned custom cake shop whipping up southern desserts daily and customizing cakes for weddings, birthdays and any other events upon request.
A local baking class led founder and Asheville native Shana McDowell to a career in being one of Asheville's top cake creators. Already well-known in town for her "Shana's Shortbread Cookies," McDowell enrolled in a baking class, where her instructor challenged her to expand her baking skills to cakes, too.
Indulge yourself with Shana's freshly made banana pudding: a traditional version with Nilla wafers and another with her famous shortbread cookies which started it all. Or, snag one of her carrot cakes or signature Strawberry Crunch Cake – a three-layer cake with cheesecake in the center!
Visit: Open Tuesday-Saturday, from 11 a.m. to 5 p.m. with a variety of delicious desserts to meet your sweet treat needs. Also available daily at the WNC Farmer's Market.
Grind AVL Coffee Shop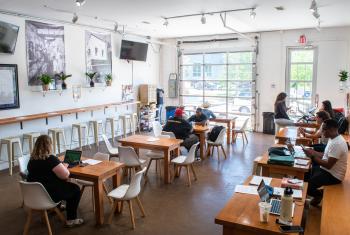 Located in Asheville's River Arts District, Grind AVL is a coffee shop, event space and coworking space that uses coffee as a unifier to connect business owners to the greater Asheville community.
"Historically, coffee has brought individuals and cultures together," explained J Hackett, co-owner of Grind AVL. "It has been the glue that pulled business colleagues to negotiation tables and friends to discussion tables. It's a warm reminder of the connection that comes when people exchange ideas and concepts." Aside from serving coffee and delicious pastries, Grind AVL serves as an incubator and gathering space for Asheville's Black Wall Street, an initiative to support Black entrepreneurs.
Visit: Open Monday – Saturday, from 8 a.m. to 6 p.m., and on Sundays, from 8 a.m. to 5 p.m. 
Get Pampered: Black-Owned Spas and Wellness Experiences
Asheville Pro Lash and Salon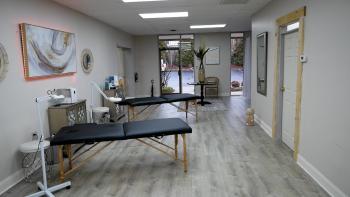 Asheville Pro Lash and Salon is owned and operated by the dynamic mother and daughter team of Trina Gragg-Jackson and Kahlani C. Jackson. 
Trina, a beauty expert for more than 30 years, and daughter Kahlani, former Miss. Asheville 2016, teamed up to provide the local Asheville wellness scene a makeover. Their salon is the perfect place to relax and enjoy luxury spa services. Aside from salon services, they also offer manicures, pedicures, facials, waxing, lashes and much more in a beautiful environment. "We recognize that beauty isn't just skin deep," said Jackson. "We cater to the whole client. Aside from salon and spa services, we also offer licensed therapists who help our salon/spa clients maximize their full potential."
Visit: Open Tuesday – Saturday, from 8 a.m. to 7 p.m. Call or book online to make reservations.
HOTWORX Fitness Studio
Located right outside of historic Biltmore Village, HOTWORX is a workout unlike any other. Featuring a virtually instructed infrared sauna workouts, participants can choose from completing a 30-minute Isometric Workout or 15-minute High Intensity Interval Training (HIIT) session, or utilize the studio's Functional Exercise (FX) Zone.
"HOTWORX is a highly effective workout. As the infrared heat penetrates your body causing you to sweat, the isometric postures further accelerate detoxification," explains Dr. Travis Whiteside, chiropractor specialist and co-owner of the gym. This is a great workout for muscle recovery, pain relief, and stress reduction.
Visit: Open Monday – Thursday, from 11 a.m. to 8 p.m.; Fridays from 9 a.m. to 6 p.m. and Saturdays from 11 a.m. to 4 p.m. 
Shop: Black-owned Stores, Galleries & Artists
Noir Collective Art Gallery
Noir Collective AVL is both a boutique shop and art gallery located in the historic Black business district referred to as The Block, previously home to more than 150 Black businesses in Asheville. 
The collective is a network of wellness warriors, creative activists, social justice visionaries, cultural keepers and peace makers. Offerings include everything from skincare items like shea butter, soap and facial products to jewelry, clothing and original art, prints and cards – all designed or created by African Americans. Much like Grind AVL's mission, Noir Collective is focused on bringing people together. Joy Maat, a collective member explains, "Noir Collective is more than a convenient shop for personal goods; it also serves as a culturally enriching gathering space to celebrate our past, the present and to strategize our future, especially economically." 
Visit: Open Wednesday – Saturday, from 11 a.m. to 4 p.m.
More to Love Consignment Shop 
More To Love is a plus size consignment shop that caters to women sizes 12 and up.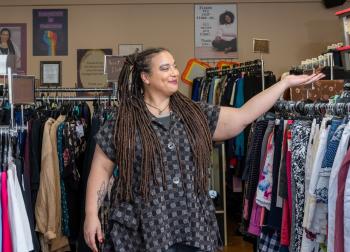 Meet Western Women's Business Center Entrepreneur of The Year, Jazmin Whitmore. Jazmin founded More to Love out of her own frustrations when it came to looking for affordable and fashionable clothes. When shopping at More To Love you can expect to find brands like Torrid, Lane Bryant, Catherine's, Avenue and Soft Surroundings. "Our goal is to help you to radiate inner and outer confidence in colors and sizes that make you feel more like you".
Visit: Open Wednesday – Saturday, from 11 a.m. to 6 p.m.
It's Amira M
It's Amira M creates handmade wearable art such as statement neck pieces, earrings, bowties, handbags and other custom items using African Ankara fabrics and cords, African beads, denim, leather, and other textures and materials. Artist Sala A. Menaya-Merritt moved into the area a little over five years ago and started designing in her basement as a hobby.
"It's Amira M was conceived through my desire to wear something different and made by my own hands. From handbags to one-of-a- kind statement necklaces, I imagine it... I create it. Being an entrepreneur is a dream come true! Choosing me was the best thing I could have done for myself and my future." Sala shares about her entrepreneurial journey.
Visit: Check out their Facebook page for updates and stop by their booth at local events such as the Big Crafty, Leaf Festival, Goombay, Pride and others. 
Dope Divas Accessories
Asheville native LaVie Montgomery combined her love for earrings and inclusive community to create Dope Divas Accessories. Her earrings are extremely popular around town because they serve as conversation starters, walking billboards or empowerment pieces. Their accessories are a focus of celebrating love, culture and life. As part of her mission, for every $100 raised, Montgomery donates $10 back into the community. 
"It's important for us to be in community with one another, so you can find me around town at festivals and holiday pop-up shops," Montgomery explains. While checking out the amazing music, food and fun Asheville festivals have to offer, don't forget to stop at LaVie's table and order a custom pair of earrings as a keepsake from your trip to Asheville. 
Visit: Check out their Facebook page for updates and stop by their booth at local events such as the Big Crafty, Leaf Festival, Goombay, Pride and others. 
Updated February 23, 2023