Bridal Veil Falls Hike at DuPont State Forest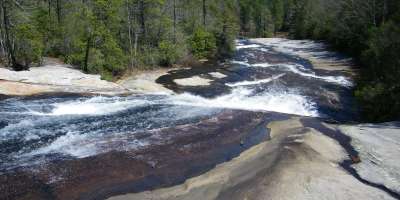 Bridal Veil Falls Hike Details
Difficulty:
Easy Moderate
Length: 1.88 miles each way
Region: Brevard, Dupont State Forest
Duration of hike: Around 35 minutes each way
Elevation gain: 109 Feet
Type: Loop
Blazes: None
Facilities & Parking: Parking lot, portable toilet
Features:
Waterfalls,
Pet Friendly
Hollywood-worthy waterfalls make for family fun and great picnics
Fans of The Hunger Games and Last of the Mohicans were introduced to Bridal Veil Falls in Dupont State Forest on the silver screen. Hikers can easily take in the view, too, with this easy, scenic stroll through the woods. With plenty of exposed rock around the falls, this is a great picnic spot.

LEAVE NO TRACE TIP
With so many natural wonders, DuPont State Forest is a popular place for outdoor recreation. Consider visiting on a weekday or in the early morning to better enjoy your visit and help take pressure off of busier days and times.
What To Expect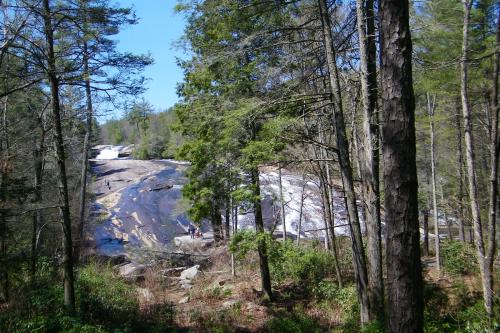 There are many ways to get to Bridal Veil Falls, but for the sake of simplicity, use the Fawn Lake Access Area, which takes you down several wide gravel roads, making it easy for hikers of all ages. From Access Area, find the entrance to the Reasonover Creek Trail and take it for 0.1 mile. Take the first left on Conservation Road (a gravel road) for 1.70 miles. After you pass the airstrip, you'll see Bridal Veil Falls Road on the left. This road will take you to a narrower trail and the base of the falls. 
These 120-foot falls rush and tumble down exposed granite rock. While you'll see many people walking on the rocks (and mountain bikers riding onto them), it's best to stay on the dry part and exercise extreme caution when getting close to the falls, even though Catniss and Peeta did in The Hunger Games.
One popular thing to do at Bridal Veil Falls is to walk under one of the rock ledges in order to stand behind the 10-foot-waterfall at the top (this happened in a scene in The Last of the Mohicans). This can be done safely if you're visiting when the water volume is lighter (in other words, don't attempt this after a heavy rainfall).
Hikers frequently combine a Bridal Veil Falls hike with another waterfall hike, such as High Falls (reached by going back out to Conservation Road and taking it to Buck Forest Road) or with a hike to Lake Julia.
Directions
From downtown Asheville, take 1-240 to I-26 Turn right onto Hwy 280 for 16 miles to Highway 64. Turn left onto US 64 and go 3.7 miles to the stoplight. Turn right onto Crab Creek Road and proceed 4.3 miles to DuPont Road (which later becomes Staton Road). Stay on DuPont/Staton Road for 5.3 miles, passing the Hooker Falls and High Falls Access Areas. At the end of Staton Road, turn left onto Cascade Lakes Road. Go 2.5 miles past the Corn Mills Shoals Access Area and make a left on Reasonover Road just before US-276. The Fawn Lake Access Area is 2.8 miles down Reasonover on the left. Bridal Veil Falls is reached via the Reasonover Trail.
GPS Coordinates
35.09396, -82.36152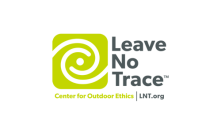 We all love the Blue Ridge Mountains! By working together, we can keep these incredible outdoor spaces beautiful and pristine for years to come. Make it your nature to Leave No Trace: Leave what you find, pack out what you pack in, stay on designated trails and plan ahead. To learn more about the 7 Principles of Leave No Trace, CLICK HERE >>.
Photos by Jonna Reiff.