Asheville's Sustainable Shopping Guide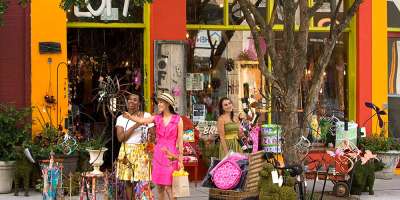 Sustainability is a pillar of the Asheville community – a core belief that the surrounding beauty of these ancient mountains should be preserved in everything we do, create and even sell.
As you search the many local shops for keepsakes and treasures throughout your adventures in Asheville, keep sustainability in mind. Whether it's locally crafted hammocks, prolific pottery or award-winning local restaurants, remember that time, love and community effort were put into these products to that ensure they can be enjoyed time and time again.
Let this be your guide to sustainable shopping in Asheville, NC.
Eco-friendly Places to Shop in Asheville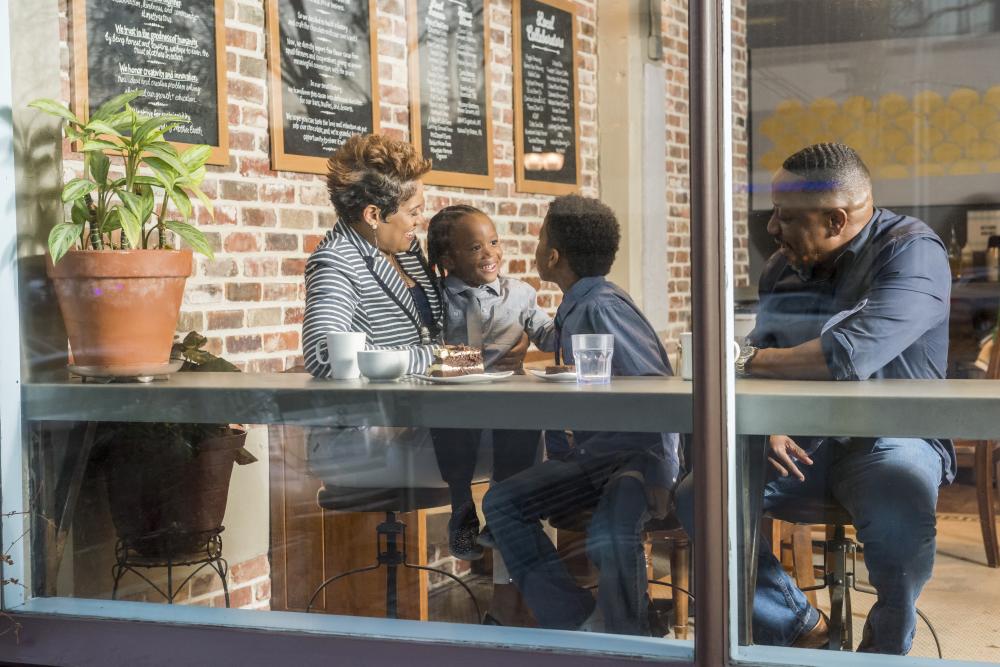 East Fork Pottery:  As one of Asheville's most iconic retailers – featured in the New York Times and Vogue – East Fork is well-known for its innovative handmade pottery. But its sustainable practices are just as note-worthy. East Fork earned the Climate Neutral Certified designation in 2021 and, as of today, the shop supports a company-wide standard of $22 an hour for minimum wage. East Fork is also a certified B Corporation, committing to making positive impacts on their employees, customers, suppliers, community and the environment.
Adoratherapy: Another unique Asheville shopping spot is Adoratherapy. This store offers handmade perfumes, body care products and more that are organic, vegan and cruelty-free. Be sure to get an aura reading for yourself (or pet!) while you're visitng.
French Broad Chocolates: One of Asheville's most popular spots for everything chocolate is another local certified B Corporation and deeply committed to sustainability.
Asheville Bee Charmer: For the bee lover in your life, take a trip to the Asheville Bee Charmer. This LGBTQ-owned store features local, regional and national honey and honey-based products. The Bee Charmer also partners with other local businesses to encourage and assist with bee conservation and habitat enhancement. 
Nest Organics: Nest Organics is an environmentally-driven boutique in downtown Asheville dedicated to offering organic and non-toxic goods for kids and the home with an emphasis on local makers.
Mount Inspiration Apparel: Mount Inspiration's mantra is "play in, love and respect nature." They sell clothing that is made from recycled polyester and organic cotton with a focus on sustainable choices. Aimed at outdoor lovers and free spirits, this is a clothing store that proves you can be cool and eco-friendly.
Mast General: Asheville's Mast General store is a major emporium with products from all over, but step inside and you'll discover some sustainable products from local makers like Eagle Nest Outfitters (ENO). ENO partakes in industry-leading efforts to manage environmental impacts during production, as well as donating 1% of sales to nonprofit organizations focused on environmental issues. You can find their hammocks and apparel at Mast General. 
Hummingbird Candle Co.: While in downtown, make sure to stop by Hummingbird Candle Co., where shoppers can browse paraben-free wax candles made from coconut. The Hummingbird Candle Co. also is Black-woman owned.
Ware: Ware is a zero-waste lifestyle store that offers products for your home and body. Discover items like reusable coffee filters, books on zero-waste cooking and vegan dental floss, along with a host of other products. Plus, they ship nationwide! 
Harvest Records: Give new life to some old tunes with a visit to Harvest Records in West Asheville. This independent, locally-owned record store houses a massive inventory of used (and new) vinyl, cassettes, CDs, stereo equipment, DVDs, books, accessories and more. It's the perfect place to "upcycle" a record. 
Twice Round: While you're on Haywood Road in West Asheville, take a walk over to Twice Round. This vintage store sells throwback clothes and it's a perfect shop for visitors to purchase "new" duds.
Firestorm Books: Firestorm Books is a unique worker-owned bookstore that prioritizes underground, independently published books and free literature. Firestorm serves organic coffee, tea and locally made vegan pastries. It's also a queer, feminist owned store that hosts a variety of community events and supports programs that send books to public classrooms, rural youth, prisoners and more.
Marquee: This design-centric market is located in Asheville's thriving, creative River Arts District, and sells a host of curated products from artists, makers and collectors from around the region. Many artists who sell their crafts at Marquee use recyclable materials or materials they've found at local junk yards, antique shops and thrift stores. You can find upcycled art from makers like Lisa Perez, who makes sculptural planters out of vintage electronics and home goods, at the Marquee. Plenty of booths offer antiques, as well. 
Rite of Passage: Located near the Odyssey Gallery of Ceramic Arts is Rite of Passage, a local fashion label making clothing right in the city. The owners are founding partners of the Carolina Textile District, which is a collective that connects local makers and designers in an effort to make quality local products across Western North Carolina. All leftover textile waste at Rite Of Passage gets recycled and spun into new yarn for future use. 
Second Gear: Second Gear is a locally-owned outdoor gear shop in the River Arts District, and it's the perfect place to begin your outdoor adventure lifestyle. Give a second life to a paddle board by shopping Second Gear's used products. The shop sells used items from used bikes to used travel accessories. The store also supports a new nonprofit each month. 
There There: Opening this spring, There There is an ethical and sustainably-minded shop offering timeless and artful clothing from indie designers, comforting wear-forever basics, stunning handcrafted leather bags, along with carefully-selected modern home and gift items. All of the products are made with sustainable and ethical practices in mind.  
Antique & Vintage Shops in Asheville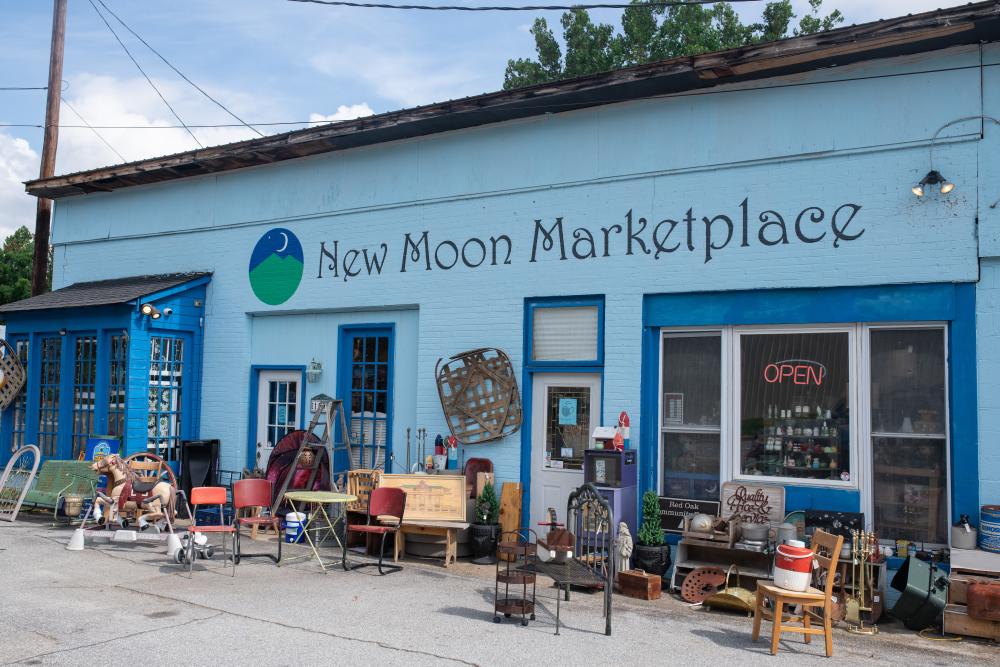 Asheville has some of the best consignment and vintage shops in Western North Carolina. Visitors can nab some top notch second-hand items from shops all over the city and surrounding neighborhoods, and antique shopping or thrifting is a perfect way to cut down on waste. 
Regeneration Station: One of Asheville's biggest consignment stores is Regeneration Station. This store is home to more than 30,000 square feet of repurposed products and antiques. 
The Cottage Door: The Cottage Door in Weaverville has operated for more than 10 years and is the place to go for unique furniture finds and gently-used clothes from the top brands.
Hip Replacements: Calling all clothes horses! Check out Hip Replacements in downtown Asheville, where you can find throwback statement clothing mixed with items from local designers. 
Ragtime Vintage Clothing: Ragtime, also located in downtown Asheville, showcases a rotating stock of men's and women's clothing, accessories and vintage home goods. 
Biltmore Antiques District: Spend the day perusing the Biltmore Antiques District. Ten locations house nearly 500 vendors, full to the brim with antiques and second-hand items. 
New Moon Marketplace: This eclectic antique store is located in Fairview, just outside of Asheville, and has a variety of second-hand items. It's perfect for a day drive through the Blue Ridge Mountains.
Places for Plant Lovers in Asheville
Get directly involved with impacting the environment by taking a shopping tour of Asheville local plant shops and nurseries. 
Thyme in the Garden: Weaverville's Thyme in the Garden is a unique garden shop where you can purchase everyday plants, seasonal flowers and accessories. You can also build your own terrarium to give as a gift or take home for yourself.
Flora: Located in West Asheville, Flora offers a wide array of plants, pots and terrariums for both pick up and delivery.
Wild Birds Unlimited Nature Shop: Wild Birds Unlimited sells bird feeders and seed, but it's also a great hub of information and assistance for burgeoning birders. With their help, you can turn your home into an environment that benefits wild birds in your area.
Reems Creek Nursery: Visit Reems Creek Nursery in Weaverville for expert plant advice, ways to make your own local plant life a great environment for pollinators and seasonal flora and fauna. 
Mellie Mac's Garden Shack: If you're in Black Mountain, be sure to stop at Mellie Mac's Garden Shack, where nature-based gifts and plants await! 
PlantHouse: PlantHouse is an experienced-based terrarium workshop and premium plant store. They combine plant-based activities, products and environments that bring people together in a way that inspires connection and creativity. 
Updated April 20, 2023