Asheville's Busking Scene Keeps Music in the Air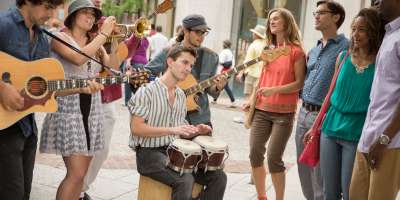 Street performers from around the world bring their talent to Asheville
When Peter Levitov blows into his homemade didgeridoo, an ethereal throbbing sound from the Australian aboriginal instrument echoes through downtown Asheville. A moment later, a percussionist lays down a rhythm on a hand drum, and a saxophone player new to town joins in as well.
The three have never played together before, but they soon find a groove. The air fills with a haunting mix of world music and jazz. Soon a crowd gathers near the Flat Iron statue, and in no time, an open guitar case fills with bills.
Around the corner, Dwight Hawkins is playing a hand saw, which sounds something between a violin and a synthesizer. And a few blocks away, the Big Nasty Jazz Band lays out a funky Dixieland melody.
From alt rock to zydeco, there's literally music in Asheville's air. The city has attracted creatives since George Vanderbilt recruited artisans to work on the Biltmore. Now it's a regular stop for performers of all persuasions.
"There are brilliant musicians on the street here," says Erin Derham, a film-maker whose documentary about Asheville's music scene, Buskin' Blues, has won awards at festivals around the world.
Adding Energy
Buskers, or street performers, are a crucial part of Asheville's energy, she says. "It feels like a party that you didn't know about it, and you just stumbled upon it."
When Derham first moved to the city, she wondered why such talented performers played for tips. Soon she learned that many prefer the freedom and challenge of the street. Unlike working in a bar, where musicians have a captive audience, buskers have just seconds to grab the attention of passersby. And if pedestrians don't like what they hear, they keep moving.
While buskers are independent performers, Asheville encourages them with liberal regulations. The few city rules require musicians to stay at least 40 feet from each other and to allow room for pedestrians. And while buskers can't outright sell CDs or merchandise, they can be given away in exchange for a donation.
Buskers have their own code too: After two hours performing, they move along and give someone else a chance to take the spot.
Busking began in the 1980s here, and has grown over the decades. Now it's part of the city's appeal.
"This is Asheville to me," says Cheryl Bessent, a visitor from Charleston, S.C., who stops in her tracks to hear an old-time Americana, jug-style band, which includes musicians playing a washboard, a washtub bass, and acoustic and resonator guitars.  A crowd forms two deep, and after the pick-up band finishes a song about lost love, she drops a $5 bill in a guitar case.
Bob Szyymckzak, a Naples, Fla., resident with a vacation home nearby, wonders about the performers. "I'm sure everyone has a story."
Dwight Hawkins, the musical saw player, surely does. The dred-locked Raleigh native spent years riding freight trains, living off his musical and carpentry talent. He learned to play the saw with a violin bow about six years ago. Not only did he love the sound but the instrument was easy to carry when he was on the move.  "It's a pretty exotic instrument, and they say I'm one of the best in the world," he says. When he plays a modern Finish waltz on the hand tool, it's hard to argue with him.
The Big Nasty Jazz Band has also found success, proving its chops busking across Europe. On many nights, you can find them commanding a sidewalk on Pack Square, attracting a crowd with its traditional New Orleans sound. Although Big Nasty plays regular gigs in bars and clubs, coronet player Michael Moravitz says he likes the challenge of winning over pedestrians who are just wandering by.
"It creates a nice moment in their day that they're not expecting."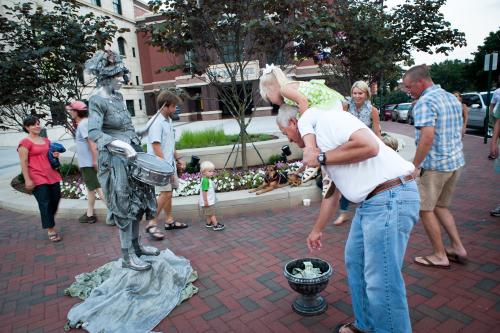 Working for Tips
Street musicians aren't panhandlers, but they do perform to make a living. Busking etiquette requires spectators to tip.
Dade Murphy, a living statue, says that if you stop to take a picture, it's only appropriate to leave some money. And frankly, it's hard not to stare at him. He dresses in a business suit and appears to be blowing away in the wind -- even on a calm day. He leans backwards at a gravity-defying angle and holds an umbrella knocked inside out. Dade won't reveal the secret to his pose.
Twyla Becker of Grayslake, Ill., who's visiting with her husband and two college-age sons, enforces a busking code for her family. "Our rule is if we stop, we pay. If they're good enough to get our attention, we leave something."
And musicians leave something too. Michael Hunter who has played an electric Fender guitar on the streets for ten years, says while it's not always a big money maker, street performing has its perks. When the music flows, there's no place in the world he'd rather be. 
"You get to that free place where you're connecting. You're really digging it and you look up and: Woah! You've got a crowd. You keep riding to a climax and then everyone cheers. People talk to you. They ask about your music and they drift away. And then you do it all over again."
Where to find the music
The easiest way to track down buskers is follow your ears.  You'll find performers out most days from late morning until about 9 p.m.  The best spots include the Flat Iron statue on Battery Park Avenue, along Haywood Street, by the Grove Arcade and near Pack Square.