An Evening with the Elk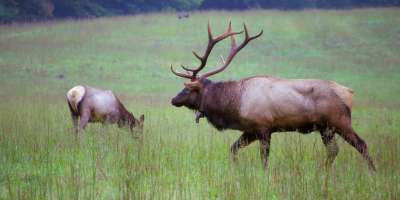 Pack a Picnic for Cataloochee Valley
A quick trip to the gorgeous Cataloochee Valley in the Great Smoky Mountains offers big rewards. The biggest is getting a close-up view of the majestic elk that weigh up to 900 pounds, making them the largest animals in the park. The large meadows by the roadside allow for easy watching as the elk roam, graze and interact.
Elk roamed the Appalachian Mountains for many years before being eliminated by over-hunting and loss of habitat. The last elk in this area was killed in the late 1700s. The National Park Service reintroduced the first heard of 25 elk to the park in 2001. Since they were relocated from another national park, the elk are accustomed to the curious humans. Since then, more elk have been relocated to Cataloochee and many little ones have been born. Today, the valley is home to a herd of at least 150.
For best viewing, arrive about two hours before sunset, or earlier if you want to hike a bit and tour the historic buildings from a former town. See the one-room school, church and farm house, all open for you to peek inside. There are several hiking trails to explore.
For dinner and a show unlike any other, bring a picnic! Park your car in the last meadow near the end of the road and tailgate. Also bring your binoculars and a camera with a zoom. Volunteers from the Elk Bugle Corps are often stationed by the big barn by the road to answer questions. Of course, don't ever try to feed any wildlife and keep your distance.
During the fall "rut" breeding season, male elk make their legendary bugling calls to challenge other bulls and attract cows. Their calls may be heard a mile or more away. Watch the bulls spar and try intimidating each other. During the rut in September and early October, dominant bulls gather and breed with harems of up to 20 cows.
Throughout the year, elk are also active in early mornings, on cloudy days and before or after storms. Always keep a safe distance since female elk are very protective of offspring and a male bull may perceive you as a challenger to his domain.
To reach Cataloochee, drive I-40 west to exit 20. After 0.2 mile, turn right onto Cove Creek Road and follow signs 11 miles into Cataloochee valley. The winding mountain road includes a stretch that is unpaved and narrow. Allow at least 45 minutes to reach the valley once you exit I-40 (a little under 1.5 hours from downtown Asheville).