African American Voices Speak of Rich History and Vibrant Future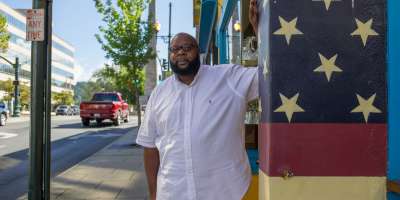 We meet our guide Joe Greene at the WRES studio next to Jack of the Wood on Patton Avenue, as the groovy sounds of R&B, soul, and funk emanate from the station's speakers. The music brings smiles and an occasional booty shake from passersby.
Soaking in the lively bustle of modern downtown Asheville, one could easily overlook the city's history and the voices of people who worked and played here over the centuries. That's especially true for African-American voices that are less readily heard in Western North Carolina. Luckily, if you listen, many ring strong throughout, like Greene's.
"My company, Asheville411.com, specializes in urban communications and event production," Greene shares. "We've brought national acts such as comedian Red Grant, hip hop icon Slick Rick, and R&B legends The Kings of Love to town, as well as featuring local performers."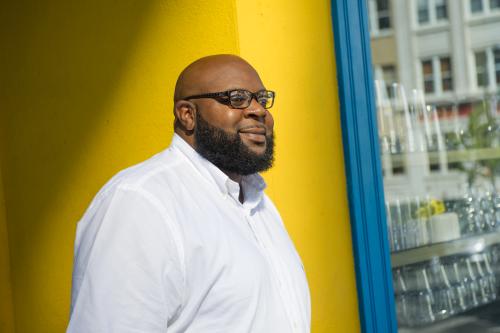 In addition to his involvement with the Goombay Festival, My Daddy Taught Me That mentorship program, and Hood Talk, Greene is the first African-American to serve on City of Asheville's Harrah's Cherokee Center - Asheville board. "That is a big step for me, and for my community," said Greene.
An Asheville native, Greene encourages visitors to tune into African-American voices that are a rich part of the region's history and present.
"For starters, turn your radio dial to WRES 100.7 FM-LP," said Greene, with a nod to founder John Hayes. In addition to great music, WRES features local African-American produced talk shows. "WRES is a much appreciated urban radio station." Greene says. "We have a lot of respect for Elder Hayes, he's someone we look up to."
Greene also suggests picking up a copy of The Urban News, the "Gateway to the Multicultural Community," in front of Pack Library on Haywood Street. Readers find stories such as the latest from Asheville Branch NAACP and listings for gospel concerts and neighborhood events. "Publisher, Ms. Johnnie [Grant], has been providing this outlet for a long time," Greene says gratefully. 
We walk up to Biltmore Avenue, accompanied by the musical soundtrack of buskers with fiddles and the pungent aroma of international cuisine, and stop at Southern Expressions boutique, one of the African-American owned businesses downtown. Michael Wilson opened this eclectic souvenir and clothing store in 1992, and keeps it full of fun options for shoppers, including trendy fashion and a selection of locally-made soaps and hot sauces.
As we continue on Biltmore Avenue, Greene points out the iconic marquee Fine Arts Theatre, which screens foreign, art, and independent films. His relatives remember when it was The Strand movie house. During the days of Jim Crow segregation there was a separate box office and entrance for African-Americans. "We had to sit in the balcony," Greene explains. To recognize this, in 2001 the Fine Arts Theatre restored the "colored" box office window, which can be seen today behind the theater's current box office.
Next we walk up to Pack Square, located at the intersection of Biltmore, Patton, and Broadway Avenues, where Greene pauses. This area has served as Asheville's center since the city's creation in 1797 and today welcomes visitors with open green spaces, sculptural fountains and a stage for performances of all kinds. Yet Pack Square also holds memories of a painful past.
For much of Asheville's early history, Pack Square was the place where slaves were bought and sold, as noted on the historical marker next to the Public Works Building, on nearby Charlotte Street. Thanks to a partnership with the Center for Diversity Education, the Buncombe County Register of Deeds recently became to first municipality in the U.S. to digitize the slave records from this time, making them available to view online.
Today, the African-American community demonstrates a thriving spirit through many cultural events, particularly the YMI Cultural Center's annual Goombay Festival that takes over Pack Square Park in September to celebrate the people, music and culture of African and Caribbean heritage in Western North Carolina.
"Goombay is the largest African-American focused event in town," said Greene. Goombay resounds with joyful upbeat music, dancing, art, and vendors selling flavorful food and colorful wares.
"It's personal to the community," adds Greene."It's a festival where we can showcase our talent and bring our spirits out for a weekend."
A Tradition of Music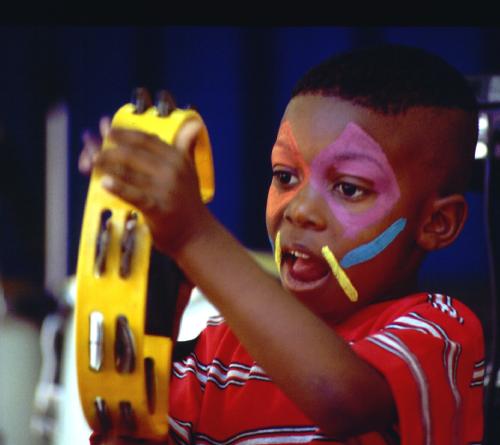 Western North Carolina is known for old-time and bluegrass music, genres that prominently feature the banjo and harmonies associated with gospel music — both of which have deep roots in African-American traditions.
In Asheville, from the 1930s through the 1960s, there were a number of R&B and soul venues, including the James-Keys Hotel. Many well-known musicians, including James Brown, Billie Holiday, Duke Ellington and Aretha Franklin performed and/or stayed at the James-Keys, and one of the venue's regular local musicians, Clifford Cotton, went on to tour with The Temptations.
During the 1960s and 70s, The Orange Peel was a popular R&B and soul club, hosting acts such as Commodores and The Bar-Kays. Famous musicians from the area include Roberta Flack, born in Black Mountain in 1939, and Gladys Knight, who lives in Fairview.
Today, Asheville's vibrant musical landscape includes soul, R&B and funk acts, and a blossoming hip hop scene. Two September festivals offer family-friendly celebrations of the music's roots. The YMI Cultural Center's annual Goombay Festival, pays tribute to African and Caribbean culture by bringing together music and dance with food and crafts. The Soumu festival, held at the Salvage Station's new riverside venue, features the rhythms of West Africa.
Photos of Joe Greene by Micah Mackenzie.