6 Drive-By Waterfalls: A Windshield Tour for All to Enjoy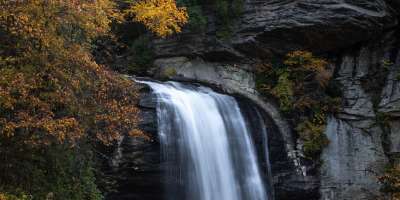 Easy-to-see cascades in the Blue Ridge Mountains
The Blue Ridge Mountains surrounding Asheville are home to thousands of beautiful cascades. While most are in remote areas or require a hike to see, here are half a dozen waterfalls that you can easily enjoy from the road. And they are all free to visit!
Looking Glass Falls
This 60-foot beauty in the Pisgah National Forest is one of the most photographed waterfalls in the South, and it is only 35 miles from Asheville! Find plenty of parking along US Highway 276, an accessible observation deck and stairs to the base of the falls. It's named for nearby Looking Glass Rock, where water freezes on its sides in the winter and glistens in the sun like a mirror.
Soco Falls
This twin waterfall along Highway 19 has long been revered by the Cherokee Indians and is located on the edge of the reservation. Two creeks cascade into a lush cove filled with rhododendrons and towering trees. A short walk takes you to an observation deck. It's a short drive from the Blue Ridge Parkway near milepost 455.7. 
Glassmine Falls
From the overlook at Milepost 361.2 on the Blue Ridge Parkway, see this ribbon of water cascading down a rock cliff across the valley. Located about 25 miles north of Asheville near Craggy Gardens, it is most impressive after some rain. Glassmine is named for an old mica mine that was nearby.
Toxaway Falls
Many drivers cruise scenic Highway 64 across the bridge by the Lake Toxaway Dam without realizing a 200-foot waterfall is right beneath them. Park on either side of the bridge and take the ridgetop walkway along the road to look down at the water flowing over colorful bedrock down the gorge. You'll see why this highway is also designated as the NC Waterfalls Byway, and you can continue driving to see the next two waterfalls.
Bridal Veil Falls
This one cannot be more convenient when traveling the scenic NC Waterfalls Byway. Located along US Highway 64 near the town of Highlands, you can't miss the waterfall and paved area behind the 60-foot delicate cascade that glistens in the sunlight as it flows over the cliff above.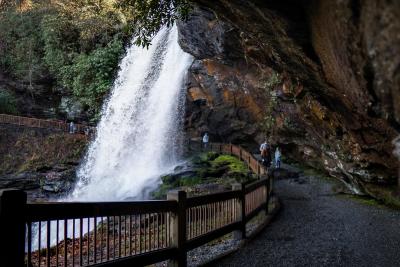 Dry Falls
Not only can you see this 75-foot waterfall from an accessible observation deck, it offers the very rare treat of walking behind a powerful cascade! A short paved trail goes underneath the cliff overhang so you stay dry (hence the name!). It's just a mile past Bridal Veil Falls on Highway 64. 
Updated December 12, 2022