The Top Places For Outdoor Adventure Near Asheville, N.C.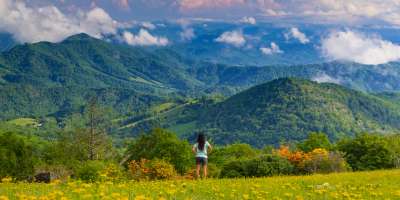 We asked our fans to share their favorite Asheville outdoor experiences and we received thousands of nominations, highlighting the many outdoor adventures at your fingertips when visiting.  
The responses were submitted to us as part of our Asheville Ultimate Top 8 Getaway Giveaway in early 2018. We asked that our fans not only nominate their favorite but tell us why they chose that adventure.
After tallying it all up, here the top 8 places to experience the outdoors in Asheville according to our fans.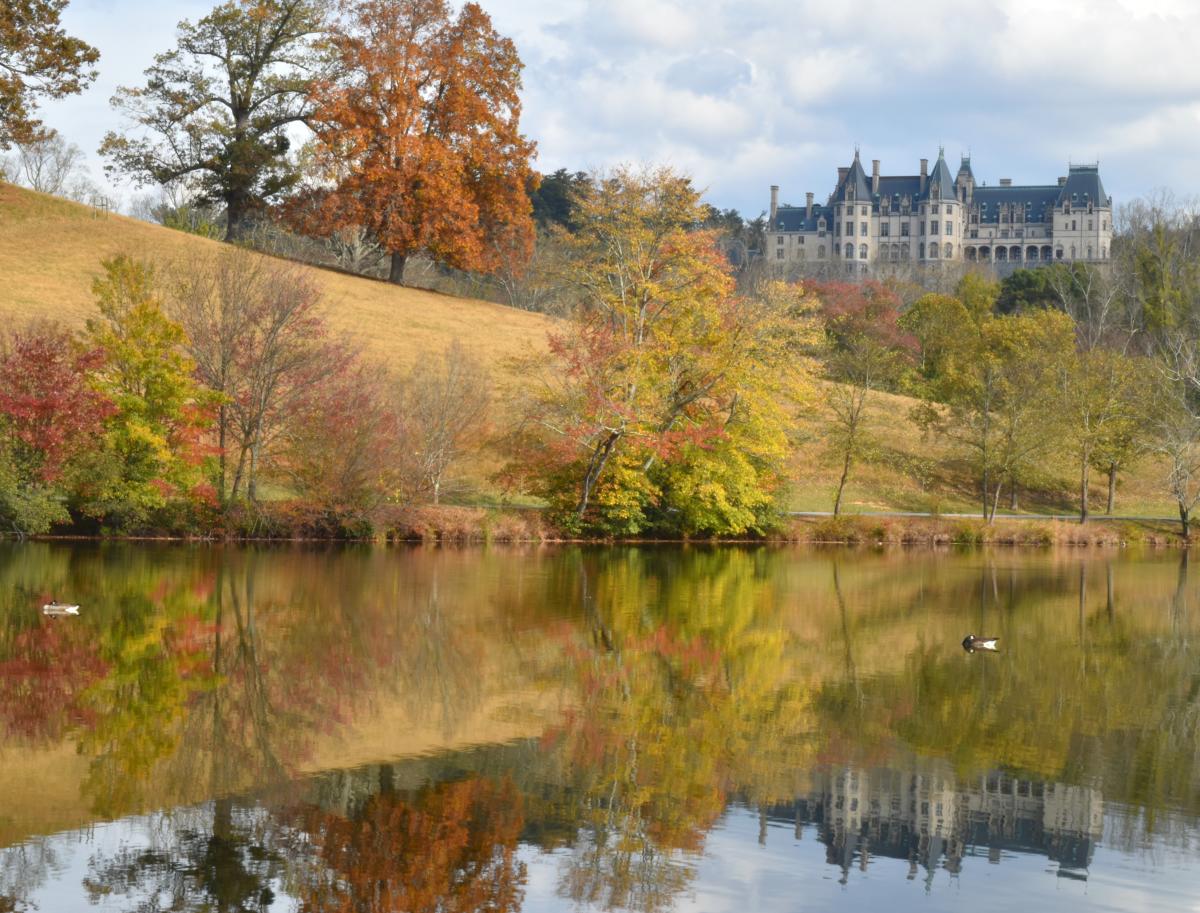 The possibilities for outdoor exploration are endless in the 8,000-acre backyard of the Vanderbilt mansion designed by famous landscape architect Frederick Law Olmsted. 
Lynn of Stafford, Va. wrote, "The feel of nature and history makes the land feel very personal -- like home."
Our fans especially cheered Biltmore for being an outdoor destination in any season.
"Spring and summer there is beauty at every turn -- a gardener's dream. (In) fall, foliage is framed by the mountains. Orchids in the conservatory in Winter with many rooms to walk when it's colder outside," said Christine of Charlotte, N.C. 
Experience the estate and its sweeping mountain views on the nearly 22 miles of hiking trails -- including 2.5 miles of paths that wind through the beautifully-manicured gardens. You can also hike along the French Broad River (the third oldest river in the world!) and stroll through lush green forests. In addition to hiking trails, the estate features many miles of biking trails. Bring your own bike or rent one when you arrive.
Sit back and relax on a horse-drawn carriage ride or float down the river on a guided raft trip or self-guided kayak trip. Biltmore is also a great place to polish your fly-fishing skills with expert guidance from professional instructors.
Looking for something even more adventurous? Saddle up for a horseback ride through the woodlands and meadows of the estate or navigate off-road obstacles on a Land Rover tour.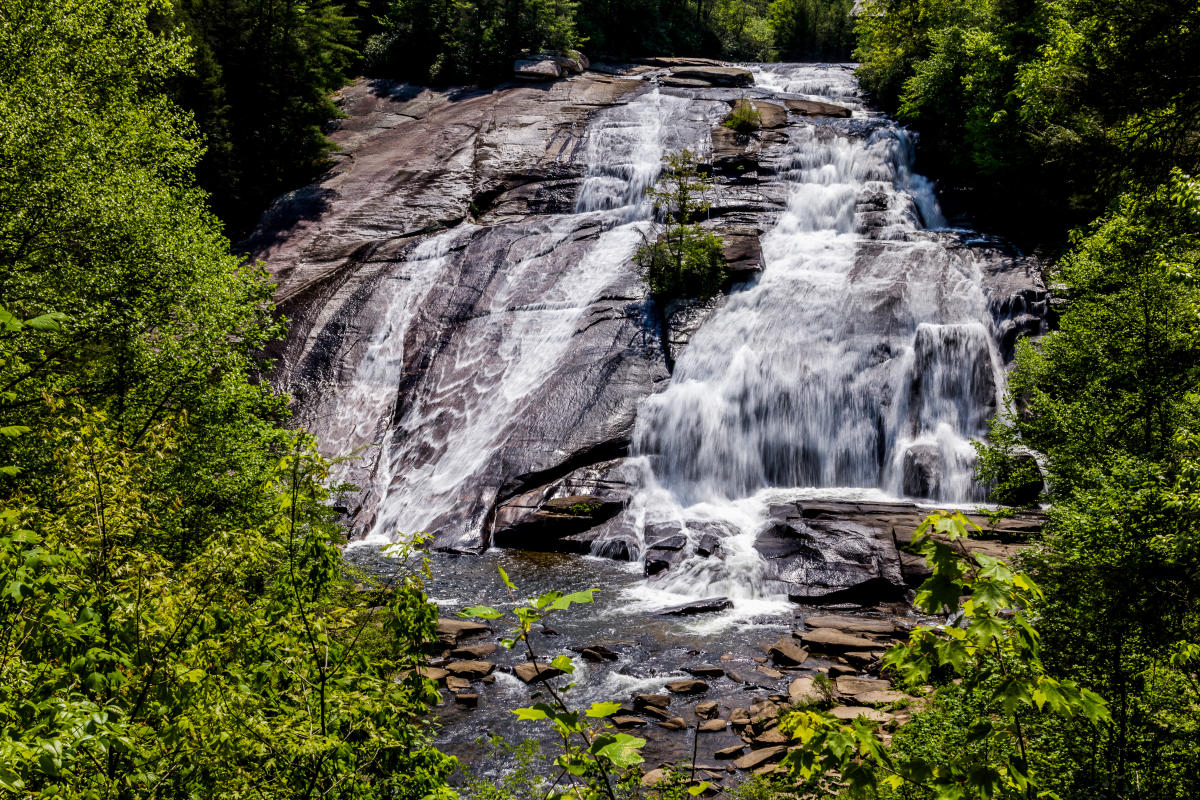 DuPont State Forest is a local and visitor favorite that has gained additional fame for being a prime filming site for the movies The Hunger Games and The Last of the Mohicans. With 10,000 acres of forest and 86 miles of trails, there's an outdoor experience here for everyone.
"It satisfies four of my five senses -- seeing the magnificent scenery, hearing the sounds of the falls, the feel of the crisp air and the smell of nature," Anita of Birmingham, Ala. told us.
DuPont is best known for being home to some of the area's most scenic waterfalls. See three of them (Hooker Falls, Triple Falls and High Falls) on a moderate 3-mile hike. 
In addition to great hiking, many of the trails are also enjoyed by equestrian and mountain bike users. Among the most popular for cyclists is Cedar Rock Mountain, which features hundreds of acres of exposed granite.
Put simply by Terri of Clayville, N.Y., "Everywhere you hike in DuPont State Forest is a treasure."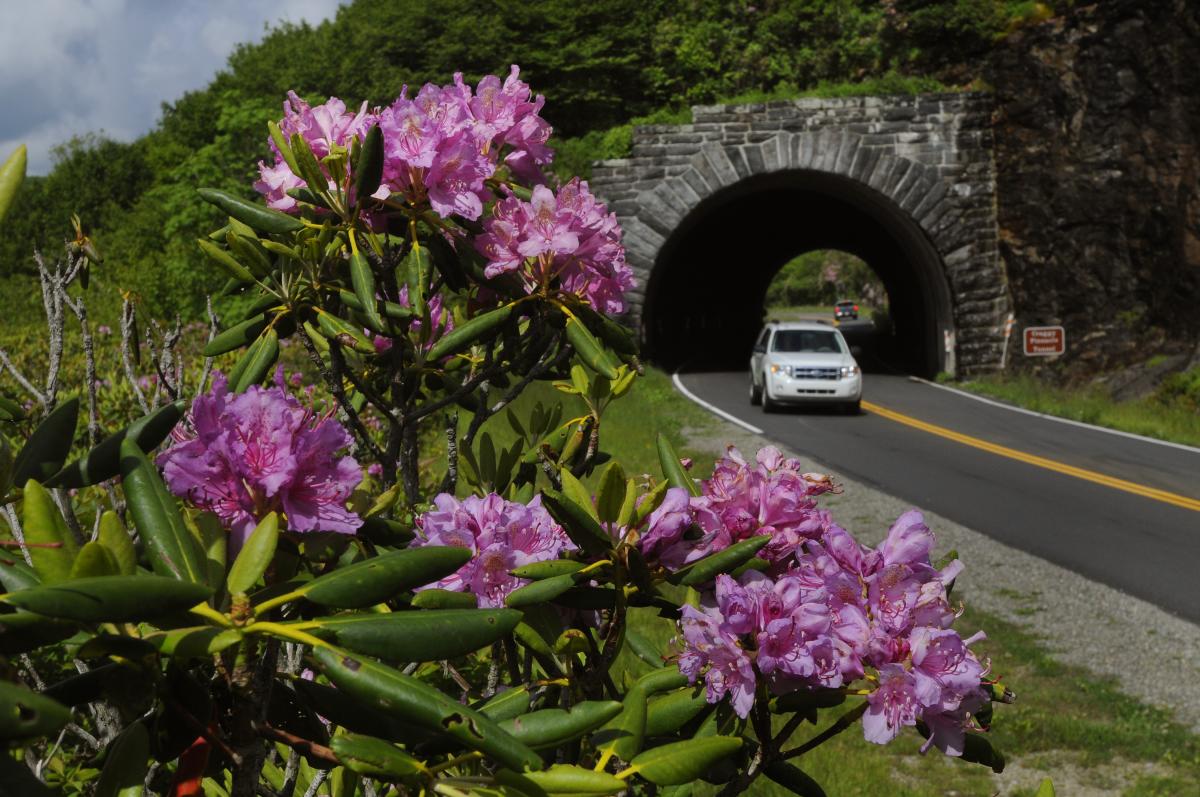 There's a reason the Blue Ridge Parkway is one of America's most treasured scenic drives. You'll discover unparalleled views of the Blue Ridge Mountains on this scenic road that winds through the highest elevations of the Southern Appalachians. There's no admission fee. And, with hundreds of paved overlooks, the views from the Parkway are easily accessible. You can stop as many or as few times as you like while you explore nature's beauty.
Off of the Blue Ridge Parkway, you'll find some of the area's top hiking trails including those at Mount Mitchell State Park, Mount Pisgah, Black Balsam and Graveyard Fields. Consider packing a scenic picnic to help you slow down and enjoy the breathtaking vistas.
Stop at the Blue Ridge Parkway Visitor Center just outside of Asheville or at the Folk Art Center for maps, history and information.
And, see our interactive online guide to the Blue Ridge Parkway to begin planning your visit from home.
The Craggy Gardens Pinnacle Trail is on the Blue Ridge Parkway but it's so beloved by our fans that it's earned its own spot on the list. What makes Craggy Gardens so special?
"I have visited Craggy since I was a child and I am always amazed at the beautiful mountain views!" Janet of Swannanoa, N.C. said. "Every season brings new color changing the landscape -- truly a gorgeous place."
Craggy Gardens is just 30 minutes from downtown Asheville (about 19 miles) and is an easy-to-moderate hike that is perfect for people of all skill levels and hiking experience. The hike is just 0.7 miles each way and when you reach the top you're in for a treat with panoramic, 360-degree views and layers of mountain ridges as far as the eye can see.
While Craggy is beautiful throughout the year, in June the mountain bursts into bloom with the showy, purple Catawba Rhododendron flowers. It's truly a sight to see!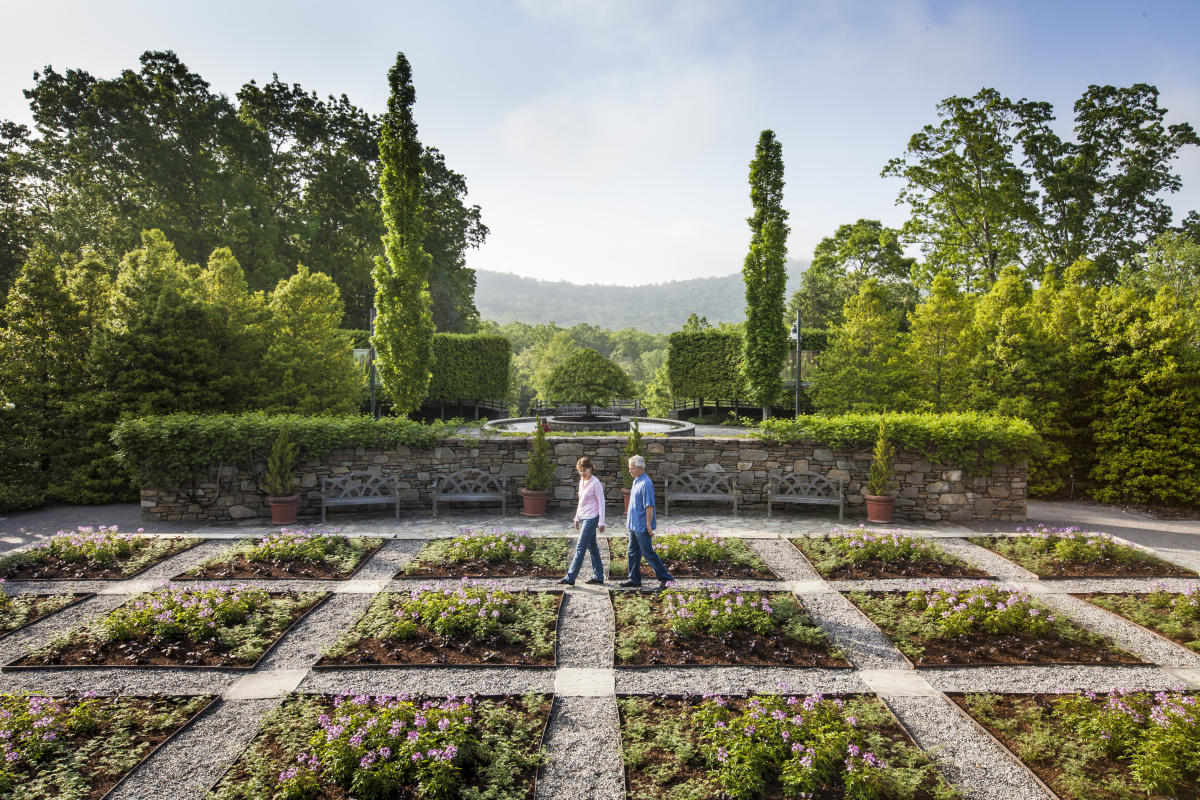 With gorgeous gardens and forest trails, the North Carolina Arboretum is an outdoor gem.
"It is beautifully-designed and the views across the mountains are amazing," said Lora of Roanoke, Va. "It is an outdoor adventure accessible to all."
What may first come to mind with the North Carolina Arboretum is the 65 acres of cultivated gardens, including the Instagram-worthy Quilt Garden. But the Arboretum also is home of one of the finest and unique bonsai collections in the United States!
"The North Carolina Arboretum near Asheville is spectacular," said George of Lake Mary, Fla. "The huge and varied assemblage of plants shown in different habitats would thrill any gardener or amateur botanist."
The 10 miles of hiking and biking trails connect with many area points of interest including Lake Powhatan, Pisgah National Forest and the Blue Ridge Parkway. All the trails at the North Carolina Arboretum are dog-friendly!
In addition, the North Carolina Arboretum features ever-changing exhibits and hosts events throughout the year.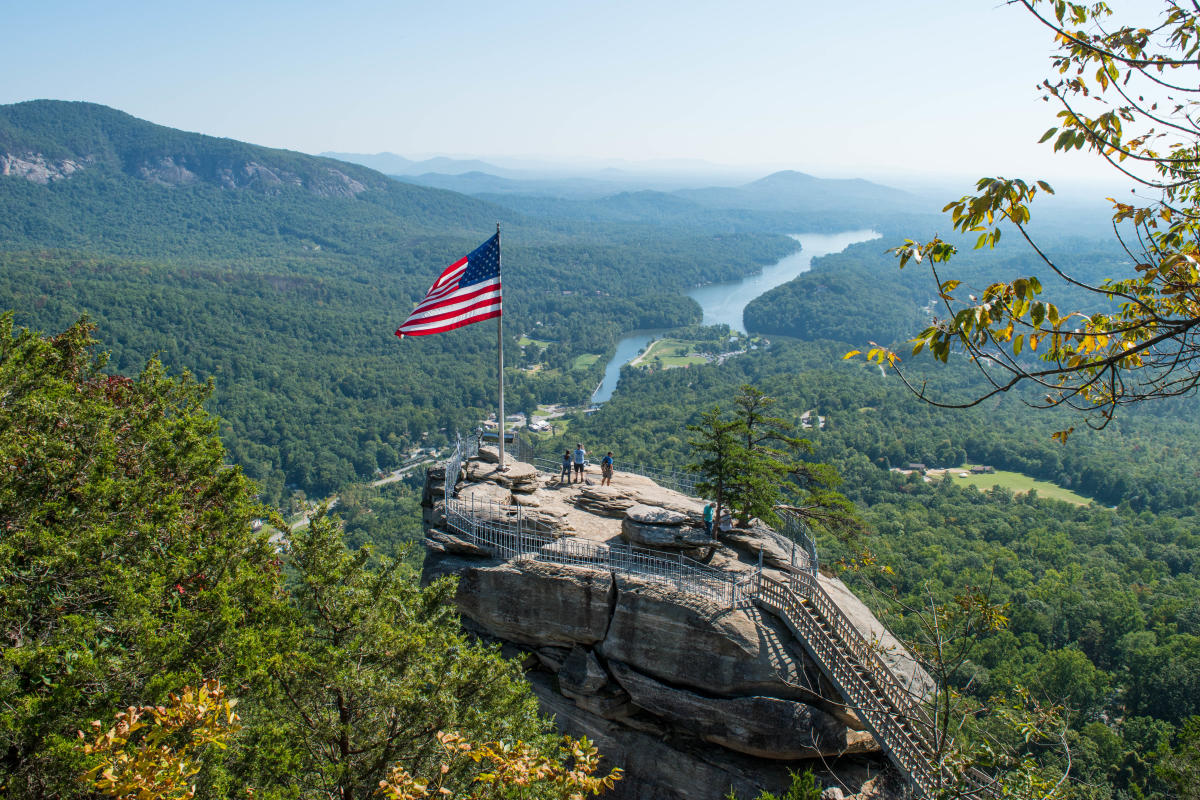 The main attraction of Chimney Rock State Park is Chimney Rock, an impressive rock formation that features 75-mile views overlooking Hickory Nut Gorge and Lake Lure.
"The scenery is second to none. It is an exhilarating feeling to climb to the top," said Candi of Fulton, Miss. "Once you get to the top, you feel like you can do anything." 
The park is also home to 404-foot Hickory Nut Falls, featured in the final scene's of the movie The Last of the Mohicans.
Chimney Rock State Park is a great family destination that is just a short, 40-minute drive from downtown Asheville. In June 2018, rangers announced that the park elevator is back in operation, making the the view even more accessible for those of all skill levels. For those seeking a workout, you can still climb the 500 steps to the top.
And, 2017 saw the opening of the Skyline Trail, which leads to the park's highest point known as Exclamation Point.
Before or after your visit, stroll through quaint Chimney Rock Village, home to shops and restaurants.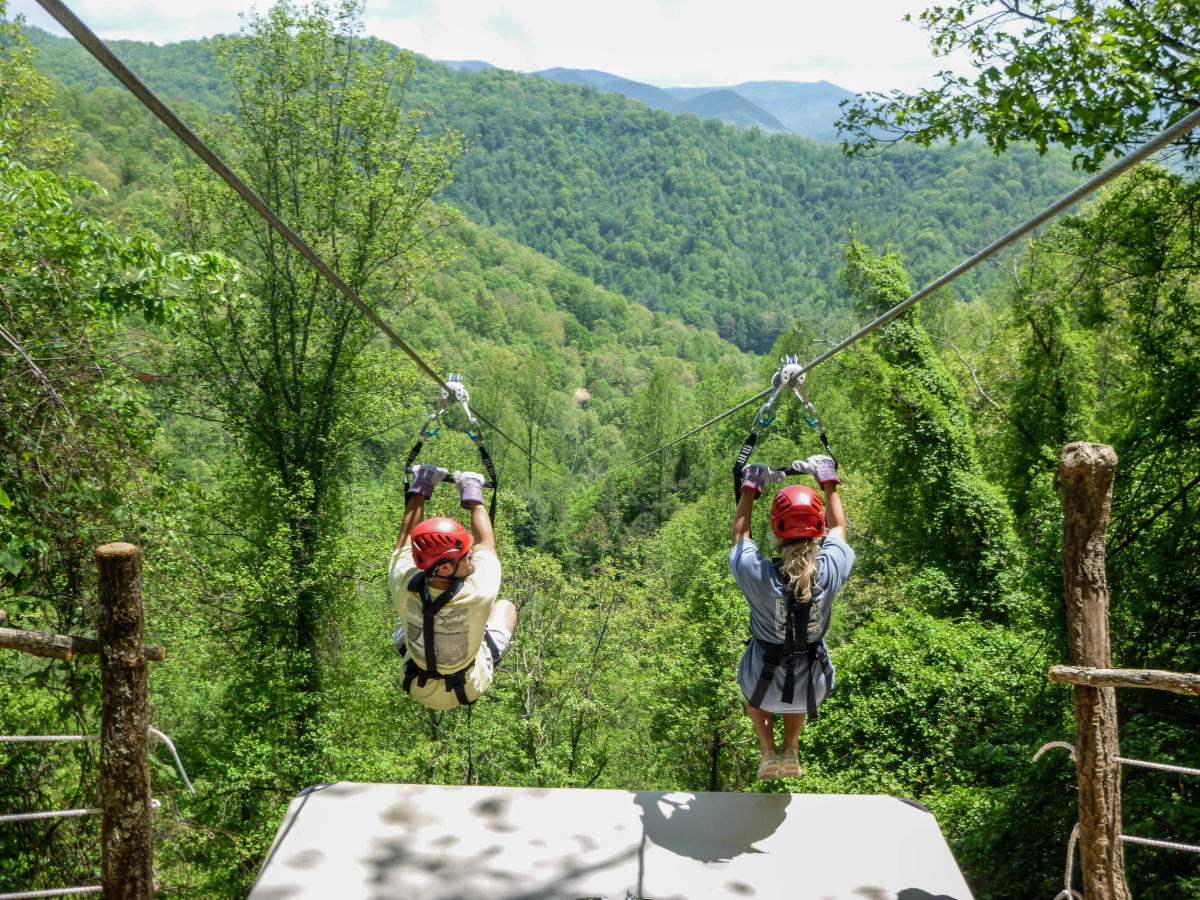 Thrill seekers, this one is for you! Soar through the air on the zip lines at Navitat Canopy Adventures.
"The guides are great, safety is number one and the views while zipping are amazing," said Brian of Beaufort, S.C.
Among your options is Navitat's Blue Ridge experience -- an unprecedented mountaintop adventure that features three zip lines. The longest zip line is 3,600 feet (3/4-mile long!). You'll fly at speeds of up to 65 miles per hour with expansive mountain views all around you. Depending on the experience you choose, you may also cross bridges, scale a spiral tree staircase and rappel to the forest floor.
If you aren't one for heights, Navitat also offers guided RTV excursions. You'll travel in a rugged-terrain vehicle to vantage points of the zip line tours. The guide provides information on the cultural and natural history of the Blue Ridge Mountains.
Navitat is about a 30-minute drive from Asheville in the community of Barnardsville.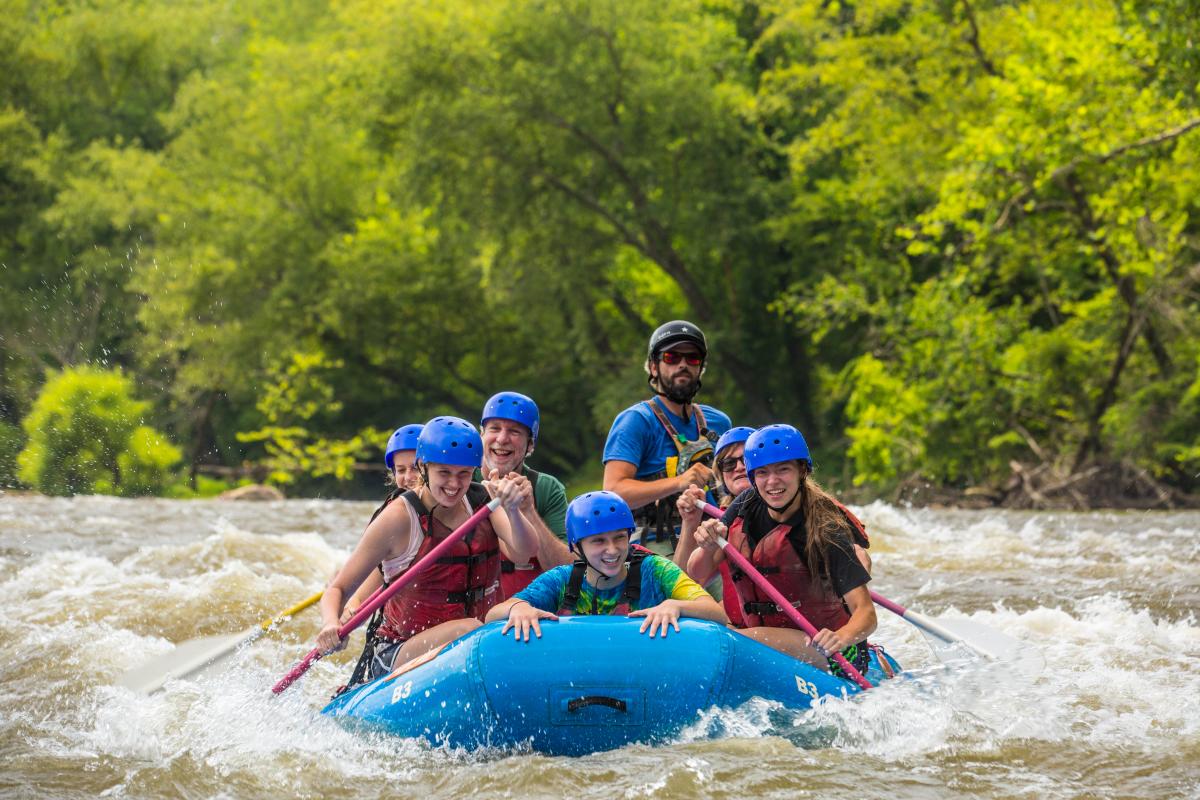 The rivers in the Asheville area offer just about everything that a whitewater raft enthusiast could want.
The French Broad River, which runs through Asheville, is the third oldest river in the world! There are several river adventure companies that offer rafting experiences.
"This was an amazing experience," said Morgan of West Des Moines, Iowa. "The area is gorgeous and the guides were the best, I would re-book in a heartbeat. And you can't beat the views!"
Or, take a day trip to the Nantahala River which features eight miles of easy Class II rapids before splashing through the exciting Class III whitewater of Nantahala Falls.
"It's always different regardless of how many times you go," said Sue of Wheelersburg, Ohio.
Photo credits: Biltmore, Craggy Gardens and Chimney Rock photos by Jason Tarr of Explore Asheville. High Falls photo by Hugo Gutierrez. Blue Ridge Parkway photo by John Fletcher. NC Arboretum photo by Art Meripol. Navitat photo courtesy Navitat Canopy Adventures. Top photo and rafting photo by Jared Kay.