6 RAD Reasons to Rent a Mountain Cabin in Asheville, N.C.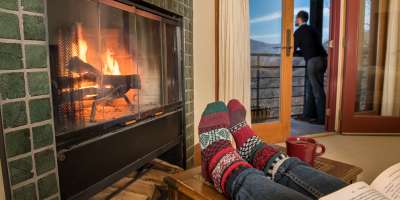 From rustic to luxury, Asheville cabin rentals provide a place to call your own
If you're looking for accommodations with character, then you should definitely consider an Asheville cabin rental. Tucked throughout the Blue Ridge Mountains are a variety of unique home rentals offering all the amenities you would expect - privacy, cozy fireplaces and even cozier hot tubs.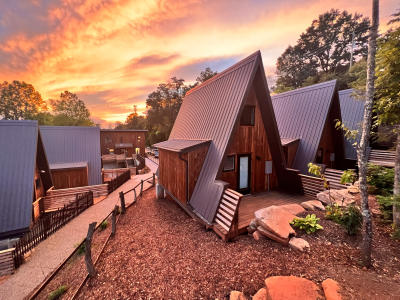 Aside from the obvious cool factor of having your own personal hideaway in the mountains, there are numerous reasons why you should opt for the mountain charm of a cabin rental. 
1.) Access to Adventure - Cabins serve as a basecamp to the great outdoors, and many rentals are located steps away from hiking and biking trails, waterfalls and ski slopes. Enjoy the best of both worlds with one of the special deals offered by Carolina Mornings. Their vacation packages include cool cabin options along with passes to some of Asheville's best outdoor attractions. You can have access to some of the best adventure options near the River Arts District with a stay at Wrong Way Cabins. These new A-frame accommodations are perfect for adventurers. 
2.) Live Like a Local – When traveling, there's nothing better than finding a rental with all the creature comforts of home, especially if you're staying for an extended period of time. Find your piece of paradise with Yonder Luxury Mountain Rentals, whose accommodations include hot tubs, Direct TV and game rooms. They also offer gourmet kitchens, allowing you to prepare your own meals using fresh ingredients from a local farmers market.
3.) Unwind from it all – Everyone needs a break from the daily grind now and then, and a quiet retreat to a mountain cabin is a surefire way to relax. One great place to unwind is The Farm whose cabins and cottages provide all the rustic charm of a classic mountain cabin along with modern amenities like Jacuzzi tubs and Wi-Fi.
4.) The Views!  - If waking up each morning to panoramic vistas is your definition of an idyllic escape, and of course it is, then rent a cabin in the sky. Breathtaking beauty can be found from the decks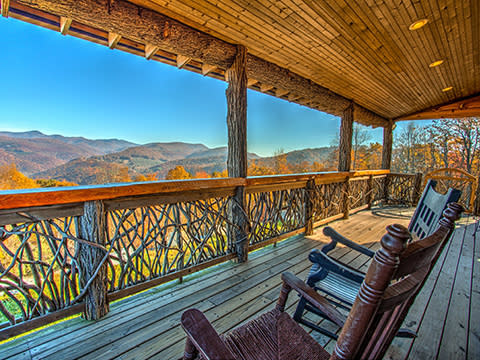 and living room windows of many ridge top cabins offered by Greybeard Rentals, which have locations throughout Asheville and Black Mountain. It's the closest you'll come to sleeping in the clouds.
5.) Bring the whole gang! If you're planning a large gathering for a family get-together, college reunion or a wedding, then you need the space that only a cabin or lodge home can provide. Lake Eden Events offers a number of cabins where you can fit everyone under one roof and still have room to spread out. Better yet, you'll have access to nature activities like hiking and boating. 
6.) The Funky Asheville Vibe – Renting a cabin doesn't mean you have to miss out on all the awesome happenings around Asheville. The Asheville Swiss Chalets, located atop Beaucatcher Mountain, will make you feel miles away from it all, while being conveniently located a few minutes away from the entertainment, breweries and dining experiences of downtown.
Inside photos courtesy of Wrong Way Cabins &Yonder Luxury Mountain Rentals.
Updated December 12, 2022