Last-minute Itinerary: A Carefree Summer Weekend in Asheville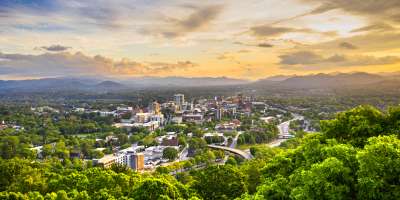 We all know the worst part of traveling. Say it with me now … the planning! As the warmer months commence and pictures of summer adventures flood your Instagram feed, panic can set in. Why didn't we plan a trip? Is there still time? Maybe we should just plan something next year?
Forget all that!
Now is the perfect time for a weekend trip to Asheville – a serene mountain town on the edge of the Blue Ridge Mountains with world-renowned outdoor adventures, top-notch cuisine and that famous Southern hospitality to boot. Heck, we'll even do the hard part for you.
Check out this last-minute itinerary that will guide you through a perfect three-day summer getaway in Asheville.
Start your morning in Downtown Asheville with a coffee or espresso from inside a double-decker bus at Double D's Coffee and Desserts as you watch the city come to life. It's the perfect primer for a delicious plate of unbelievable shrimp and grits for breakfast at The Med.
Seafood isn't your thing? No problem. There's plenty of amazing breakfast joints to choose from downtown.
Now, it's time to shop.
Walk off your meal as you search for that perfect piece of art or handmade crafts at downtown art galleries or the open-air market at the Grove Arcade. Stop by Asheville's legendary independent bookstore Malaprops or find yourself at the Battery Park Book Exchange, where you can enjoy a highfalutin moment as you sip champagne while perusing old leather-bound books.
Keep the exploration going on a LaZoom Tour, hosted on the big purple bus you're bound to see around town, for a hilarious yet informative look into Asheville's past, present and future. If walking is more your thing, hop on a self-guided tour along the Urban Trail.
Looking for some boozy fun? Check out Asheville Rooftop Bar Tours, which include mocktail offerings, or dig deeper into our adult-friendly guide to a fun day and night downtown.
Grab some lunch at Isa's Bistro and, if you can, snag an outside table where you can listen to one of the many talented buskers playing on the other side of the street.
As the evening commences, follow your ears to Pritchard Park for one of Asheville's longest standing traditions – a huge, free drum circle that anyone can join. Grab a quick dinner at the S&W Market next door, which has multiple eatery options including Bun Intended, Buxton Chicken Palace and Farm Dogs.
From there, head to one of Asheville's many iconic music venues for an eclectic night of music and fun. The Orange Peel, a venue hailed as one of the best in the nation by Rolling Stone Magazine, and the Grey Eagle are both great places to see live music.
SATURDAY – Explore the Great Outdoors
The breathtaking beauty of the Blue Ridge Mountains has lured travelers to this region for over a century, and no trip to Asheville would be complete without exploring some of America's most cherished national forests, hike and trails. And remember, Leave No Trace!
When it comes to hiking, it really is choose your own adventure, so check out this guide to find what difficulty and length best suits you. Not sure where to start? Here's a plan for a day outdoors that will be the highlight of your trip.
Start the day with a lazy float down the French Broad River with Zen Tubing, which includes a super-deluxe tube, life jacket, free parking and a shuttle ride. If you rather stay off the water, start your morning close to Asheville by exploring nature trails at the North Carolina Arboretum or the Botanical Gardens at Asheville, both of which are home to numerous indigenous species of mountain flora.
After enjoying lunch in the River Arts District – with a quick stop at one of the hundreds of working art studios in the area – head up the Blue Ridge Parkway to Graveyard Fields, a popular hike with large open vistas and the cascading Lower and Upper Waterfalls. Dessert will be provided by the many budding blackberry and blueberry bushes along the hike.
From there, continue up the Parkway to finish the day at Black Balsam on Art Loeb Trail. This easy to moderate two-mile round-trip jaunt offers some of the best sunset views on the East Coast at an elevation of 6,214 feet. The hike is child- and pet-friendly and is also great for a romantic evening picnic.
Here's some more great options for catching a scenic sunset in Asheville.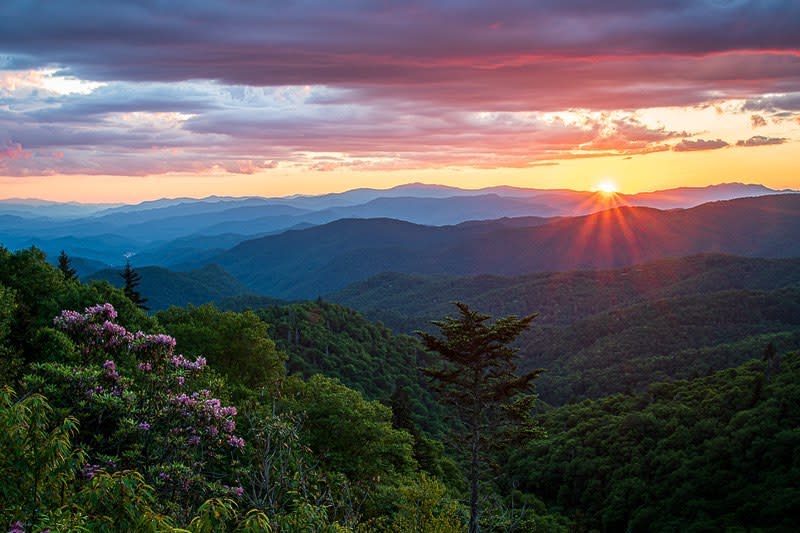 SUNDAY – Brunch, Biltmore, Brews and Performing Arts
Let's be honest, a jam-packed weekend can be exhausting. Sundays in Asheville should be relaxing. But that doesn't mean you can't still have a full day of fun.
Nothing says Sunday in Asheville like brunch: grab some breakfast tacos at Taco Billy, Huevos Rancheros at Sunny Point or big-as-your-face biscuits at the aptly named Biscuit Head.
Here are some more brunch options that will certainly fit your fancy.
No trip to Asheville is complete without a tour of the Biltmore—George W. Vanderbilt's winter chateaux—and a long walk around its spacious grounds. It's easy to fit an entire day inside the estate with horseback riding, numerous bike and hiking trails and a winery that offers free tastings
.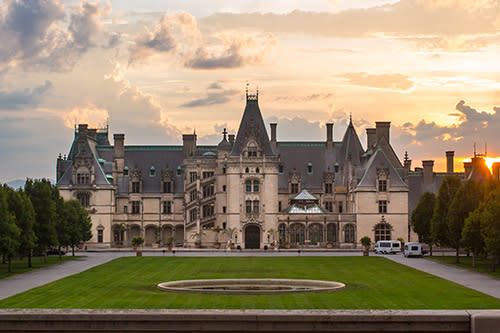 Don't forget to check out Biltmore Village, located right outside the entrance of Biltmore. This former neighborhood for estate workers is now filled with great shopping, amazing arts and craft galleries, and delicious restaurants.
A must on your trip is including a trip to one (or more) of Asheville's many, many breweries; you might have heard that Asheville has earned the nickname Beer City USA, with more breweries per capita than any other city.
For the most bang for your buck, head to the South Slope in Downtown Asheville where Burial Beer, Hi-Wire Brewing, Wicked Weed Funkatorium, Catawba Brewing, Green Man Brewing and Urban Orchard Cider Company are all within walking distance. Or, check out a Brews Cruise or Asheville Brewery Tours if you'd like to try some breweries off the beaten path. Chase your beer with some of the best BBQ in Asheville for dinner with a stop at Bear's Smokehouse on the South Slope.
If you're looking to experience some of Asheville's incredible performing arts, here's some unique venues that will lead to an unforgettable evening! A Sunday night at the outdoor theater with the Montford Park Players is always a fun way to cap an Asheville weekend.
Where to Stay?
When choosing where to stay in Asheville, you'll discover perfect options suited to your own travel style. Wake up each morning to a stunning mountain view in one of Asheville's hotels & resorts, get cozy in a secluded cabin hideaway, or stay steps away from the action at an uber-chic boutique in the heart of downtown. Plan your escape with all the comforts of home when you stay at one of Asheville's comfy bed & breakfast inns. Or if the outdoors is calling you, explore our magnificent campgrounds & RV parks seated nearby state and national parks.
Updated July 21, 2023