Asheville's Top Romantic Weekend Getaway Ideas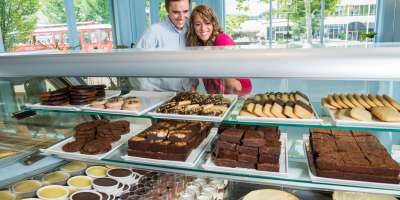 Sweetie, Honey, Pumpkin', Boo—whatever you call your special someone, this is your chance to woo them with an incredible romantic getaway. Asheville is the perfect couples escape, whether you want to hit a romantic restaurant for a dinner for two, stay at a romantic inn or hotel, or find romantic things to do like hiking, sightseeing or gazing at the breathtaking mountain scenery. Whisk your loved one away on one of these memorable mountain experiences.
Live like a King and Queen—Stay right on the grounds of America's largest home, also known as America's castle. The four-diamond Inn on Biltmore Estate is the only lodging physically located on the Biltmore. For even more luxury, amazing mountain views and indulgent spa treatments (including a couples massage), consider The Omni Grove Park Inn. For a cozy getaway, few things are more romantic than booking a stay with your own in-room fireplace or Jacuzzi. Asheville also has an impressive and diverse list of nearly 50 quaint, charming bed and breakfast inns or you two can get away from it all with a stay at a local mountain cabin.

Up, Up and Away—Asheville is often heralded as one of the top destinations in the U.S. for outdoor adventures. There are numerous spots for romantic hikes throughout the region. A great way to spend a romantic day out is to weave along one of the many scenic drives, stopping to view breathtaking mountain landscapes while arm-in-arm. There are also many other fun-filled outdoor adventures for couples to enjoy. This exhilarating bucket list item will have you huddled close together as you soar across the mountaintops.

Soak Your Cares Away—Let life's tensions roll off your back with a retreat to one of Asheville's spas. Asheville's day spas and spa resorts are increasingly catering to couples, with many offering couples massages and treatments for both men and women.

Dine at Sunset—Give the sun a goodnight kiss as you watch it set beyond the western mountain ranges. The Sunset Terrace at the Omni Grove Park Inn Resort offers you the best seat in Asheville to take it all in, all the while providing you with amazing cuisine. A must for all lovebirds.

Sightseeing—Asheville has a wide variety of romantic things to do for sightseeing couples. Spend the day in a real-life castle by touring Biltmore Estate. Asheville is the ideal destination for couples appreciating the arts, with numerous art galleries, the funky River Arts District where artists can be seen working in their studios, and several spots to view or buy mountain crafts.

Melt their Heart—Ahhh chocolate, the official fruit of Valentine's. The French Broad Chocolate Lounge offers a bevvy of sweet temptations. Find your aphrodisiac fix with a heavenly liquid truffle, or Highland Mocha Stout cake, or tour the Factory and see where they handcraft their chocolate.

Romantic Flowers—Flowers almost seem to be created for romance, and there are plenty of places to experience the natural beauty of flowers in the Asheville area. The Botanical Gardens are situated on a 10-acre nonprofit nature preserve dedicated to preserving and displaying the native flora of the Southern Appalachians. The North Carolina Arboretum is a 434-acre public garden offering 65 acres of cultivated gardens and 10 miles of hiking/biking trails, a greenhouse complex and the Southeast's finest bonsai collection.

Casual Dining—Do you like something more casual? There are many wonderful New South eateries in the Asheville area that are fun spots for a romantic dinner. Tupelo Honey Café is a favorite with locals and tourists alike, known for its unique southern cuisine with an organic twist. Early Girl Eatery serves creative but casual southern dishes made from scratch with locally-grown organic ingredients. If organic or vegetarian cuisine is your thing (or your sweetheart's thing), there are also several other options. Asheville is well-known for its many organic and vegetarian restaurants.
Updated February 14, 2019