Have a Jolly Holiday in Black Mountain, N.C.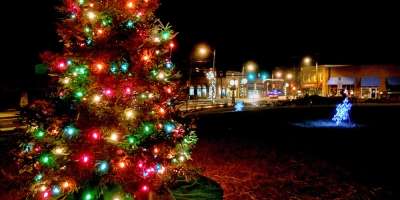 Celebrate Christmas with small town charm
Holiday decorations in Black Mountain. Photo by Josh Richard.

This weekend the town of Black Mountain--located just 15 miles east of downtown Asheville--kicks off the holiday season with several family-friendly festivities and opportunities to celebrate all month long.

On Friday, December 5th, local businesses will host the annual "Holly Jolly" evening with downtown shops open until 8 p.m., plus refreshments and live outdoor performances.

Black Mountain welcomes Santa Claus to the town square on Saturday where he will be greeting children and taking Christmas orders from noon to 3 p.m. The town Christmas parade follows at 4 p.m. with the theme "It's a Wonderful Life," and visitors can conclude their day with the Circle of Lights at Lake Tomahawk Park. Luminaries will surround the lake, and the even will also offer music, food, hayrides and more opportunities to see Santa.

For a very special holiday experience this weekend, book the Creative Mountain Christmas Weekend travel package at the Monte Vista Hotel. The inn has paired with Creative Mountain Food Tours to offer a dessert tour for two, a cookie tour through downtown Black Mountain, a tin and shopping bag to take home your treasures and "a good measure of  'small town sweetness' to start your holiday season."

The Monte Vista Hotel is also hosting "Deck the Trees," a display of 20 beautifully decorated trees that are judged in a competition. Grab a drink from the hotel's taproom and peruse this free exhibit.

The festivities continue into December with extended shopping hours on Fridays and Saturdays before Christmas, as well as holiday performers and storytellers throughout the downtown area. Black Mountains many galleries, antique stores and boutiques are ideal for crossing the last few names off your shopping list.

Find a full calendar of events and more information at ExploreBlackMountain.com.

Ring In the Holidays in Asheville.