Winter Sports and Activities in Asheville, N.C.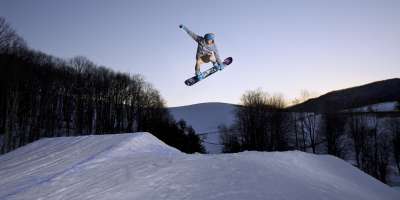 Outdoor Winter Adventures Close to Downtown Asheville
Asheville sits just below the highest peaks in the eastern United States. With high-elevation mountain peaks and a robust adventure culture, Asheville makes a great destination for winter sports enthusiasts.
Whether you're planning a ski vacation, snowboarding excursion, snow tubing outing or winter wonderland hike, there's plenty of activities to choose from just minutes from the city.
Winter Sports at the Adventure Center of Asheville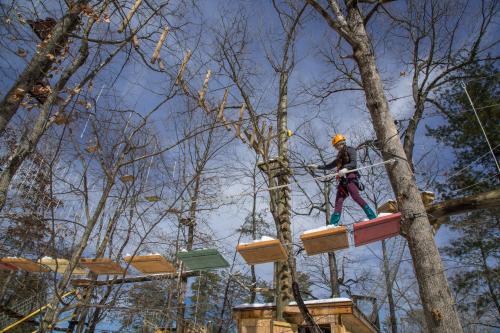 Just five minutes from downtown Asheville, the Adventure Center of Asheville is your closest gateway to winter fun. The Asheville Zipline Canopy Tours (age 8+) will have you soaring through the sky with a clear view of the city. You can book a private experience if you're looking for added social distancing. For younger flyers ages 4-10, try the KidZip Park, which has nine ziplines and four climbs with lines ground level to 25 feet high.
Or, test your skills on the seven aerial trails at the Asheville Treetops Adventure Park. The seven trails have 77 elements from ground level to 50 feet in the air.
When the ground is dry, you also have the option to shred on the four miles of trails, two pump tracks and multi-lane jump lines at the Kolo Bike Park. Want to ride off property? Rent one of the Rocky Mountain Bikes.
Skiing, Snowboarding and Snow Tubing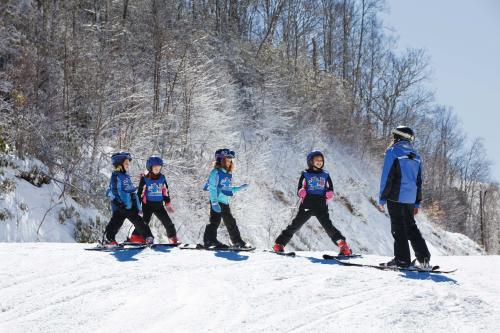 Just 35 miles west of Asheville, Cataloochee Ski Area has a vertical drop of 740 feet with 18 trails and five lifts. Just four miles down the hill in Maggie Valley, the resort's Tube World offers multiple runs of snow tubing fun. 
To the north of Asheville, Wolf Ridge Ski Resort has a vertical drop of 700 feet with 15 slopes and four lifts. There's an inviting base lodge where you can warm up by one of three fireplaces between runs. For a fun family activity, check out the snow tubing park just a few miles outside the Wolf Ridge Ski Resort. The snow tubing park features one big slope: 60 feet wide at the top, 100 feet wide at the bottom and 350 feet long of sliding fun.
Winter Hiking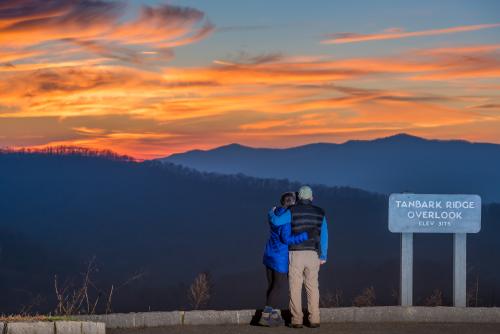 Discover the serenity of hiking during the winter season, when fewer hikers are on the trail. With the leaves off the trees, views are often more expansive and clear. While the higher mountain peaks may have snow, the valleys typically have mild winter days perfect for getting outdoors. Check out our list of 5 great winter hikes near Asheville. Want a guide to lead the way? Choose from these guided hiking experiences led by local experts. 
The the high-elevation areas of the Blue Ridge Parkway turn into a perfect hiking trail when the scenic highway is closed to vehicle traffic due to ice and snow. Park near an entrance gate (do not block the gates) and explore on foot.
When the conditions are just right, you may have the rare opportunity to see a frozen waterfall. Namaste in Nature offers an experience that combines yoga, meditation and hiking with one of the best waterfalls in Western North Carolina.
Snowshoeing
If you have the warm jacket, hiking boots and gloves, then Hike Bike Kayak Asheville has the the equipment, snowshoes and poles. This experience is guided by a certified Blue Ridge Naturalist and includes transportation to the snowy mountaintops with hot cocoa on the drive home.
Ice Climbing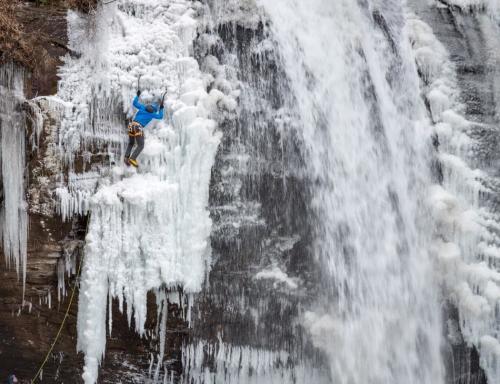 This may sound like the stuff of Mountain Dew commercials and Patagonia catalogs, but no experience is necessary to tackle single pitch ice routes led by the crew from Fox Mountain Guides. No equipment is needed either -- just bring your sense of adventure and keep your fingers crossed for ideal ice conditions, which are most likely late November through February.
Lindsey Grossman contributed to this report. Header image courtesy of Cataloochee Ski Area; Treetops Adventure Park photo provided by Adventure Center of Asheville; ice climbing image by Maggie Smith.