Holiday Shopping Hot Spots in Asheville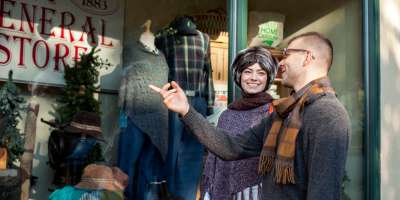 Do your holiday shopping in Asheville
Crisp mountain air combines with the smell of evergreens, spice-infused apple cider, and hot chocolate. In Biltmore Village carolers are singing the familiar songs of Christmas and on Asheville's street corners, musicians serenade shoppers with old and new holiday favorites.
It is the holiday season in Asheville and throughout the city's diverse shopping districts, independently-owned jewelry design studios, art galleries, and boutiques are overflowing with unique gifts that blend the city's bohemian spirit with the area's rich Southern Appalachian craft tradition. The results are functional, ornamental, wearable, and even edible works of art.
A Holiday Arts and Crafts Tradition with a Modern Twist
Asheville has long been a haven for artists. Writers, painters, potters, wood carvers, blacksmiths, weavers, glassblowers, and musicians have all drawn inspiration from its rich mountain craft traditions, lore and legacies.
Shopping Districts